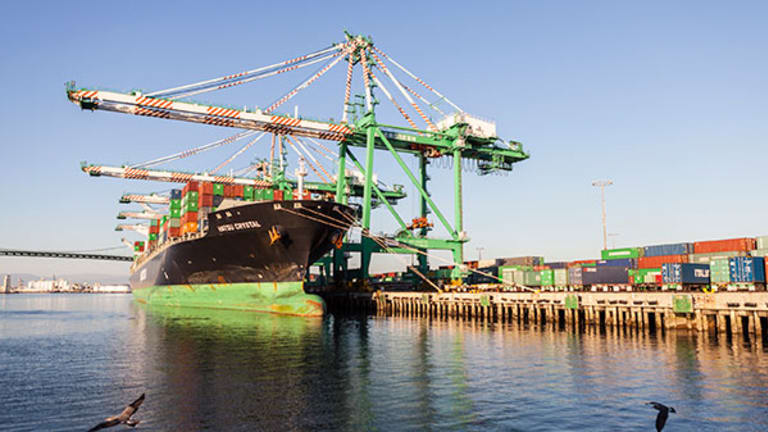 How Donald Trump and Bernie Sanders Are Winning by Opposing Free Trade
The issue of trade conjures images of job losses, wage stagnation and the sentiment that the economy unfairly favors powerful interests. No wonder Trump and Sanders are doing so well.
Whoever thought trade would become the hot-button issue of 2016?
Time was, opposing gay marriage or abortion or being tough on crime provided fast lanes to winning elections. This year, the quickest way to get a crowd on its feet is declaring opposition to multi-lateral international trade pacts.
Donald Trump has hit a nerve, whether you love him or think he's a rambling buffoon: Lots of people agree that U.S. trade deals have made life worse for too many Americans.
In a Pew Research survey published March 31, 61% of respondents backing Trump said the U.S. economic system unfairly favors powerful interests, compared with 45% of Ted Cruz supporters. Among Democrats, 91% of Sanders supporters agreed with that statement, while 73% of Hillary Clinton's backers responded affirmatively.
When Pew focused specifically on trade, the answers were particularly illuminating: A majority of Clinton and even Sanders supporters said free-trade agreements have been good for the United States, 58% and 55% respectively. Among Cruz supporters, the figure was 48%. Yet among the Trump faithful, those supportive of trade agreements totaled a mere 27%.
To be sure, trade pacts are enormous documents filled with all sorts of specifics aimed at appeasing particular business constituencies. The Trans-Pacific Partnership, the 12-country trade pact that both Trump and Sanders oppose, albeit for different reasons, takes the multi-lateral platform a step further to include rules on intellectual property, investor rights and limits on the ability of countries to regulate industries.
While the deal benefits large corporations in industries such as pharmaceuticals and entertainment and "other services in which the U.S. is a global leader," according to The Los Angeles Times, it is likely to adversely effect "mom-and-pop car-part dealers and apparel makers" who will face more competition from foreign-made goods.
That's a picture that U.S. workers, especially those in manufacturing, have seen all too clearly for some 25 years. During that time, most voters have come to equate "free trade" agreements with jobs. As the Pew survey showed, more than half of Democratic voters, though far fewer Republican voters, support the idea that trade pacts keep tariffs low, thereby ensuring open markets for U.S. products and services.
Yet despite evidence that some industries, even autos  -- as Eduardo Porter wrote this week in The New York Times -- may have been strengthened by the North American Free Trade Agreement, the fact remains that wages of most Americans, especially men, have stagnated relative to inflation since the pact was signed in 1994.
And since China entered the World Trade Organization in 2001, as many as 2 million of the 5 million U.S. manufacturing jobs lost have been due to low-cost imports, according to studies led by David Autor, an economist at the Massachusetts Institute of Technology. 
That cold reality is at the core of Trump's popularity and plays into Sanders' surprisingly resonant campaign, too. "It is a typical example," the New York businessman has said," of how politicians in Washington have failed our country."
Between 1979 and 2013, the Economic Policy Institute reported, median real hourly pay grew by just 6%. An alternate study by Stephen Rose, a Georgetown University professor affiliated with the Urban Institute, places the rise in real earnings during that period as 17%, when adjusted for inflation.
But drilling down further still, we get to what's helping to fuel Trump's popularity among a large bloc of Republican voters: While compensation for women grew by 73% from 1979 to 2013, wages for men increased by just 13%, the Urban Institute study showed.
Yet despite the gains, women generally earn less than men in comparable jobs: Full-time female workers earn about 78% of their male counterparts' salaries, according to the Obama administration. 
As exit polls consistently show, Trump's voters are more apt to be white and working-class, with a high school education or less. Sanders, who has consistently opposed the TPP, has capitalized on that sentiment as well, railing against the pact as a "stacked deck" written by large corporations to benefit large corporations.
Free-trade defenders, led historically by mostly Republican lawmakers, largely blame technology for job displacement and wage stagnation. Robert Z. Lawrence, a Harvard professor and senior fellow at the Peterson Institute for International Economics, acknowledges trade deals have led to job losses but says that ultimately, better jobs are created and that goods become cheaper.
"The U.S. workforce is neither large enough nor well-matched enough to handle all of the jobs needed for U.S. firms," Lawrence said in a phone interview from Cambridge, Mass. "There's this presumption that there are huge reservoirs of surplus workers in the U.S."
Most agree that the TPP will have minimal impact on jobs, given that the U.S. already has trade treaties with six of the other 11 countries in the pact, which include Japan, Canada, Australia, Mexico, Malaysia, Singapore, Chile, Peru, New Zealand, Vietnam and Brunei. Plainly missing is China, and for good reason. Obama has made clear that the TPP is about geo-political influence as much as trade.
According to the Peterson Institute, the TPP will increase U.S. real wages by a mere 0.5%, or $131 billion of GDP. Annual exports may rise by $357 billion, or 9.1% over baseline projections, by 2030, when the agreement is almost fully implemented, the Institute said.
But for supporters of Trump and Sanders, such prognostications ring hollow. The TPP, Sanders said recently, "is part of a global race to the bottom to boost the profits of large corporations and Wall Street."
Clinton, of course, helped to negotiate the TPP, which has been in the works for more than six years. Prior to announcing her candidacy and calling the TPP "the gold standard" of trade agreements, the former secretary of state proclaimed her opposition to the pact, charging that it didn't meet her "standards for more new, good jobs for Americans, for raising wages for Americans."
Back in 1960, 35% of all U.S. male workers were employed in manufacturing; today, it's about 12%. The transition of employment in this country to services and away from manufacturing has had the greatest impact on those with a high school degree or less. Meanwhile, adherence to the norms of the WTO and NAFTA have made it easier for U.S. corporations to move or invest in production facilities and people overseas.
While supporters of Trump are more apt to blame immigration than are backers of either of the Democratic candidates, stagnating pay is a major factor behind voter frustration.
Here's the big picture: The top 1% of U.S. wage earners take home more than 20% of the country's annual income, and their share has more than doubled over the past thirty-five years. Looked at another way,  the wealthiest 160,000 families have as much as the poorest 145 million U.S. families.
The increasing concentration of the country's wealth into fewer and fewer hands, of course, follows China's 2001 entrance into the World Trade Organization and the passage of NAFTA in 1994. But when you throw in tax cuts for the wealthiest Americans approved under the Bush administration, skyrocketing corporate CEO pay over two decades and ballooning profits for U.S. corporations, the root of voter angst becomes clear.
Heading toward the nominating conventions in July, Trump remains the leading contender for the Republican nomination, and Sanders, while a long shot to beat Clinton, is leading in polls in Wisconsin, which holds its primary on Tuesday.