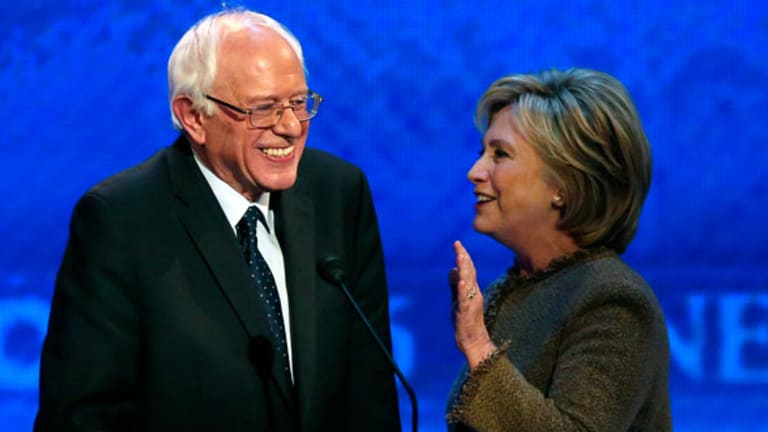 How Clinton and Sanders Disagree on Addressing 'Too Big to Fail'
Both Democratic presidential candidates want to rein in big banks, but their ideas differ markedly.
The failing grade given this week to five major financial institutions has put "too big to fail" front and center again, and the Democratic candidates for president spoke forcefully about the issue at Thursday night's debate in Brooklyn, N.Y.
But though both former Secretary of State Hillary Clinton and Sen. Bernie Sanders have plans to tackle "too big to fail," their ideas differ markedly.
That disagreement comes against the backdrop of the Federal Deposit Insurance Corp. and the Federal Reserve on Wednesday saying that they have found the so-called living wills of the financial institutions "not credible." The five banks that failed to provide reliable resolution plans are Bank of America, Bank of New York Mellon, JPMorgan Chase, State Street and Wells Fargo.
Bank of America and Wells Fargo are holdings in Jim Cramer's Action Alerts PLUS Charitable Trust Portfolio. See how Cramer rates the stock here. Want to be alerted before Cramer buys or sells BAC or WFC? Learn more now. 
"Living wills" form a critical part of the Dodd-Frank Act and are resolution plans to exhibit that big banks won't spread financial contagion to other financial intermediaries. Bank holding companies with total consolidated assets of $50 billion or more have to outline orderly bankruptcy procedure in the event of a financial failure and submit it to the regulators.
The five banks have been given a deadline of Oct. 1, to redesign a "living will" under the U.S. Bankruptcy Code.
In the event of failure to provide a credible living will, they may face "stringent prudential requirements" by regulatory authorities. These strict requirements may include higher capital requirements or limitations on business activities.
Clinton and Sanders hold contrasting views on the process of breaking up the big banks.
She aims to address the issue of "too big to fail" within the restrictions provided by Dodd-Frank.
In the ninth Democratic presidential debate held on Thursday, Clinton said, "Dodd-Frank sets forth the approach that needs to be taken ... I will appoint regulators who are tough enough and ready enough to break up any bank that fails the test under Dodd-Frank. There are two sections there. If they fail either one, that they're a systemic risk, a grave risk to our economy, or if they fail the other, that their living wills ... is inadequate."
Clinton aims to extend the law to the unregulated shadow banking sector, insurance sector and hedge fund companies, among others.
Sanders takes a different view.
"I don't need Dodd-Frank now to tell me that we have got to break up these banks," he said at the debate, adding that banks are "based on fraudulent principles."
His remark was related to the recent $5 billion settlement reached by Goldman Sachs with the Department of Justice for the sale of residential mortgage-backed securities.
Sanders has repeatedly spoken about breaking up the big banks and even introduced a "too big to exist" bill last May to address the issue.
In a recent interview with TheNew York Daily News, he explained his views on breaking up the big banks.
"How you go about doing it is having legislation passed or giving the authority to the secretary of Treasury to determine, under Dodd-Frank, that these banks are a danger to the economy over the problem of 'too big to fail,'" Sanders said.
In response to Sander's interview, Clinton told MSNBC that Sanders doesn't understand how the big banks would be broken up under Dodd-Frank and who would be responsible for it.
"I think he hadn't done his homework, and he'd been talking for more than a year about doing things that he obviously hadn't really studied or understood, and that does raise a lot of questions," she said.
But during the debate on Thursday night, Sanders said that how the banks break up should be left up to them and he doesn't find it "appropriate [for] the Department of Treasury to be making those decisions."
This article is commentary by an independent contributor. At the time of publication, the author held no positions in the stocks mentioned.