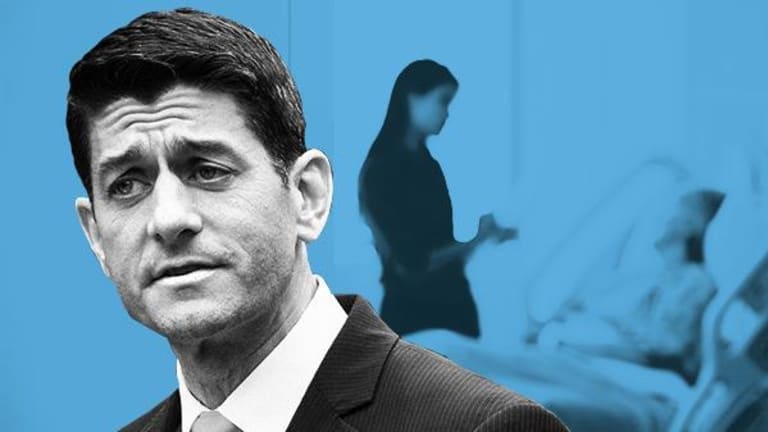 Revised Health Plan Offers Miniscule Change in Reducing Uninsured
The latest CBO numbers are critical because Senate Republicans must decide whether to revise House bill or start from scratch.
The latest House plan to repeal the Affordable Care Act and replace it with a plan crafted by Republican lawmakers would increase the number of people without health coverage by 14 million from today's coverage level in 2018,  and by 23 million by 2026, according to estimates released by Capitol Hill budget and tax analysts Wednesday. The plan would cut the deficit by $119 billion through 2026.
The Congressional Budget Office numbers refer to the ACA repeal and replace bill passed by the House along party lines on May 4.
Those figures are a modest change from numbers the CBO previously released for its analysis of a bill that failed to pass the House in March. The deficit reduction would be $32 billion less than the estimated net savings for the March proposal. For that trade off, the revised plan reduces the number of people who would go uninsured by 2026 by only 1 million.
The number of people with health insurance would, by estimates of CBO and the Joint Tax Committee's staff, be slightly higher and average premiums for insurance purchased individually. In other words, non-group insurance would be lower, in part because the insurance, on average, would pay for a smaller proportion of health care costs.
Analysts have warned that hospital stocks are likely to suffer if the House plan to repeal and replace Obamacare eventually becomes law, including shares of Community Health (CYH) , HCA (HCA) , Tenet (THC) , LifePoint Health (LPNT)  and Quorum Health  (QHC) . 
The biggest beneficiaries among public companies are likely to be the largest health insurers, including Anthemundefined , UnitedHealth (UNH)  , Cigna (CI)  and Humana (HUM)  .
The CBO numbers are critical because Republican leaders are trying to pass healthcare reform under rules for budget reconciliation, which will make it easier for them to pass a tax reform bill.
The House bill will be sent to the Senate where Republicans have only a slim 52-48 majority. Budget reconciliation measures are not susceptible to filibusters in the Senate, which require 60 votes to break. Under budget reconciliation, a measure can pass with a simple majority.
To qualify as a budget reconciliation bill, both the House and the Senate each must include cost cuts in the reform legislation that shave at least $2 billion in government spending over 10 years.
Two big changes from the bill that failed to pass in March were expected to make important alterations to the spending estimates. One was the addition of $15 billion to a risk-sharing program aimed at lowering premiums for higher-cost individuals. An amendment to the House bill lets states get a waiver to opt out of two Obamacare provisions, one requiring insurers to cover a range of certain services such as maternity care and mental health care and the other allowing insurers to base premiums on the health status of individuals seeking insurance.
In its estimate of the March bill, the CBO said on March 23 that the House legislation would save $150 billion over a decade, while increasing the number of people lacking insurance coverage by 24 million by 2026.
Speaker Paul Ryan and other House GOP leaders have been waiting for the CBO estimate before sending it to the Senate for lawmakers in that chamber to begin making further revisions, just in case the numbers failed to meet the reconciliation criteria.
Key senators have said no matter how the CBO score turned out the Senate would is all but certain to make significant changes to the legislation. 
West Virginia Democrat Joe Manchin, who hails from a a state Trump won last year and is a potential vote should the GOP need a additional votes to pass a Senate bill, said, "Every member of Congress must come together to find a solution that does not including ripping healthcare coverage away from seniors and low-income families that need our help the most."
He added, "The CBO score proves what we already knew to be true - this bill is bad for West Virginians."
Manchin said he cannot support a bill that leads to 14 million people losing healthcare coverage next year, cuts $834 billion from Medicaid, significantly reduces subsidies that tens of thousands of West Virginians rely on and will result in premiums 15% to 20% percent higher over the next few years.
Manchin said he wants to fix Obamacare's shortcomings but, "We cannot throw the baby out with the bathwater and go back to a time before the ACA where West Virginia families were one illness away from bankruptcy. "
Frederick Isasi, executive director of Families USA, a group opposed to cuts in federal health programs, said that the changes added by House leaders to the failed March package did little to shield Americans from the loss of coverage that would result from the repeal of Obamacare.
"The newest CBO report proves that no matter the last-minute changes House leaders added . . . the legislation hurts America's families," Isasi said. "It raises costs, particularly for older Americans, and it decimates the Medicaid safety-net."
But House Ways and Means Committee Chairman Kevin Brady say the CBO differently. 
"Today, the CBO confirmed the American Health Care Act will further lower premiums, deliver more immediate tax relief for individuals and families, and decrease the deficit," he said. "As the Senate continues its work to strengthen this legislation, House Republicans will move forward with even more solutions to fix our nation's broken health care system and increase access to affordable, quality health care for all Americans."