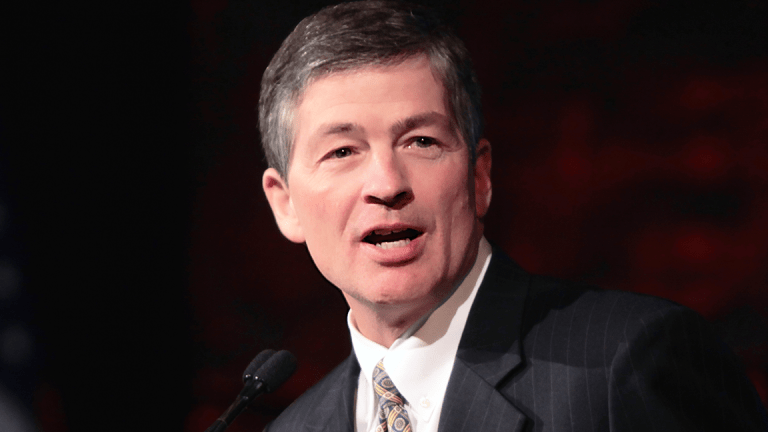 House Financial Services Chairman Jeb Hensarling Won't Seek Reelection
House Financial Services Committee Chairman Jeb Hensarling (R-TX) won't run for reelection in 2018, he told supporters on Tuesday according to a report from the Dallas News.
House Financial Services Committee Chairman Jeb Hensarling (R-TX) won't run for reelection in 2018, he told supporters on Tuesday according to a report from the Dallas News. First elected to Congress in 2002, Hensarling has been a major force in pushing back against Dodd-Frank regulation and taking on Fannie Mae (FNMA) and Freddie Mac (FMCC) .
"Today I am announcing that I will not seek reelection to the U.S. Congress in 2018. Although service in Congress remains the greatest privilege of my life, I never intended to make it a lifetime commitment, and I have already stayed far longer than I had originally planned," he wrote on Tuesday.
Since his term as chairman of the Financial Services Committee is set to end next year, "the time seems right for my departure," he wrote. "Although I will not be running for reelection, there are 14 months left in my congressional term to continue the fight for individual liberty, free enterprise, and limited constitutional government -- the causes for which I remain passionate," he added. 
Hensarling said housing finance reform, regulatory relief, cyber security and capital formation are among the areas he plans to focus on for the rest of his term, as well as tax reform. A primary draft of tax legislation is expected to be released on Wednesday.
Hensarling, 60, is the architect of the Financial CHOICE Act, a 600-page piece of legislation that seeks to reverse the Obama administration's handling of big bank failures and dismantles large portions of the Dodd-Frank law reform passed after the 2008 financial crisis. The bill passed the House in June but has few prospects in the Senate beyond the passage of piecemeal laws, such as changes to systematically-important financial institution thresholds.
It is unclear who will replace Hensarling at the helm of the Financial Services Committee. Representative Peter King (R-NY) is the committee's most senior Republican member following Hensarling, though his attention has been more focused on intelligence. Representatives Edward Royce (R-CA) and Patrick McHenry (R-NC), the committee's vice chairman, are both ambitious and have succeeded at obtaining much sought-after subcommittee chairmanships in the past. 
Compass Point LLC analyst Isaac Boltansky said in an email to TheStreet that he believes McHenry is likeliest to succeed Hensarling as committee chairman, followed by Representative Blaine Luetkemeyer (R-MO). "McHenry is a thought leader on financial technology issues and he would likely push for a holistic approach to regulating the space, which is meaningful as the jurisdictional battles have caused confusion," he said. "As for financial regulatory relief, another chair will likely be more willing to cut a deal, but the numbers for the next Senate may ultimately have a greater impact on that effort."
McHenry in a statement commended Hensarling for working "tirelessly to roll back Washington regulations and advance free-market policies that make it easier for Americans to access the financial system" and thanked him for his service.
Hensarling is the latest in a string of Congressional Republicans who have announced they won't be seeking reelection in 2018. Senators Jeff Flake (R-AZ) and Bob Corker (R-TN) have also decided against running again.
Jaret Seiberg, analyst at Cowen Washington Research Group, said Hensarling's departure suggests that he would likely become a top contender to head the Federal Housing Finance Agency, the regulator for government-controlled housing giants Fannie Mae and Freddie Mac. The agency is currently overseen by Obama Administration appointee Mel Watt, who had previously served as a Democratic lawmaker on the House Financial Services Committee.
Seiberg notes that appointment of Hensarling to head the FHFA would be bad news for Fannie and Freddie as the Texas Republican has previously supported liquidating the two mortgage giants, also known as Government-Sponsored-Enterprises, or GSEs. "We would expect Hensarling -- if he became director -- to shrink the GSE footprint," Seiberg notes.
Alternatively, the Trump administration could try to install Hensarling as what would be the first Republican-appointed chief of the Consumer Financial Protection Bureau, CFPB, an agency set up by Dodd-Frank that he has repeated criticized over the years. "Running the CFPB is likely to be a giant headache for the first Republican director as Democrats have staffed up the agency and established its corporate culture," Seiberg said.
 "We would not expect to get official word on what Hensarling will do until next Fall 2018 at the earliest," he cautioned.