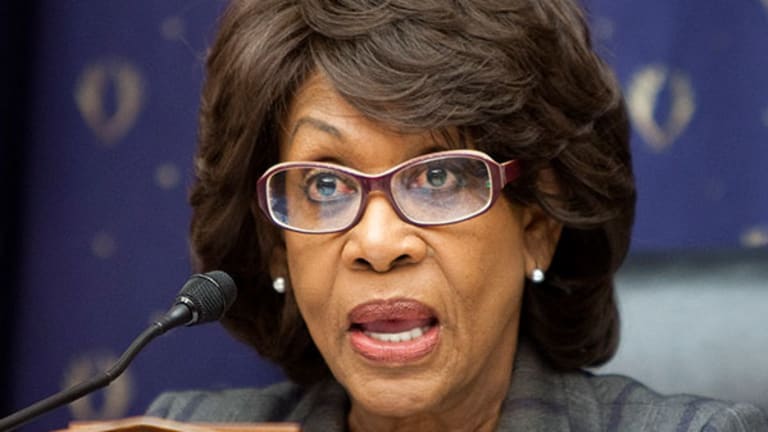 House Democrats Push Deutsche Bank for Details on Trump, Russia
House Democrats aren't taking no for an answer in their push to get Deutsche Bank to disclose details about its ties to President Donald Trump.
House Democrats are pushing Deutsche Bank (DB) - Get Deutsche Bank AG Report to disclose details about its ties to President Donald Trump.
Congresswoman Maxine Waters (D-CA), ranking member of the House Financial Services Committee, and four other House Democrats sent a letter to Deutsche Bank's lawyers rejecting their assertion the firm is prohibited from providing information about its customers by U.S. privacy laws. Lawmakers reiterated their original request for information on the bank's relationship with the president and his family as well as a Russian trading scandal, arguing that if the bank is so concerned about the Trump family's privacy, they should simply ask for their permission to disclose.
"...[A]ny liability concerns stemming from disclosure of the President's and his family members' nonpublic personal information can be alleviated if your client simply asks the President and his relatives for their consent to disclose," lawmakers wrote in the letter, dated Wednesday and released on Thursday. "Given President Trump's repeated assertions that he does not have ties to Russia, such disclosure would ostensibly be in his interest."
Even so, Democrats say the federal privacy statutes invoked by the bank to withhold the information requested do not prohibit disclosure to Congress.
"We reiterate that while we seek to cooperate, we must obey the law," said Deutsche Bank spokesman Troy Gravitt in an emailed statement to TheStreet. "Our lawyers will respond to the legal questions raised by the individual Members of Congress in due course. In the meantime, we continue to refer the Members to the legal basis from our previous response."
Waters and Representatives Daniel Kildee (D-MI), Gwen Moore (D-WI), Al Green (D-TX) and Ed Perlmutter (D-CO) in May sent a letter to Deutsche Bank CEO John Cryan requesting the firm provide details on its conduct in the Russian mirror trading scandal, through which it helped wealthy Russians move $10 billion out of the country from 2011 to 2014, and its relationship with Trump.
The German bank is one of the few banks that lends money to Trump after his bankruptcies and financial woes. Trump's financial disclosure, released by the U.S. Office of Government Ethics last week, shows liabilities for Trump of at least $130 million to Deutsche Bank Trust Company Americas, The New York Times notes, including at least $50 million for the Old Post Office that houses Trump's Washington, D.C. hotel.
Democrats have been undeterred by Deutsche Bank's refusal of its disclosure requests as part of a broader push to gather information about the president's business ties.
"We have to get all the information we can find about [President Trump] and his business relationships," Waters recently told TheStreet. "It's extremely important, and I don't care where it comes from."
In addition to their original request to Deutsche Bank, House Finance Committee Democrats also write a letter to Treasury Secretary Steven Mnuchin requesting its financial crimes enforcement network provide records on Trump's ties to Russia. In March, committee members also wrote to committee chairman Jeb Hensarling (R-TX) calling for the committee to use the full range of its investigative powers to examine Deutsche Bank's Russian mirror trading scheme and assess the Department of Justice's investigation into it. Mnuchin and Hensarling have not yet responded to the letters.
In their latest letter to Deutsche Bank, lawmakers requested a response by June 29.
- Updated with comment from Deutsche Bank.