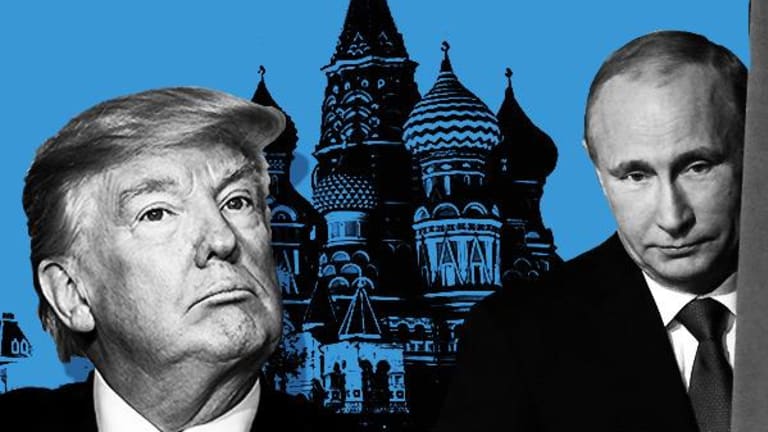 House Democrats Ask Deutsche Bank for Info on Trump, Russia
Democratic lawmakers are asking Deutsche Bank for information on Donald Trump and Russia.
Democratic lawmakers are asking Deutsche Bank (DB) for information on Donald Trump and Russia.
In a letter to Deutsche Bank CEO John Cryan, Democratic members of the House Financial Services Committee requested the firm provide details on two politically charged matters -- a Russian trading scandal and its dealings with President Trump and his family members. Lawmakers criticized Deutsche Bank for its lack of transparency and questioned whether its internal reviews of the matter were completely thorough.
"Deutsche Bank's pattern of involvement in money laundering schemes with primarily Russian participation, its unconventional relationship with the President, and its repeated violations of U.S. banking laws, all raise serious questions about whether the Bank's reported reviews of the trading scheme and Trump's financial ties to Russia were completely thorough," lawmakers wrote.
The letter, dated May 23, was signed by Representatives Maxine Waters, Daniel Kildee, Gwen Moore, Al Green and Ed Perlmutter. It requests a response by June 2.
A Deutsche Bank representative declined to comment on the matter.
Deutsche Bank shares were down about 2% in late-morning trading.
Lawmakers have requested to see Deutsche Bank's documents about its conduct in the Russian mirror trading scandal through which it helped wealthy Russians move $10 billion out of the country from 2011 through 2014.
They have also asked to look at the bank's documentation on its dealings with Trump and whether any loans made to him "were backed by guarantees from the Russian Government, or were in any way connected to Russia."
This is not the first time the president's relationship with Deutsche Bank has come under the microscope.
The German lender is one of the few banks that continues to lend to Trump after his bankruptcies and financial woes -- according to his 2016 financial filings, he had $364 million in outstanding debts to the bank.
The Justice Department in September hit Deutsche Bank with a $14 billion fine following an investigation into its dealings in mortgage-backed securities. In December, the firm announced it had reached an agreement with the department to pay $7.2 billion. The settlement was reached in principle and could still change.
Many have questioned whether Trump's loans from the bank could represent a conflict of interest. Attorney General Jeff Sessions brushed aside such concerns at his Senate confirmation hearing, saying he was "totally informed" about the case. "I don't know that the president is implicated simply because he borrowed from the bank," he said.