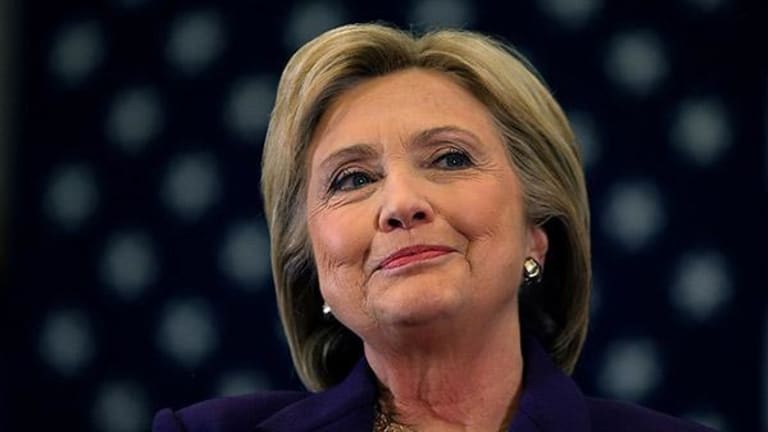 Hillary Clinton's Historic Night a Group Effort by Bill, Obama and Others
Hillary Clinton was in the spotlight tonight at the Democratic National Convention, but she was helped there by some familiar names.
Editors' pick: Originally published July 29.
PHILADELPHIA (TheStreet) -- "No one gets through life alone," Hillary Clinton said Thursday while accepting the Democratic Party's nomination for the presidency. It takes a village to get through life -- and to get nominated for the presidency.
While making history in becoming the first woman to be nominated by a major party, Clinton shared the spotlight with many others, including her husband, former President Bill Clinton, President Barack Obama, and Donald Trump, the Republican nominee. 
First, though, was Senator Bernie Sanders, Clinton's chief primary rival. He dominated much of the conversation early in the week. His supporters descended on the city in hopes of a contested convention. On Sunday and Monday, pro-Sanders signs and shirts, as well as anti-Clinton gear, outnumbered pro-Clinton garb, inside and outside the arena. 
The next night came her husband Bill who is very popular among Democrats and a charismatic speaker. The following night, President Obama stole the show. 
In the background, Trump made headlines in his usual way. He said he hoped Russian intelligence services had hacked the former secretary of states emails. He attempted to roll back the comments later, saying they were sarcastic.
Thursday night, on stage accepting the nomination, Clinton delivered a speech that was a nod to the concept, that even though it was her night, she owed her success and shared the spotlight with many. 
Excitement filled the convention area heading into her speech, with attendees lining up outside the arena doors to experience the historic moment. The NAACP's Reverend Doctor William Barber II, basketball star Kareem Abdul-Jabbar and General John Allen delivered rousing addresses ahead of Clinton. Pop star and long-time Hillary supporter Katy Perry serenaded the crowd, and Clinton's daughter, Chelsea, gave a moving introduction of her mother.
"This November, I'm voting for a woman who is my role model, as a mother and as an advocate, a woman who has spent her entire life fighting for families and children," she said.
When it was Clinton's turn to speak, one of the first things she did was to reach out to those who shared the spotlight this week. She addressed numerous other speakers from the week -- Presidents Barack Obama and Bill Clinton, First Lady Michelle Obama and Vice President Joe Biden, among others.
"We've heard from the man from hope, Bill Clinton, and the man of hope, Barack Obama," she said.
Next on the list was her primary opponent Bernie Sanders and his supporters. "Your cause is our cause," she said, addressing them.
Clinton also laid out a contrast case against Trump, citing his business record, controversial rhetoric and attacks on minorities, women and even his own fellow Republicans. "Love trumps hate," she declared, invoking a slogan often seen in her campaign.
Secretary Clinton made light appearances at the convention during the week, on video and on Wednesday on stage with her husband. But unlike her opponent Trump, who appeared on stage every night of the Republican convention except one, she allowed others to bask in the limelight, too.
But on Thursday evening at the Wells Fargo Center arena in Philadelphia, it was only Hillary in the spotlight. Having spent decades as a public figure and eight years after making her first presidential run, Clinton's moment arrived. "Every generation of Americans has come together to make our country freer, fairer, and stronger. None of us can do it alone," she said.
And in keeping with her message of inclusion and campaign slogan, "Better Together," Clinton was careful to emphasize her progress wasn't just important for her or even for women but instead for everyone. "When there are no ceilings, the sky's the limit," she said.