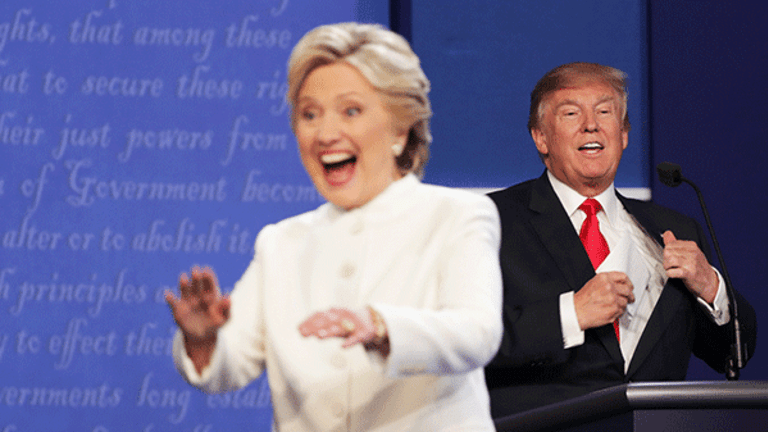 Publish date:
Hillary Clinton Is Spending More on Her Own Campaign Than Donald Trump
Hillary Clinton donated more to her presidential campaign in early October than Donald Trump did to his.
Hillary Clinton donated more to her presidential campaign in early October than Donald Trump did to his.
Editors' pick: Originally published Oct. 28.
Hillary Clinton donated more to her presidential campaign in early October than real estate mogul and reality TV star Donald Trump did to his.
Clinton gave more than $50,000 to her campaign from her own funds through the first 19 days of October, a Federal Elections Commission fundraising report released Thursday shows. Trump, a self-described billionaire who has recently as this week said he would give $100 million to his campaign, donated just under $31,000. The Republican presidential nominee heads into the final stretch of the election with about $16 million in cash on hand. His rival has nearly four times that amount, $62 million.
"I will have over $100 million in the campaign, and I'm prepared to go much higher than that," Trump told CNN's Dana Bash on Wednesday. In an interview with Fox News' Bret Baier to be broadcast tonight, Trump says he's planning on writing a $10 million check to his campaign today. 
FEC filings show he has a way to go. Including the $31,000 from this month, he has put about $56 million into his own campaign. That includes more than $47 million in loans he forgave he used to fuel most of his primary bid.
How much Trump has to spend is unknown. He claims to be worth upwards of $10 billion, but Forbes pegs that number at $3.7 billion. Trump's brand, which he insists is valued at as much as $3 billion, has been hurt by his presidential run.
"In the old days, you'd get credit: If you would spend less money and have victory, that would be a good thing," Trump told Bash. "Today, they want you to spend money."
It's not just Trump who isn't donating to his campaign, his children don't appear to be, either.
A review of FEC filings by The Daily Beastrevealed just one of Trump's kids, Eric, contributed to his father's campaign: $376.20 listed as "meeting expense: meals." Ivanka Trump, who contributed to Clinton and John McCain in 2007 and 2008, and Donald Trump Jr., who also gave to Clinton in 2007, have not donated to their dad.
A Trump campaign spokeswoman did not return request for comment on Trump's donation plans for the rest of the election cycle.
Trump has often spurned traditional methods of fundraising and spending this election cycle.
He has maintained a lean campaign operation and opted to leave much of the ground work to the Republican National Committee. Instead of investing in paid advertising, he has leaned on billions of dollars in free earned media. Trump's tactics have been a knock to broadcasters, but they have also prevented him from shaping the message surrounding him, much of which is negative.
Trump collected a total of $30.5 million in the first 19 days of the month, while Clinton brought in $52.8 million.
The GOP nominee raised eyebrows earlier this week when Steven Mnuchin, his national finance chairman, told The Washington Postthat Trump Victory, a joint fundraising committee between the campaign and the RNC, had held its last formal fundraiser on October 19. Clinton is no longer headlining events, but her surrogates continue to raise money.