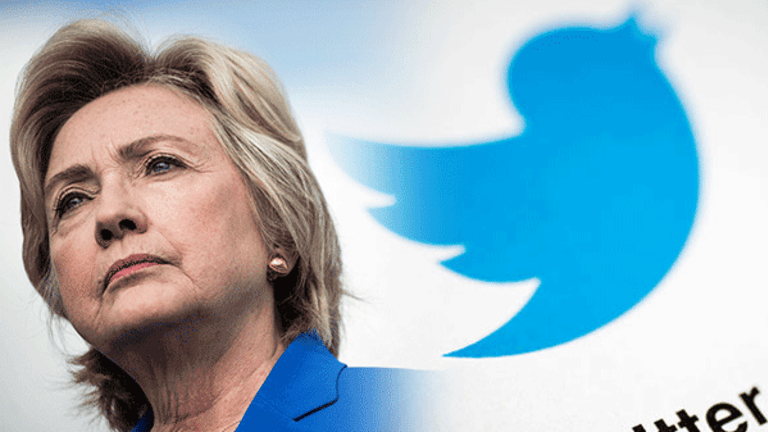 Hillary Clinton Attacks Trump Organization on Improper Business Ties in Tweetstorm
Look out, Donald Trump -- Hillary Clinton's got some questions for you about the Trump Organization. Twenty of them, in fact.
Correction: A previous version of this story published September 14, 2016 referenced a Newsweek story tying the Trump Organization to Russian billionaire Vladimir Potanin. Newsweek made an error connecting Mr. Potanin and Mr. Trump, and there is no connection or relations between them. Mr. Potanin has never met Trump or done business with him or the Trump organization, and Mr. Trump is not a producer of the Russian version of "The Apprentice."
Hillary Clinton has some questions for Donald Trump about the Trump Organization. Twenty of them, in fact.
The Democratic Party presidential nominee slammed Trump in a tweetstorm, a quick series of related messages on Twitter, following a Newsweekstory on the Trump Organization's foreign business ties. The report, written by Kurt Eichenwald, reveals the findings of an investigation into the company's ties to global financiers and politicians. It reveals numerous conflicts of interest that could come about should the real estate magnate win the White House in November.
In the wake of the story, Clinton took to Twitter to with "20 questions that Trump needs to answer -- now."
"Will you sever ties with your company linked to foreign leaders, questionable organizations, and criminals if you become president?" one tweet read. "How can we be sure you'd be willing to be tough on any nation if necessary, if it would put your interests and profits at risk?" read another.
She pointed to specific questions raised regarding Iran, NATO and Muammar Gaddafi and also made various mentions of Russia. Trump has raised eyebrows on numerous occasions while on the campaign trail over his praise of and ties to the country. Just last week, Trump praised Russian President Vladimir Putin at a national security forum hosted by NBC News.
"Have you or your campaign discussed U.S.-Russian relations with the Russian billionaires with whom you've done business?" Clinton asked in one tweet. "Will you disclose the nature of your personal and business relationships with all of the Russian oligarchs you are 'close' to?" she asked in another.
None of the tweets were signed "-H," meaning she did not author them herself.
Wednesday's story on the Trump Organization comes just hours after news broke that New York Attorney General Eric Schneiderman is investigating the Donald J. Trump Foundation, the family charity Trump started in 1987.
Democrats on the House Judiciary Committee are asking the Justice Department to look into the foundation, specifically with respect to the circumstances surrounding its $25,000 to Florida Attorney General Pam Bondi while her office was considering opening an investigation into Trump University (she ultimately decided against doing so). The Washington Post's David Fahrenthold has spent months looking into the foundation, to which Trump himself has not donated since 2008.
Clinton is also likely relishing in the attention being placed on the Trump Organization and Trump Foundation given the ongoing attention to the Clinton Foundation and questions over its ties. The public charity, which was launched by President Bill Clinton after he left office, has come under heavy criticism in recent months, specifically over its acceptance of foreign donations and potential conflicts of interest during Clinton's time at the State Department.
Clinton Wednesday made an attempt to point out that perhaps it is Trump's business and charitable activities, and not her own, that should be under the microscope.
"It's pretty clear: Trump's spent his life unscrupulously looking out for his own wallet above all. Why would that change as president," she concluded.