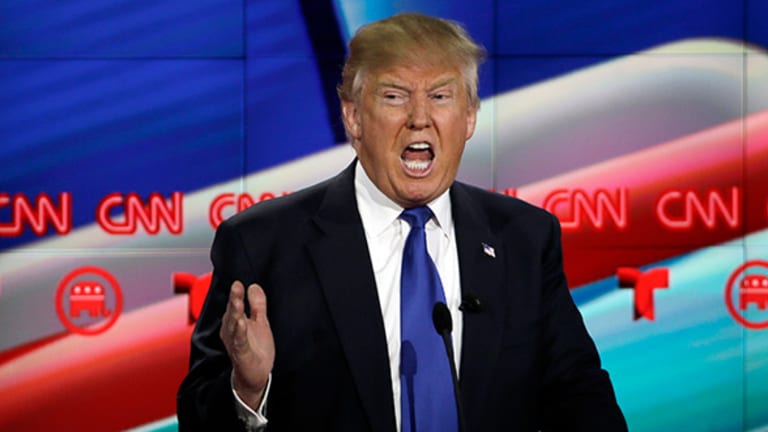 Publish date:
Here's Why Republicans Have Kept Silent on Donald Trump's KKK Endorsement
No one in the GOP presidential field wants to touch a former KKK leader's endorsement of Donald Trump -- not even Trump himself.
No one in the GOP presidential field wants to touch a former KKK leader's endorsement of Donald Trump -- not even Trump himself.
No one in the GOP presidential field wants to touch a former KKK leader's endorsement of Donald Trump -- not even Trump himself.
David Duke, a white nationalist and former Ku Klux Klan grand wizard, urged listeners of his radio program to volunteer and vote for the Republican frontrunner this week, "Voting for these people, voting against Donald Trump at this point is really treason to your heritage," he said on the David Duke Radio Program, referring to Ted Cruz and Marco Rubio, whose parents both come from Cuba. He encouraged his audience to lend the Trump camp a hand: "Go in there, you're gonna meet people who are going to have the same kind of mindset that you have."
The comments, first reported by BuzzFeed, made waves in the media. But the candidates themselves have kept a distance -- even when using everything else at their disposal to attack the Republican frontrunner.
At the Republican presidential debate Tuesday, aired on CNN, Florida Senator Rubio unloaded on Trump with a flurry of attacks, going after the boisterous billionaire's business record, hiring practices, bankruptcies and litigation record. Texas Senator Cruz joined the fray, too, doubling down on Rubio's comments over Trump University lawsuits and painting Trump as unfaithful to the conservative cause.
But when it came to the issue of the Duke endorsement, of which much was made in the media, candidates steered clear.
While to the outside observer, the KKK ties, however loose, may appear a big deal, Rubio and Cruz seem to view Trump's business dealings and questionable credentials as a member of the conservative movement as much stronger grounds for attack, especially in a Republican primary contest, explained Dave Hopkins, political scientist at Boston College and co-author of the 2011 book Presidential Elections: Strategies and Structures of American Politics.
"A lot of people don't even know who David Duke is, so it's hard to explain to a debate audience why they should care," he said. "In addition, Trump's support from white supremacists is due to his hard line on immigration and terrorism, and his Republican rivals are currently trying to compete with him on those issues. Attacking from 'the left' is usually a rare strategy in the Republican primaries."
Jon Ralston, a journalist who covers Nevada politics and writes for the Reno Gazette-Journal, echoed that voters are unlikely to know who Duke is, adding, "Other attacks [were] designed to resonate with voters who can easily grasp allegations of fraud (Trump University) and old Democratic support and positions."
Rubio and Cruz also likely calculated that the Duke endorsement may be too simple for Trump to brush aside, explained Jonah Goldberg, National Review senior editor and fellow at the American Enterprise Institute. "It's too easy for Trump to deflect (they endorse me, I don't endorse them) and paint it as an attempt to call Trump's supporters racist," he said. "That would play bad with the base."
Trump proved Goldberg right on the deflection front Friday when asked about Duke's backing while unveiling an endorsement from New Jersey Governor Chris Christie.
"I didn't even know he endorsed me," Trump said. "David Duke endorsed me? Okay, alright. I disavow, okay?"
This week isn't Trump's first brush with less-than-savory characters. In January, he retweeted a message from a Twitter user with the handle @WhiteGenocideTM, and a white nationalist group made robo-calls backing him in Iowa.