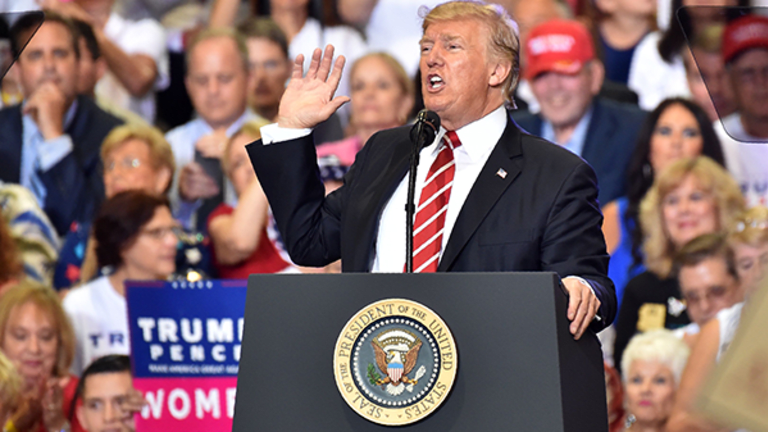 Here's What Happens to Stocks When the Government Shuts Down
Markets are starting to get nervous about the prospect of a government shutdown this fall, but maybe they should relax: stocks went up last time the government closed.
Markets are getting nervous about the prospect of a government shutdown this fall, but maybe they should relax: stocks went up last time the government closed up shop for a bit.
The S&P 500 rose 3.1% from October 1 to October 16, 2013, the last time the government shut down after a debate about funding the Affordable Care Act left Capitol Hill at a standstill, according to data from LPL Research. The S&P 500 also saw marginal gains during shutdowns under the Clinton administration in 1995 and 1996 and during some shutdowns under Reagan and Carter.
Historically, government shutdowns have been generally bad for equity markets but not catastrophic. The S&P has lost on average 0.6% during shutdowns since 1976.
The data may calm some anxieties on Wall Street as Washington lawmakers appear to barrel towards a standoff when they go back to work after Labor Day. The White House and Congress will have to agree to a budget or continuing resolution to fund the government and address the debt ceiling in September, and signs point to a potentially contentious month.
President Donald Trump has on more than one occasion indicated he's open to the prospect of a government shutdown over budget negotiations, including with regard to his proposed border wall. And on Thursday, he attacked Senate Majority Leader Mitch McConnell (R-KY) and House Speaker Paul Ryan (R-WI) over the debt ceiling on Twitter.
To be sure, failure to raise the debt ceiling and defaulting on the nation's obligations would be catastrophic. The Bipartisan Policy Center estimates the federal government could struggle to pay nearly a quarter of the U.S.'s bills after running out of funds in October. Political brinksmanship in the debt debate in 2011 resulted in banks and companies withdrawing billions of dollars from money market funds that invest in U.S. Treasury Debt and the S&P downgrading the United States' credit rating for the first time. Stocks plunged, with the Dow Jones Industrial Average seeing its sixth-largest one-day drop in history.
Ryan said a debt ceiling crisis is unlikely. Speaking with CNBC from a Boeing (BA) - Get Boeing Company Report factory in Washington State on Thursday, Ryan he wasn't worried. "We will pay our debts and we will make the debt limit," he said.
McConnell made similar comments earlier in the week at an event in Kentucky alongside Treasury Secretary Steven Mnuchin, who has also pushed for a debt ceiling increase. "There is zero chance -- no chance -- we don't raise the debt ceiling," he said.
A shutdown over the budget, however, is another story. There is a growing consensus on Wall Street and in Washington that it very well could happen.
And there's no guarantee that this time a shutdown would be as benign as in the past. Compass Point analyst Isaac Boltansky in a note on Wednesday warned that the current circumstances on Capitol Hill might exacerbate the downside risk of a shutdown for investors. It would delay appointee confirmations, which would affect Trump's deregulation agenda, and would deliver a psychological blow to markets already concerned about D.C.'s inability to govern. A shutdown could also delay already stunted progress on tax reform efforts, and fiscal policy failures could alter the Federal Reserve's monetary policy normalization trajectory.
And it's not just the markets that matter - it's the broader economy as well. Standard & Poor's estimated the 2013 shutdown cost the U.S. economy $24 billion.
More of What's Trending on TheStreet:
The 30 Nastiest Storms in Recent U.S. History Have Caused Mind-Blowing Damage
Editors' Pick: Originally published Aug. 25.