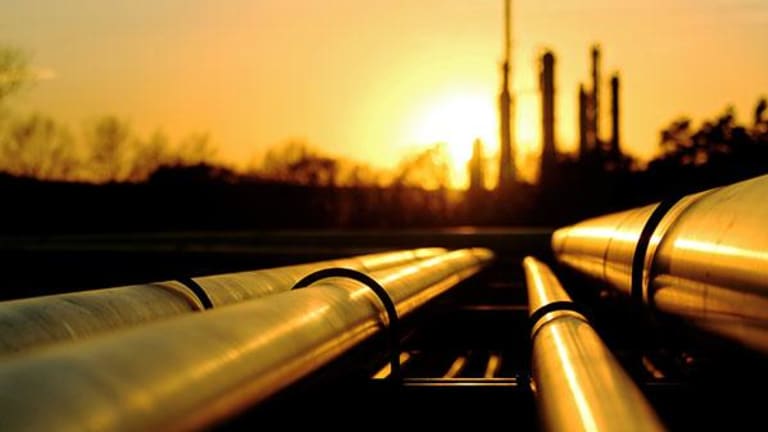 Here's How Trump's Wall Could Block U.S.-Mexico Gas and Oil Pipelines
Mexico's liberalization of its energy sector has opened up numerous opportunities for business for U.S. companies, but a President Trump could potentially roll that back.
In 2013, Mexican President Enrique Peña Nieto proposed a series of reforms to transform the country's energy sector, opening it up to foreign investment and ending a state 75-year state monopoly. The reforms became law in 2014. Since then, foreign investment has poured in and the energy has flowed in both directions. Many U.S.-based energy companies have benefited.
But all that may not be in jeopardy, say experts, if Donald Trump is elected president. 
Since 2014, U.S. energy companies have taken advantage of Mexico's shift toward natural gas as a power source as opposed to fuel oil, participating in auctions for its oil contracts and cooperating with state-owned petroleum company Pemex to develop its oil holdings, increase production and improve technology and infrastructure. While there have been issues along the way -- theft of oil from pipelines and restrictions on profits -- Mexico's reforms have opened up numerous doors to trade.
"Mexico has a tremendous amount of potential for growth, more so than Canada...simply because Canada is a developed economy and Mexico is a developing economy," said Stephen Munro, a policy analyst with Bloomberg New Energy Finance, in a phone interview with TheStreet. "From the viewpoint of energy exports, it represents the single-most important continental market that American energy firms have."
Mexico is the U.S.'s second-largest trading partner and fossil fuels is the fourth largest export at $19 billion. Trump's pledges to build a wall at the border, shut down immigration and curtail or renegotiate NAFTA could have major implications for the American energy sector. 
"What Trump fails to see is that cutting trade into the United States will...cut our ability to export both goods and capital to Mexico, where our companies would directly benefit. It's just extremely short-sighted and without logic, taking us back to the mercantilism days, where countries actually thought they would be better off if they didn't trade," said Alan Krupnick, senior fellow and co-director of the Resources for the Future Center for Energy and Climate Economics.
The energy segment that has the most to lose under a Trump presidency is natural gas. American companies have developed infrastructure to move gas from the U.S. into the Mexican market, with firms like Kinder Morgan (KMI) - Get Kinder Morgan Inc Class P Report , NET Midstream, TransCanada (TRP) - Get TC Energy Corporation Report and IEnova, a subsidiary of Sempra Energy (SRE) - Get Sempra Energy Report , in the mix. According to the U.S. Energy Information Administration, U.S. natural gas pipeline exports to Mexico reached 102.6 billion cubic feet in April 2016, up from 77.2 billion just a year ago.
"We export natural gas to Mexico more than anything else. More than coal, more than oil, more than electricity. And so that's where the real potential damage lies," said Munro.
Mexico's liberalization of its energy market compounds the issue. It is incrementally importing more American natural gas to serve the heavily-industrialized northern parts of the country and is instead taking Mexican-owned natural gas, which would primarily be produced in the Gulf of Mexico, to southern Mexico. A change in U.S. policy in relation to free trade with Mexico would put this process in jeopardy and throw off plans laid out by businesses and consumers on both sides of the border.
S&P Global Platts, a provider of information and benchmark prices for the commodities and energy markets, expects natural gas exports from the U.S. to Mexico to average 5.3 billion cubic feet per day in 2021, compared to 2.9 billion cubic feet per day in 2015, accounting for 57% of Mexico's natural gas supply. U.S. production will grow by 15.1 billion cubic feet per day during the same period. "If Mexican demand fails to materialize due to the upcoming political changes in policy, prices and producers in the U.S. will be affected," said Javier Diaz, manager of energy analysis and consulting at the firm. 
U.S. companies looking to place bids on Mexico's oil auctions could be impacted by a Trump presidency as well.
Since opening up its energy sector to foreign investment in 2014, Mexico has held a series of auctions of its oil fields. It has thus far held three bidding sessions on its first round of auctions and has a fourth round on deep water oil slated for this year. Houston-based Fieldwood Energy LLC, a portfolio company of private equity firm Riverstone Holdings, has already gotten into the mix in bidding, in January announcing that it signed a production-sharing contract in partnership with PetroBal, a Mexican company owned by billionaire Alberto Bailleres.
Other big U.S. oil companies like ExxonMobil (XOM) - Get Exxon Mobil Corporation Report , Chevron (CVX) - Get Chevron Corporation Report , Marathon Oil (MRO) - Get Marathon Oil Corporation Report , Occidental Petroleum (OXY) - Get Occidental Petroleum Corporation Report and Anadarko Petroleum (APC) - Get Anadarko Petroleum Corporation Report likely have an eye on Mexico's oil bidding as well. However, should a Trump presidency change U.S.-Mexico relations, the opportunities on the horizon could dissipate.
Occidental Petroleum is a holding in Jim Cramer's Action Alerts PLUS Charitable Trust Portfolio. See how Cramer rates the stocks here. Want to be alerted before Cramer buys or sells OXY? Learn more now.
"It would affect the whole value chain in energy if such a disruption happens," said Diaz.
His rhetoric may already be doing damage. 
U.S. hegemony and some of its past policies give Mexicans reason for concern for maintaining their autonomy and dignity; continued openness is not a foregone conclusion, said Dan Shawhan, visiting fellow at natural resource and environmental think tank Resources for the Future, in an email.
"It seems to me likely that they will depend on part on the policies and statements of the U.S. government. Assaults to Mexican national dignity, threats of trade tariffs, or concerns about other punitive U.S. government actions could result in reduced Mexican openness to energy trade and policy cooperation," he said.
Doug Holtz-Eakin, president of the American Action Forum and chief economic policy adviser to Senator John McCain's 2008 presidential campaign agrees and sees possibility for wider impact. 
"If he pursues a NAFTA renegotiation, it would harm our relationship with Canada as well. At the moment we have a fairly integrated North American energy supply system, and this would choose to fragment it," he said.
Wind, solar and other forms of energy could take a hit as well.
"It's important not to think this is just a couple of oil companies," he said.