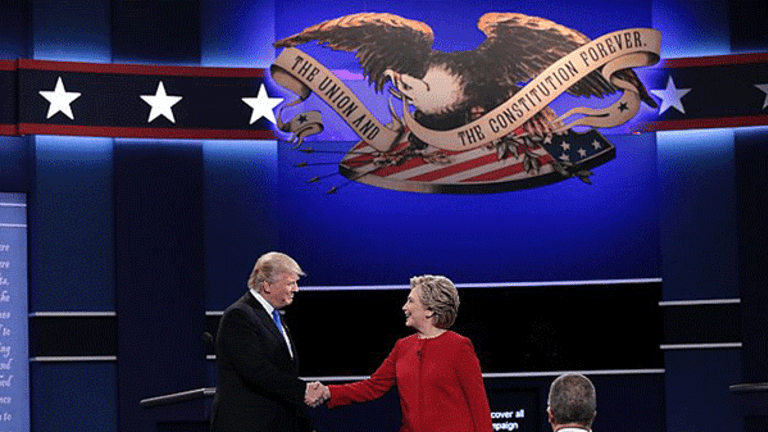 Here's How the Markets Could React to the First Clinton-Trump Presidential Debate
Asian markets rose as the presidential debate passed without a major shock. Here's what could happen in the markets on Tuesday.
Hillary Clinton and Donald Trump finally had their big showdown on the presidential debate stage. We'll leave it up to the pundits to decide who won. So let's get right to talking about how it affected the markets and what might happen when trading starts in the U.S. tomorrow. 
Let's go to Japan for a moment and the Nikkei 225.
The Nikkei, which opened at 8 p.m. ET, tracked the broader losses on Wall Street and was down about 1.5% in the lead-up to the debate. As the debate wound down, the Tokyo index had pared losses and was down about 0.3%. Hong Kong, which opens an hour later was up around about 0.5%.
In absence of any major global news, you have to figure that investors are keying off the debate and see nothing to spook them.
As Jim Cramer wrote on Real Money, it may really not matter who wins the White House as far the market is concerned. But a sense of certainty helps. It's possible market players got a bit of both.
If you believe the stock market is reliant on the fundamentals of companies, then a Clinton presidency where trade deals won't be renegotiated might seem a little more stable. If you're a wealthy investor, a Trump presidency would be better for your bank account.
Let's look at what the market could also react to.
The Fed
Less than a week after the Federal Reserve decided not to raise interest rates, Republican presidential nominee Donald Trump attacked the Fed -- preemptively.
"The Fed is doing political things ... the Fed is not doing their job," Trump said during the 90-minute debate with Democratic candidate Clinton at Hofstra University on Long Island. The Republican added that if the Fed were to raise interest rates, "very bad" things would happen.
The Fed has kept the target range for the federal funds rate at 0.25% to 0.5%, even though several Fed governors disagreed with the decision. But there is a better probability that interest rates could rise in December, as the Fed's Open Market Committee will likely leave rates unchanged during its November meeting, which is set right before the election. Clinton did not get a chance to respond.
Taxes and Regulation
Trump defended his decision for not releasing his tax returns while under audit, but instead, perhaps, put himself on the hot seat. When Clinton went on the attack, Trump piped up saying not paying taxes "makes him smart." He promised to release his tax returns as soon as Clinton produces the 33,000 e-mails she deleted.
Trump touted his tax plan as the largest tax-cut since Ronald Raegan. Underscoring the fundamental difference between the two major American parties, Hillary Clinton refers to his plan as "Trumped-up trickle-down" economics.
Trump also came out strong against business regulations, which given his background, was to be expected. He argued that Clinton was going to approve one of the biggest tax cuts in history, adding that she would drive companies out of the country.
"You're going to regulate businesses out of existence," Trump said.
But what he may have forgotten, or selectively chosen not to remember, was that Glass-Steagall was repealed under President's Bill Clinton's administration. Hillary Clinton probably didn't bring that up as it was certainly a cause of the eventual subprime disaster.
Wall Street traditionally backs the Republican candidate for president, but this time around, Trump's push-back against globalism and anti-trade rhetoric has led none of the Fortune 100 CEO's to back him as a presidential candidate.
That's not to say that the business class is backing Clinton, however. While, Hillary got the nod of approval from 11 of those CEOs, her ties to Wall Street have been a detriment to her campaign so far and her acceptance from that class may cost her votes from her Democratic base.
The Real Winner?
Who got off the hook tonight? How about the companies in the crosshairs of Congress? Wells Fargo (WFC) - Get Wells Fargo & Company Report and Mylan (MYL) - Get Viatris, Inc. Report can breathe a sigh of relief.
Wells Fargo is a holding in Jim Cramer's Action Alerts PLUS Charitable Trust Portfolio. Want to be alerted before Cramer buys or sells WFC? Learn more now.
At the time of publication, Kamal Khan had no positions in the stocks mentioned. Prior to joining the Premium Services team at
TheStreet
as deputy managing editor, Kamal Khan worked as a news editor at
CNBC
in London. Before
CNBC
, Khan worked at
MSN Money
and
CNNMoney.com
. He has a bachelor's degree from the University of Virginia and a master's degree in journalism from Columbia University. Tony Owusu and Anders Keitz are Real Money staff columnists.