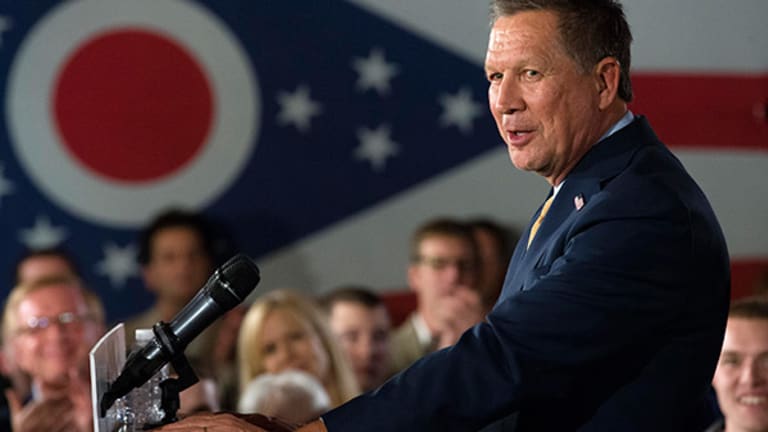 With 24% of the vote, Ohio Governor John Kasich narrowly missed coming in second in the Michigan GOP primary, falling to Ted Cruz, who had 25%, and Donald Trump, who won with 37%. But he trounced the other so-called "establishment" candidate, Florida Senator Marco Rubio, who captured only 9%.
The possibility of Kasich in some way challenging for the nomination has increased somewhat. So, what would he do as president? When it comes to taxes, it's not totally clear, but here's what we know.
Kasich boasts having enacted $5 billion in tax cuts in Ohio since taking office in 2011. If elected to the White House come November, we can expect similar cuts nationwide thanks to what he promises will be a fairer and simpler tax code under his watch.
"It's a very conventional Republican reform effort," said Steve Rosenthal, a senior fellow at the Urban-Brookings Tax Policy Center at the Urban Institute.
Unlike fellow Republican contenders Ted Cruz and Marco Rubio, whose tax proposals are quite a departure from the current U.S. tax system, Kasich's plan is more reform-focused in nature, Rosenthal explained. "Rubio and Cruz would replace our income tax with some form of consumption tax," he said.
With Kasich, that's not the case. He is reforming the income tax, not replacing it.
According to a fact sheet posted on his campaign website, Kasich plans to lower income tax rates, reduce the number of brackets and increase the earned income tax credit in an effort to "allow all taxpayers, especially low and middle income earners, to keep more of their own money and be better able to save and invest for the future."
He hopes to reduce the number of brackets from seven to three, cut the top rate from the current 39.6% to 28% -- the same rate President Ronald Reagan used in his 1986 tax cut -- and reduce other rates as well, though he hasn't said by how much.
Kasich also plans to increase the earned income tax credit, a refundable credit for low to mid-income Americans, by 10%, reduce long-term capital gains rates to 15%, eliminate estate taxes and simplify deductions.
Corporations under Kasich, who spent eight years as a managing director of now-defunct Lehman Brothers, would see a friendlier tax environment as well. He has set his sights on cutting the top business rate to 25% from 35% and doubling the research and development tax credit for small business.
The governor has proposed allowing businesses to immediately and fully deduct capital investments -- they currently have to have them depreciate over time -- which would essentially turn corporate tax into a cash-flow tax, said Kyle Pomerleau, director of federal projects at the Tax Foundation.
"Corporations are only being taxed on the profits that they receive, rather than the profits plus the value of the investments that they made," he said. "From an economy standpoint, this is a huge reduction in the cost of capital...so that would lead to a higher level of investment and economic growth in the long run."
Not only does Kasich's tax outline address the issue of domestic corporate taxes, but it also looks at what to do with revenue earned abroad and the more than $2 trillion American companies are stashing overseas.
The governor plans to shift the U.S. tax code to a territorial system that only taxes profits businesses generate in the U.S. (Currently, businesses repatriating profits face a 35% corporate tax.) This, too, is par for the course in Republican tax proposals -- with the exception of Donald Trump. The billionaire businessman has pledged to lower the corporate tax rate to 15% and keep in place a foreign tax credit so that companies can avoid double taxation. However, he will bar companies from deferring taxes on income earned abroad, as they do now.
According to Rosenthal, while a change like that proposed by Kasich and other Republicans would help American corporations better compete globally and could potentially encourage them to bring cash back, it might have secondary affects the Ohio governor's plan doesn't directly address. "If we shift to territorial, how can we ensure that U.S. manufacturing and jobs stay in the U.S. and don't shift abroad to avoid taxes?" he said.
Still, the general takeaway on Governor Kasich's tax outline, sparse as it may be, is that it would likely be good for the economy. Pomerleau, who said the proposals in many ways mimic those outlined by dropout contender and former Florida Governor Jeb Bush, indicated that it is off to a good start.
"There are portions of this plan that are pro-growth, that would reduce the cost of capital and would lead to higher investments," he said. "All else equal, you would see a larger economy over the long run."