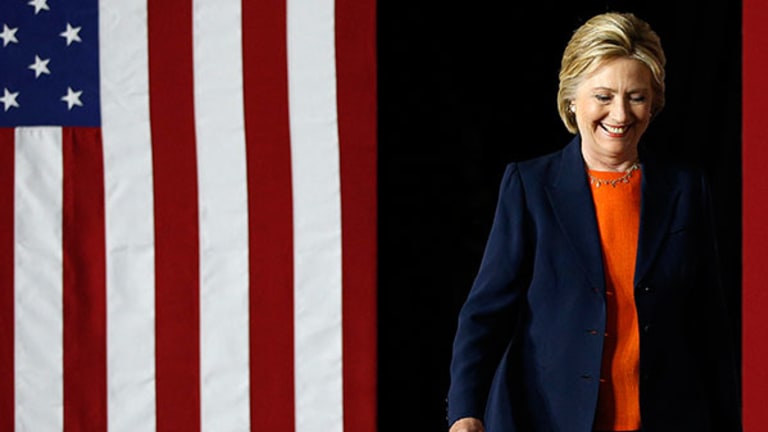 Here's How Hillary Clinton's Super PAC Plans to Spend Its $136 Million Advertising Budget
Hillary Clinton's super PAC is preparing to deploy millions of dollars on advertising to catapult the former secretary of state into the White House. Here's how it will break down.
Hillary Clinton's super PAC is preparing to deploy millions of dollars on advertising to catapult the former secretary of state into the White House. The PAC's game plan may also provide clues to how other committees plan on spending their money. Here's how it's going to break down. 
Priorities USA Action, the political action committee that backed President Barack Obama's 2012 reelection bid and is now behind Clinton, has already laid down $136 million in ad reservations for this election cycle and will likely ad more. The group's messaging will focus on taking down presumptive Republican nominee Donald Trump. With both candidates' negative polling numbers so high, this campaign is expected to feature a lot of negative advertising. The thinking is that it's easier to make more people hate your already-hated opponent than to get anyone who hates your candidate to turn.
According to Federal Election Commission filings, the super PAC has already raised more than $75 million since January 2015, with multi-million-dollar donations coming from figures like billionaire investors George Soros and James Simons and entertainment mogul Haim Saban and his wife, Cheryl. A New York Times comparison puts Priorities USA's fundraising above any other presidential super PAC this election cycle except Right to Rise, which backed Jeb Bush and brought in over $125 million. Groups backing Ted Cruz and Marco Rubio brought in over $60 million each.
The majority of Priorities USA's ad budget -- $96 million -- has been side aside for media advertising. Of that amount, $6 million has been deployed through June 8, the day after the California and New Jersey primaries. After that, $20 million is set to be spent ahead of the convention, and an additional $70 million after.
Rates for spots vary by market, station and programming, though in general, super PACs pay significantly more for ads than campaigns. Federal election law requires television station owners to offer campaigns their lowest rate for a given time slot; super PACs don't get the same treatment.
"The majority of our ads are going to be aimed at Donald Trump, though we will do a mixture of both positive Hillary ads and contrast ads about Trump," said Justin Barasky, communications director at Priorities USA Action. "Contrast" ads are industry jargon for negative ads.
He acknowledged that Priorities USA's exact spending plans and messaging are likely to morph heading toward Election Day, but the group has already figured out an initial line of attack: "exposing Donald Trump as a know-nothing conman who's too dangerous and divisive to be president," Barasky said.
Apparently they're taking a cue from the #DangerousDonald tagline.
The committee plans to focus its advertising in seven states: Ohio, Virginia, Florida, Nevada, Colorado, Iowa and New Hampshire. (It will wait to start in the latter three until after June 8.) As to why not target television viewers in other battleground states, like Pennsylvania, North Carolina or Wisconsin, Barasky replied: "[Because] the seven we're doing are even more swingier."
Beyond television, Priorities USA will also target voters via the radio, having reserved $5.3 million in ads. Ads will hit the airwaves in the above-mentioned seven states, minus Iowa and New Hampshire. The reason: the spots will largely be aimed at African Americans and Hispanics, groups the PAC considers "key components of Hillary Clinton's constituency," which don't make up significant portions of the population in either state. Ads will play on stations that target those demographics, which might benefit companies like iHeartMedia (IHRT) - Get iHeartMedia, Inc. Class A Report and Cumulus Media (CMLS) - Get Cumulus Media, Inc. Class A Report as well as smaller entities like Entercom Communications (ETM) - Get Entercom Communications Corp. Class A Report and Saga Communications (SGA) - Get Saga Communications, Inc. Class A Report . 
The group recently enlisted Jeff Johnson, president of Baltimore-based JIJ Communications, to focus on its African American media strategy.
"We think it's important to have a broad, diverse group of consultants," said Barasky. "We want our advertising to reflect the country."
Most of Priorities USA's television and radio spend is geared toward independent voters and those still making up their minds about where to cast their vote. On the digital end, however, the plan is a little different: the group will target those who are probably already fine with idea of a President Hillary and work to make sure they go out and vote. 
"If you've heard of the phrase 'preaching to the choir,' we're going to be doing a little of that," Barasky said. 
The super PAC has made $35 million in digital advertising reservations set to run from June through November. It will concentrate efforts on four groups: African Americans, Hispanics, millennials and women. 
The team believes getting these constituency groups out to vote will be essential for a Clinton victory. They also happen to be groups that aren't super tuned in to television.
"They are segments of the electorate that don't rely on TV to get their news as much as other folks do. In fact, about two-thirds of Hispanic voters rely on their smartphones more than they do their televisions; one in four millennial voters don't watch any TV at all. Any TV shows they watch are streaming, and they're doing it on an iPad, a lap top, a cell phone," said Barasky.
And that's where Priorities USA plans to be.
Social platforms Facebook (FB) - Get Meta Platforms Inc. Class A Report , Twitter (TWTR) - Get Twitter, Inc. Report and Instagram will see some ad spend from the super PAC, but the bulk of its digital advertising dollars will go towards non-skippable pre-roll spots (ads that users cannot opt out of shown ahead of video content they wish to view). "That's the most valuable and effective type of digital advertising," Barasky said. Deep dive: 2016 is a make-or-break year for Twitter
A likely recipient of much of the digital ad spend on that front is Google parent company Alphabet (GOOGL) - Get Alphabet Inc. Class A Report , which owns video streaming site YouTube and enables brands to advertise across a vast network of platforms. Deep dive: The first $1 billion election
Facebook, which recently announced the expansion of its advertising platform to help marketers access third-party applications and websites, could grab a piece of the pie, too.
Of course, there's no guaranteeing Priorities USA's massive advertising budget will solidify Clinton the Oval Office, or that it will stop Trump. Others have tried and failed.
The anti-Trump movement, largely on the GOP side, spent over $75 million on nearly 64,000 television ads attacking Trump, according to data from ad tracking firm Kantar Media/CMAG reported by CNN. And that figure includes broadcast television alone -- not cable and satellite TV or digital. Moreover, many of the ads came from Priorities USA's Republican cousins: Conservative Solutions PAC, the super PAC backing Marco Rubio, and Right to Rise, the organization behind Jeb Bush.
The Priorities USA Action team thinks they'll have better luck.
"It's literally a different electorate," said Barasky. "Before, we were talking about just the Republican primary electorate. Now, obviously, you're adding in millions of Democrats and independents, so right away, it's a completely different makeup of people that you're appealing to. Furthermore, what the Republicans did was too little too late. If they'd started earlier, they very well may have been successful."
But the Clinton-backing super PAC is thankful for the GOP's anti-Trump efforts. Not only did they do some damage to the candidate, but they also cut out some of the dirty work. Deep dive: The Trump effect in 2018 and beyond
"Their ads were successful in making Donald Trump the least popular Republican nominee in modern history. So, what we did was we looked at what they ran, we tested a lot of it, focus grouped it. They saved us millions of dollars, and now we know what is the most effective against him, and that is to paint him as a divisive, dangerous conman who should never be president," Barasky said.