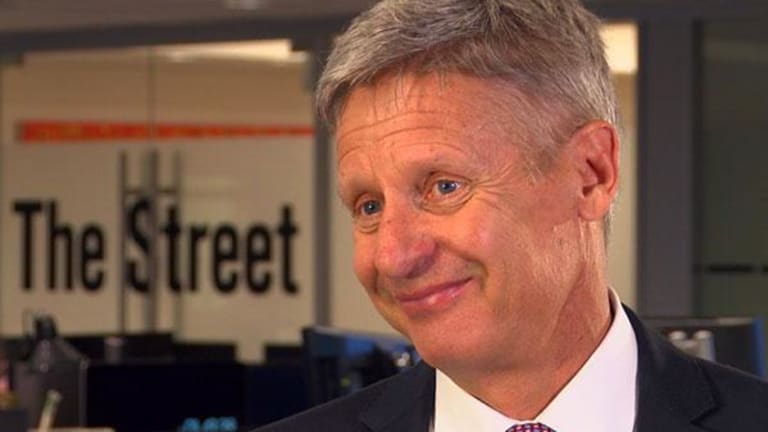 Here's How You Should Invest If Gary Johnson Makes It to the White House
It may not be the likeliest of scenarios, but if Gary Johnson becomes president of the United States, investors might want to shift some money around. Here's how.
If Libertarian candidate Gary Johnson becomes president of the United States, investors might want to shift some money around. 
The two-term governor of New Mexico running atop the libertarian ticket this election cycle, if elected to the Oval Office and able to push a liberty-focused agenda through Congress, would bring major changes to various industries, businesses and markets. Investors would likely want to adjust their portfolios accordingly, and if all goes to plan (as in, libertarian economic theory works out), they could have more money to do so.
"Businesses would have more money to invest because they're paying less taxes, individuals would have more money to spend and invest because they're paying less taxes," said Michael Busler, public policy analyst and professor of finance at Stockton University.
Johnson has proposed overhauling the U.S. tax system, abolishing the IRS and instating a single consumption tax for all American citizens and businesses. At the same time, he would slash the federal budget, overhauling and reducing spending on programs related to defense, entitlements and education, among others. He would roll back government regulations on energy and other industries and would cut back subsidies on areas like agriculture and health care -- all while taking a liberal approach to issues like drugs, immigration and reproductive rights.
"I'm going to sign any legislation that eliminates an agency, shrinks the size of government, shrinks the tax burden," Johnson said in an interview at TheStreet's offices in New York.
If Johnson becomes president and is able to implement his free-market, competition-promoting agenda, where should you invest? Deep dive: Here's what would happen to the economy under President Johnson
Make Green With Weed
The best place to start might be marijuana.
Johnson is a major proponent of legalizing marijuana and has been for years. He resigned as CEO of Cannabis Sativa (CBDS) , a Nevada-based marijuana holding company, at the start of the year to launch his presidential bid. He is open about his own marijuana use -- a bit of a health nut, he prefers edible products over smoking -- though isn't consuming on the campaign trail (nor would he in the Oval Office, he said).
The former governor's passion for legalization and knowledge of the industry are evident in conversation, and his presidency would certainly mean good things for the growing industry.
"Marijuana products, medicinally, directly compete with legal prescription drugs that statistically kill 100,000 people a year [referring to opioids]. You can argue about the effectiveness of marijuana versus the legal prescription drugs, but I'm going to say just as effective, perhaps more effective than not effective, and not one documented death, not one, from marijuana," he said.
Making marijuana legal would remove major impediments in the current market, including allowing growing, processing, packaging and selling to take place across state lines. It would result in a much more consumer-friendly, and investor-friendly, pot marketplace.
Numerous companies in the pot sector could benefit, including Cannabis Sativa as well as Kush Bottles (KSHB) , a packaging supply maker, GW Pharmaceuticals (GWPH) - Get GW Pharmaceuticals Plc Report , a developer of cannabinoid prescription medicines, and CannaVEST (CVSI) , which makes hemp and cannabidiol products, and others.
Johnson doesn't necessarily advise against investing in the sector now, though he acknowledges it is volatile.
"As we all know from investing, you take a flyer, you hit it right, you can have an extraordinary tale to tell for a long time," he said. "But the prudent investor, you know, there's a lot of stuff that needs to sort itself out."
It should be mentioned that most of these stocks are penny stocks and not for the faint-hearted investor.
It is also worth noting that marijuana's gain might be alcohol's loss, meaning investors should avoid liquor and beer makers like Diageo (DEO) - Get Diageo plc Report and Anheuser Busch (BUD) - Get Anheuser-Busch Inbev SA Sponsored ADR (Belgium) Report if Johnson makes it to the White House.
"On the recreational side, I have always said that legalizing marijuana will lead to less overall substance abuse because people are going to find it as such a safer alternative than everything else that's out there, starting with alcohol." He said. "The campaign to legalize marijuana in Colorado was a campaign based on that: marijuana is safer than alcohol."
Goodbye Regulation, Hello Energy Profits?
Energy companies, specifically those weighed down most by government restrictions, might be a good place to look for gains under a Johnson administration.
While he acknowledges climate change and believes it is the proper role of government to enforce reasonable environmental protections, Johnson is against the government engaging in social and economic engineering to manipulate the energy marketplace. He opposes cap-and-trade legislation and carbon taxes that seek to control pollution, arguing the costs of such efforts outweigh the benefits, and promotes free competition among all players, regardless of environmental impact.
"The energy sector has all sorts of special treatments, both the traditional oil and gas sector but also the renewables, the green energy sector," Jeff Miron, director of economic studies at the Cato Institute and director of undergraduate studies in the Economics Department at Harvard University who has worked with Johnson on economic policy for his campaign.
Potential winners as a result: oil and gas giants like Exxon (XOM) - Get Exxon Mobil Corporation Report , Chevron (CVX) - Get Chevron Corporation Report and BP (BP) - Get BP p.l.c. Report .
Stocks wouldn't be the only places to invest under a President Johnson -- there are more unconventional vehicles that might be a good idea as well.
Crypto-Gig Economy
Gig-economy companies like Uber and Airbnb, both of which are currently private, would likely flourish. In fact, Johnson recently said in an interview with "Full Frontal" star Samantha Bee "the model of the future should be Uber-everything."
And Bitcoin might be a good place to put some funds, too. The cryptocurrency that has received a less than warm reception from regulators in the U.S. and around the world, but Johnson is a-okay with it. So much, so, that like fellow libertarian Rand Paul he accepts campaign donations in Bitcoin.
Lax Gun Laws Bad for Gun Stocks?
As for what not to invest in, Johnson's take on guns, while friendly to gun owners, might not be so great for gun stocks like Smith & Wesson (SWHC) and Sturm, Ruger & Company (RGR) - Get Sturm Ruger & Company Inc. Report , which tend to surge at the threat of gun regulation -- something Johnson is unlikely to bring about. He acknowledges that the subject is "complex stuff," though he clearly lands on the side of less control.
"I'm just in the camp that if you criminalize guns, if you criminalize a certain type of weapon, then those criminals are going to have that weapon," he said, later referencing the Orlando shootings. "These shootings are happening in gun-free zones. I just believe if you allow people to carry weapons for self-defense and don't restrict that in a big way, then we might have had people that could have stepped up and perhaps lessened the extent of this tragedy. And I don't want to say that this would, categorically, be the case, but it's a possibility."
Putting more firearms in more places could be good for gun manufacturers, but not nearly as good as the threat of anti-gun laws. Gun sales have surged since President Obama entered the White House on concerns he would up restrictions on firearms purchases, and they have seen notable bumps after his calls for tighter gun laws after mass shootings as well. A President Johnson is unlikely to make such calls.
Defense Stocks to Suffer?
While Johnson isn't an isolationist, he would pare back defense spending. 
Companies like Lockheed Martin (LMT) - Get Lockheed Martin Corporation Report , Boeing (BA) - Get The Boeing Company Report and United Technologies (UTX) - Get n.a. Report depend on multi-billion-dollar defense contracts for lofty stock valuations.
If Johnson's Democratic or Republican rivals, Hillary Clinton and Donald Trump, respectively, reach the White House, defense spending is likely to continue its long climb. But if Johnson should win, don't bet on it. 
Lockheed Martin is a holding in Jim Cramer's Action Alerts PLUS Charitable Trust Portfolio. See how Cramer rates the stock here. Want to be alerted before Cramer buys or sells LMT? Learn more now.