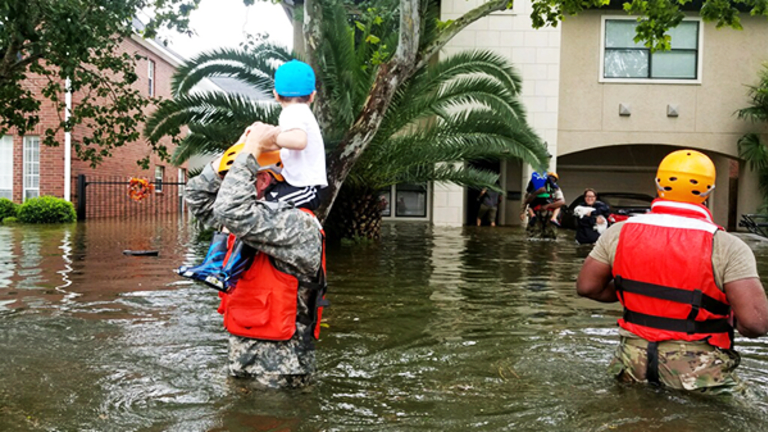 Here Are the Most Expensive Hurricanes as Harvey May Cost $190 Billion
With recovery and rebuilding efforts underway following Hurricane Harvey, TheStreet looks at how much federal funding is received after a serious storm.
With recovery and rebuilding efforts underway following Hurricane Harvey, TheStreet looks at how much federal funding is received after a serious storm.
As Hurricane Harvey is anticipated to become the costliest natural disaster in U.S. history, there are still some states seeking money from prior hurricanes. Yet, while the flood levels begin to recede in Texas and the cleanup starts, President Donald Trump has expressed that Congress will foot the bill.
You're going to see very rapid action from Congress," the president said on Monday. "You're going to get your funding."
The cleanup bill will likely be substantial as the projected cost of the storm continues to rise. An estimated 100,000 homes in the Houston area were damaged or destroyed, according to the White House. Private weather firm AccuWeather projects that Harvey could cost $190 billion, according to a report by USA Today, which is equal to the combined cost of Hurricanes Katrina and Sandy.
"Parts of Houston, the United States' fourth largest city, will be uninhabitable for weeks and possibly months due to water damage, mold, disease-ridden water and all that will follow this 1,000-year flood," AccuWeather president Joel Myers told USA Today.
Given this historic natural disaster, TheStreet breaks down what federal funds were provided for some of the nation's biggest hurricanes.
Hurricane Andrew -- 1992

At the time, Hurricane Andrew was the costliest natural disaster in American history, devastating South Florida. Assisting in the cleanup, the Federal Emergency Management Agency (FEMA) provided more than $290 million in federal assistance to about 108,000 people affected by the storm and an additional $746 million to help rebuild infrastructure.
"We knew we had years of recovery ahead of us given the severe impact that this storm had on South Florida communities, and it was clear the government couldn't do it alone," said FEMA Region IV Administrator Phil May. "Federal, state and local partners, the private sector, the faith-based and non-profit groups, and especially the public--everyone rolled up their sleeves and worked together to help people recover from the storm." 
Goldman Sachs noted this week that FEMA will need additional funding since the primary source of the agency's funding, the Disaster Relief Fund, has a balance of $3.3 billion and will likely be "drawn down fairly quickly over the coming weeks."
Hurricane Katrina -- 2005

During President George W. Bush's second term, Hurricane Katrina caused severe damaged along the Gulf Coast, from central Florida to Texas. It was one of the five deadliest hurricanes to ever strike the U.S. and displaced more than a million people. Louisiana was the hardest hit area in the region; approximately 80% of New Orleans was flooded once the levees protecting the city failed.
The National Oceanic and Atmospheric Administration (NOAA) said that the storm was responsible for at least $108 billion in damages, making it more costly than Andrew. Federal spending related to the hurricane totaled more than $120 billion.
Notably, Vice President Mike Pence gave a speech in 2005 when he serving in the House Representative (R-IN) warning against funding Katrina relief efforts without cutting funding elsewhere.
"Congress must ensure that a catastrophe of nature does not become a catastrophe of debt," Pence said at the time.
The vice president traveled to Texas on Thursday to meet with victims of Hurricane Harvey and witness the destruction from the storm.
Hurricane Ike -- 2008

Hurricane Ike was the last hurricane to hit the Texas and Louisiana area, making landfall in Texas in September 2008. Ike was responsible for an estimated 113 deaths in the U.S. and approximately $29.5 billion in damages.
Federal assistance to help Texas topped $2.5 billion, according to FEMA.
Super Storm Sandy -- 2012

In October 2012, Hurricane Sandy slammed into Cuba and then moved north toward the mid-Atlantic states. Even though it made landfall in New Jersey as a post-tropical cyclone, because of its size, "Sandy drove a catastrophic storm surge into the New Jersey and New York coastlines," said the National Hurricane Center in a NOAA report. Damage from the storm was estimated at about $50 billion, according to NOAA.
After the superstorm, however, 179 House Republicans voted against relief for the New York-New Jersey area, including members of the Texas delegation. Texas Senator Ted Cruz (R) also voted against the efforts.
This week Sen. Cruz defended his position, saying that "it became a $50 billion bill that was filled with unrelated pork. Two-thirds of the bill had nothing to do with Sandy."
But that notion is mostly incorrect, and even without a number of Republicans, a $50 billion package was approved in January 2013.
Hurricane Matthew -- 2016

More recently, Hurricane Matthew slammed into North Carolina last October, killing 20 people and forcing thousands to evacuate. The state asked for $929 million to help communities and families repair their homes and businesses after damaging flooding. But in May, North Carolina learned that it will receive just $6.1 million. Governor Roy Cooper said it was "an incredible failure by the Trump Administration and Congressional leaders to turn their backs." He said Matthew caused an estimated $4.8 billion in damages across 50 counties in North Carolina.
More of What's Trending on TheStreet:
Hottest 5 Things Happening in the Stock Market Right Now Hurricane Harvey Shuts Pipeline, Ups Gasoline Prices and Prompts Reserve Release Warren Buffett's Junk-Food Diet Has Gotten Him to 87: Should You Follow It? FMC Stock's Impressive Rally Has Another 20% to Gain: Jim Cramer