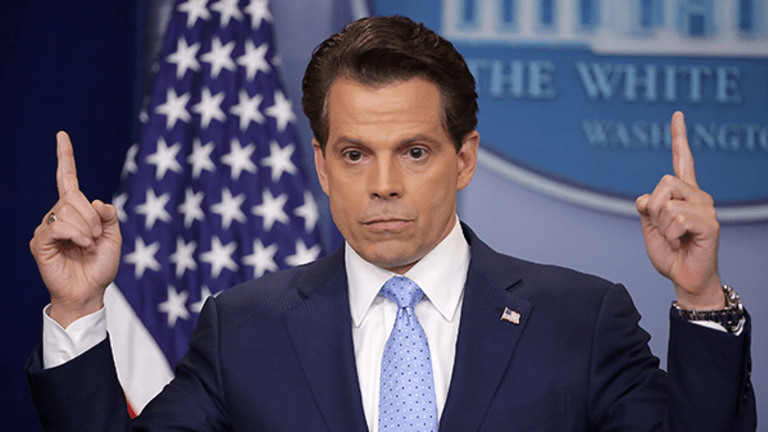 Sean Spicer Quits, and Wall Street's Scaramucci Loves His Job in White House
Hedge funder Anthony Scaramucci might soon finally have a job at the White House.
Anthony Scaramucci is in at the White House, and Sean Spicer is out.
President Donald Trump has named Scaramucci, a former hedge fund manager, as his new communications director. Spicer will exit his post in August, and Sarah Huckabee Sanders will take over as press secretary.
"I love the president," Scaramucci said when addressing reporters on Friday after his new post was announced. He also said he loves the White House team and cast himself as an entrepreneur and incrementalist. "The ship is going in the right direction," he said.
Scaramucci was offered the job over objections by advisers Steve Bannon and Reince Priebus, according to a report from Axios, and CNN reports the former head of Skybridge Capital has accepted the job. Scaramucci, one of Trump's most vocal defenders, met with the president and his daughter, Ivanka Trump, for more than 30 minutes on Thursday about the spot and was back in the Oval Office on Friday. Press Secretary Spicer resigned over the decision, The New York Times reported, leading to speculation that Chief of Staff Priebus may soon be on his way out the door as well.
"Reince and I have been personal friends for six years," Scaramucci said. "We are a little bit like brothers, where we rough each other up once in a while."
He said it's okay if there's a little bit of "friction" in the White House. "I'm a business person, I'm used to dealing with friction," he said.
White House aide Kellyanne Conway in an appearance on Fox and Friends earlier in the day on Friday praised Scaramucci's loyalty to Trump.
"All I can say is in speaking with the president and others that, you know, we have a great communications team already," she said. "At the same time, you know...Anthony Scaramucci is somebody who has been an incredible asset to President Trump all during the campaign, the transition and now he is one of the killers on TV."
Scaramucci's television performance is reportedly part of what compelled Trump to consider him for the communications job. His background is in finance and campaign fundraising.
Prior to Friday, Scaramucci had reportedly been set to be named to other Trump administration spots, only to be left empty-handed.
WATCH: Sean Spicer Resigns; Anthony Scaramucci May Be Named White House Communications Director: NY Times
Scaramucci told reporters in January he would be joining the White House as a liaison to the business community. The Trump administration never made an official announcement on the matter. He ultimately did not get the job.
Bloomberg reported in June that he would be named ambassador to the Organization of Economic Cooperation and Development. He didn't get that job, either.
Just weeks ago, the Export-Import Bank confirmed that Scaramucci had been brought on as senior vice president and chief strategy officer. Ex-Im Bank spokeswoman Linda Formella said in an email to TheStreet he still has that job, which he would depart for the new communications spot.
Scaramucci in January agreed to sell his approximately 45% stake in SkyBridge to an investor group including a subsidiary of Chinese conglomerate HNA Group - a deal that might have hindered his job prospects under Trump until it was closed. The transaction was estimated to be valued at $200 million to $230 million, meaning Scaramucci would have netted about $100 million.
Scaramucci's former fund of hedge fund, Skybridge Capital, had at one time held a number of investments with activist hedge funds. However, in recent years, Skybridge had cut back significantly on activist fund manager investments after some didn't perform as expected.
Nevertheless, Scaramucci typically will have some activist managers come and speak to investors at his annual SALT conference in Las Vegas, an event he has organized for nine years to help promote the fund. For example, in 2017, Salt heard from activists Bill Ackman of Pershing Square and Dan Loeb of Third Point. Other activists that have spoken at prior Salt conferences include Sandell Asset Managemnet's Tom Sandell, Starboard Value's Jeff Smith, Blue Harbour Group's Clifton Robbins and SachemHead Capital management's Kirk Ferguson. The SALT conference is expected to be spun out as a standalone entity. 
Scaramucci will replace Mike Dubke, who resigned in May, as communications director. Scaramucci did not return a request for comment. 
He lands at a tumultuous time at the White House, which is engulfed in ongoing probes into Russia's election meddling and potential ties to Russia. Overnight Thursday, The Washington Post reported Trump's lawyers are exploring the president's pardoning powers, and the Times reported aides are looking into ways to discredit the investigation being run by special counsel Robert Mueller. Trump's legal team endured a shakeup. The administration has not held an on-camera press briefing since June.
But Scaramucci, ever the loyal soldier, appears to still really want a White House job, even as the administration struggles to fill its ranks.
Watch: Anthony Scaramucci: Trump is Perceived as a Pro-Business President
"I honestly don't know what that role will be, but hopefully it will be something where I can have a meaningful impact," he told journalist Michael Wolff in an event hosted by TheStreet in March.
He appears to have finally gotten his wish.
-- Ron Orol contributed to this report.
More of What's Trending on TheStreet:
Quiz: Which Company Makes Your Favorite Junk Food?
T-Mobile Launches Promotion Discounting Apple's iPhone 7 -- Here's How Much You'll Pay