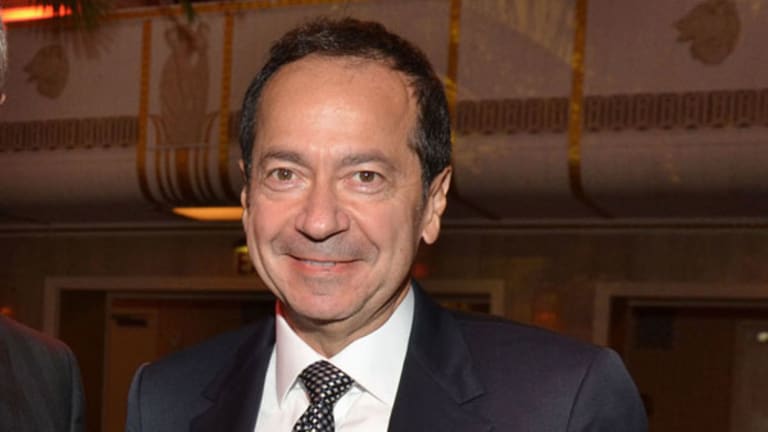 Hedge Fund Billionaires Support New York Attorney General Schneiderman
Chanos, Einhorn, Soros and Paulson are some of the prominent hedge fund names who are backing Schneiderman's 2014 reelection campaign.
NEW YORK (TheStreet) -- Several prominent hedge fund billionaires are backing New York Attorney General Eric Schneiderman in his 2014 reelection bid, a noteworthy development given that Schneiderman has made a point of being tough on Wall Street.
Schneiderman appears to have been more focused on policing banks than hedge funds during his tenure. He has extracted a total of more than $1 billion in cash settlements from Bank of America (BAC) - Get Bank of America Corp Report , JPMorgan Chase (JPM) - Get JPMorgan Chase & Co. Report and Citigroup (C) - Get Citigroup Inc. Report over mortgage-related abuses. However, a lawsuit he brought against Barclays (BCS) - Get Barclays Plc Report charged the bank with giving certain types of hedge funds early access to market moving information. The case is still pending. 
Hedge funds are more lightly regulated than banks, though U.S. Attorney for the Southern District of New York Preet Bharara has put several hedge fund executives in jail. Schneiderman also has wide latitude to bring securities cases under New York's Martin Act, one of the most powerful legal tools for policing Wall Street.
Backers of Schneiderman include two investors who came to prominence by successfully betting against Wall Street ahead of the 2008 financial crisis: John Paulson, who shorted subprime mortgages, and David Einhorn, who shorted Lehman Brothers.
Another famous short seller who backs Schneiderman is Kynikos Associates' Jim Chanos, best known for predicting the collapse of Enron.
Also on the list of Schneiderman donors is Pershing Square Capital Management's Bill Ackman. Ackman gave Schneiderman $25,000 in 2010 and another $5,000 in 2012, donations that drew the attention of Fox Business earlier this year after Schneiderman launched a probe into Herbalife (HLF) - Get Herbalife Nutrition Ltd. Report , which Ackman has been betting against.
Rounding out the list are semi-retired investors who now devote much of their time and money to philanthropy: Renaissance Technologies founder James Simons and 84-year-old George Soros. Soros's sons Jonathan and Robert also donated at least $10,000 each to Schneiderman.
Among these famous billionaires, the only one who truly lived up to his profession by hedging his bets in terms of donations to this campaign is John Paulson. He gave $60,000 to Schneiderman over several years and $41,000 to Republican Attorney General candidate John Cahill in 2014.
Armel Leslie, a spokesman for Paulson at WalekPeppcomm, declined comment. A spokesman for Einhorn, Jonathan Gasthalter at Sard Verbinen, declined comment. Calls to George Soros, Chanos and Simons weren't returned.
A statement from Peter Ajemian, a spokesman for the Schneiderman campaign, stated in part, "contributions play no role whatsoever in what industries or market sectors the Attorney General investigates."
Big banks have largely sat out the New York Attorney General race, giving little if any money to either candidate. Aside from the hedge funds, both Schneiderman and Cahill attracted donations from an unsurprising mix of lawyers, lobbyists and real estate moguls, among others.
Disclosure: TheStreet's editorial policy prohibits staff editors, reporters and analysts from holding positions in any individual stocks.