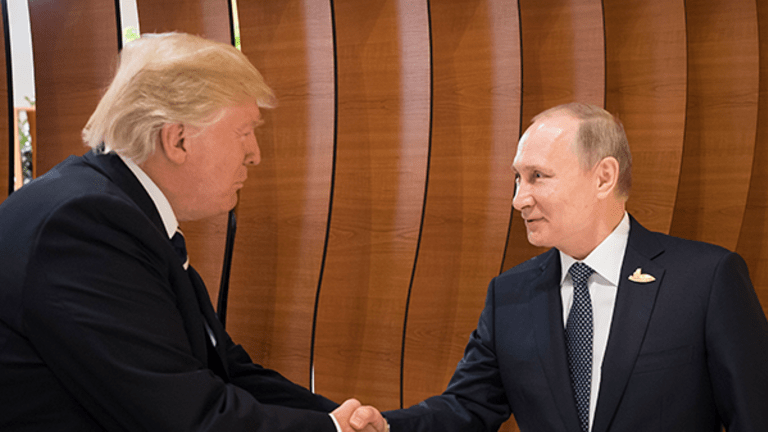 Publish date:
Healthcare and Russia Worries Don't Weigh on Stock Futures
So far, so good.
Futures were flat Sunday evening ahead of what promises to be another tumultuous week in American politics, including further revelations on Russian meddling in the 2016 presidential election and a looming showdown over healthcare reform.
Following Friday's strong non-farm payroll jobs report, tempered by weaker than expected wage growth, the euro and pound were flat against the dollar. The Canadian dollar rose 0.05%, against the dollar, while the Japanese yen was up 0.08% against the dollar. WTI crude, which fell nearly 3% on Friday, rebounded slightly, up 0.6%.
Federal Reserve chair Janet Yellen will testify before Congress on Wednesday and Thursday. June rate-setting meeting minutes indicated that the Fed may begin to wind down its multitrillion-dollar balance sheet in September.
"Whether policy-makers are tightening via rates of balance sheet actions, or imposing more macro-prudential norms, the message is clear-the global monetary policy stance has taken a hawkish turn and will continue to do so," Morgan Stanley analysts wrote in a note. "For markets, we think this can support USD over the next several weeks, especially against JPY, as US economic surprises bottom and USD positioning is light. We think that US rate volatility can rise from historically low levels...[and] a late-cycle environment colliding with less central bank accommodation will lead to US credit underperformance versus equities."
Dow Jones Industrial Average futures fell 4 points Sunday evening, while the S&P 500 was up 0.75 and the Nasdaq up 2.5.
Earnings on the docket this week include Barracuda Networks Inc. (CUDA) and WD-40 Co. (WDFC) - Get Report on Monday; PepsiCo Inc. (PEP) - Get Report on Tuesday; Fastenal Co. (FAST) - Get Report Wednesday; Delta Air Lines Inc. (DAL) - Get Report on Thursday; and Citigroup Inc. (C) - Get Report , JPMorgan Chase & Co. (JPM) - Get Report , PNC Financial Services Group (PNC) - Get Report and Wells Fargo & Co. (WFC) - Get Report on Friday.
PepsiCo, Citigroup and Wells Fargo are holdings in Jim Cramer's Action Alerts PLUS Charitable Trust Portfolio. Want to be alerted before Cramer buys or sells PEP, C and WFC? Learn more now.
As Congress returns from the Fourth of July break, President Trump's first major legislative effort, the healthcare bill currently stalled in the Senate, is also in jeopardy. Sen. John McCain told Face the Nation on Sunday morning that the bill is "probably going to be dead" and would require collaboration with the Democrats. Another Republican senator, Bill Cassidy, told Fox News Sunday that "clearly, the draft plan is dead," and he did not know if a rewrite was possible. In a tweet, Iowa senator Chuck Grassley predicted that the senate will lose its majority if it fails to pass the bill.
The nonpartisan Congressional Budget Office estimates that 22 million people would lose health insurance over the next decade, while Medicaid spending would fall by over at third over the next two decades.
Trump sounded a defiant note on Twitter, arguing that Republicans have for years "pushed the Repeal and Replace of ObamaCare. Now they finally have their chance!"
According to the Washington Post, if the bill is not passed, Trump will be the first president in modern history to lack a significant legislative achievement ahead of Congress' August recess.
Still, Treasury Secretary Steven Mnuchin promised that the administration will complete another major legislative priority, tax reform, by the end of the year.
"We're absolutely committed to getting tax reform done this year," he told ABC's George Stephanopoulos. The plan includes cutting the current seven tax brackets to three, at 10%, 25% and 35%, with the top rate lowered from 39.6%. The move is "critical for economic growth," Mnuchin said. "We need to get back to 3% or better GDP."
Also on Sunday, Trump's eldest son, Donald Trump Jr., confirmed in response to reporting from the New York Times that he met in June 2016 with a Kremlin-connected lawyer whom he believed could provide information damaging to his father's Democratic opponent, Hillary Clinton. Trump Jr. said in a statement that the attorney's remarks were "vague, ambiguous and made no sense" and that the president "knew nothing of the meeting."
Worries over healthcare and Russian meddling come days after Trump's debut G20 meeting in Hamburg, a more combative than normal meeting marred by violent protests, as well as Trump's highly anticipated first public meeting with Russian president Vladimir Putin. Both Trump and Putin denied that the latter colluded in the 2016 presidential election. In a tweet, Trump said he and Putin had negotiated a ceasefire in Syria and would form "an impenetrable Cyber Security unit" to obviate the risk of the sorts of election meddling Putin is accused of masterminding.