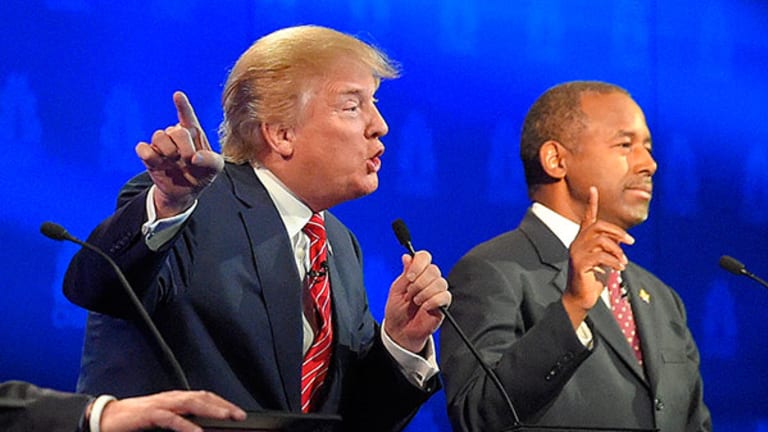 Publish date:
Donald Trump's Biggest Weakness: 'I Never Forgive'
Here are the Republican candidates' weaknesses in their own words.
Here are the Republican candidates' weaknesses in their own words.

It's the question that anyone who's ever been on a job interview hates to get asked: What is your greatest weakness?
Posed by CNBC moderator Carl Quintanilla at the start of Wednesday night's Republican debate, it was something the Republican presidential candidates had to field just like the rest of us -- but they were advised against stock interview responses like "I'm a perfectionist." Here's how they answered.
Donald Trump: "I trust people too much," the Donald answered with his usual conviction. "And when they let me down, if they let me down, I never forgive. I find it very, very hard to forgive people that deceived me."
Ben Carson: The soft-spoken neurosurgeon said his biggest fault was "not really seeing [himself" in the position of president until the encouragement of his supporters compelled him to run for the office in earnest.
Carly Fiorina: "After the last debate, I was told that I didn't smile enough," the ex-CEO said, getting a laugh when she held a prolonged toothy grin.
Mike Huckabee: "I don't have any weaknesses," the former Arkansas governor and Christian minister said, jokingly referring the question to his wife, whom he said would be able to list them in ample detail. After thinking a few more seconds, he said: "I try to live by the rules," whereas Washington, he said, does not.
Jeb Bush: "I can't fake anger," said former Florida Gov. Jeb Bush, at once acknowledging critics who frequently say that his persona isn't forceful enough to be presidential, and stressing his own optimism about the future of the U.S. He also called himself "impatient."
Chris Christie: "I don't see a lot of weakness on this stage," Christie said, tactfully dodging the question. He then called Hillary Clinton "a pessimist" and implored the audience to let him go up against her next November, guaranteeing that he would keep her from the White House.
John Kasich: The current governor of Ohio glossed over the question entirely, choosing instead to make broad criticisms of the Washington establishment and emphasize all that he would accomplish as president.
Ted Cruz: "I'm too agreeable," joked Cruz, who's known for his pugnaciousness, eliciting a less-than-uproarious laugh from the Colorado crowd. He then faulted the extent of his own "passion" and said, "If you want someone to grab a beer with, I'm not that guy. If you want someone to drive you home, I will be that guy. I will get the job done."
Marco Rubio: Rubio, the junior senator from Florida, blew right past the question and talked about his own sense of "optimism" for the future.
Rand Paul: Kentucky Senator Rand Paul also equivocated. "I will stand firm," he repeated, also hitting his policy refrain of "no more debt."