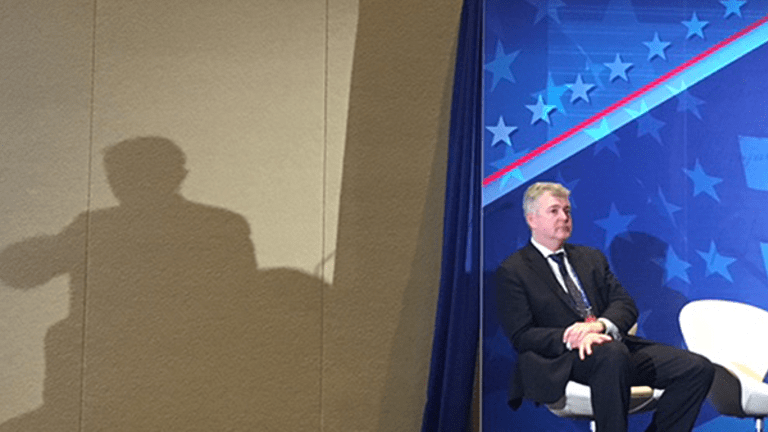 GOP Weighs Avenues for Regulatory Reform
Former Securities and Exchange Commissioner Daniel Gallagher compares Dodd-Frank to "Frankenstein's monster," but he knows the 2010 financial regulations law isn't going away anytime soon.
Former Securities and Exchange Commissioner Daniel Gallagher compares Dodd-Frank to "Frankenstein's monster," but he knows the 2010 financial regulations law isn't going away anytime soon, even with Republicans in control of the White House and Congress.
"You need those 60 votes," he said in an interview at the Conservative Political Action Conference in Maryland, referring to the U.S. Senate threshold to pass legislation.
Washington Republicans and deregulation advocates aren't giving up that easily. While a complete repeal of Dodd-Frank might not be on the table, they plan to use other avenues to roll back regulations and regard incoming SEC Chairman Jay Clayton as a welcome change.
"He's got a big task ahead of him," said Gallagher, a Republican Obama appointee to the SEC who served from 2011 to 2015. "He's going to have capacity, because he's that kind of guy, to have a real proactive agenda of whatever he wants."
Clayton has yet to be confirmed by the Senate, but if and when he is, Gallagher said he hopes he will take on the task of reevaluating what he says are more than 100 SEC rules that have been finalized or are in process -- something his predecessors have avoided.
"There's no history at the SEC of rethinking bad rules once they're in place, there's no real pattern or practice of retrospective review," he said.
Even before Clayton's arrival, the rule revision process has begun, though the impetus has been through Congress, not regulators. President Donald Trump on Feb. 14 signed legislation brought about through the Congressional Review Act scrapping a rule that requires U.S.-listed oil and gas companies to disclose payments to foreign governments, the goal being to curb bribery.
"It's the most anti-competitive provision I've ever seen in any statute," said Gallagher, who voted against the rule while at the SEC, one of 16 dissents he issued during his tenure.
Among the SEC rules that could be targeted for revision are a handful related to executive compensation, including those requiring disclosures on hedging and pay on performance and standardizing clawbacks on executive pay.
Also up for a rethink may be a pay ratio rule that requires publicly-traded companies to disclose median employee pay ratios in comparison to their CEOs. "Just make it U.S. only, make it mean instead of median, and you've cut 95% of the costs on that rule," he said.
Beyond regulatory rollbacks, Clayton will have other items on his agenda as well.
"His background is on the deal side, so I wouldn't be shocked if he had a big capital formation agenda," said Gallagher, who is now president of advisory firm Patomak Global Partners LLC. "I know he's very interested in market structure issues that have been going around the agency for a while, both on the equity and fixed income side."
Clayton and other executive branch appointees such as Treasury Secretary Steve Mnuchin will have some leeway on financial regulation enforcement.
In an interview with MSNBC on Thursday, Feb. 23, Mnuchin said the administration wants to make sure America has "good" and "sound" regulation but also "regulation that creates economic growth and makes sure banks are lending."
"I'm from a rural state, and a lot of the banks that really are the engines of the small towns are really small banks, and Dodd-Frank has crushed them," said Arkansas Lt. Gov. Tim Griffin speaking at a panel on regulation at CPAC on Thursday. "It's top-down nameless, faceless rules from Washington telling people who can get a loan and who can't, and it's killing our economy."
Executive branch action aside, members of Congress are also working to overhaul the regulatory environment to make it friendlier to business, they say. Rep. Ron DeSantis, R-Fla., speaking on the same panel, outlined a number of legislative avenues for change.
He named the Regulations from the Executive in Need of Scrutiny Act (REINS Act), a bill that would require Congressional approval of any rule that would impose compliance costs of over $100 million a year. Another option-a sunset provision that terminates regulations unless they are formally renewed.
House Republicans recently revived the Holman Rule, a rule through the appropriations process that allows lawmakers to slash the pay of individual federal workers.
"Congress can take out someone's salary," DeSantis said. "Just imagine if we were to do that."
Congress could also take aim at the Chevron deference, under which courts have agreed to defer to federal regulators' implementation of ambiguous federal laws. DeSantis said even if legislators can't tackle it directly, they have an ally in Supreme Court nominee Neil Gorsuch, who does not support it.
While the GOP can chip away at regulations, financial and otherwise, even its fiercest critics admit a Dodd-Frank repeal is highly unlikely.
"Killing it is unfortunately not as easy as Obamacare will be," said Gallagher. (While Republicans don't yet have a consensus on how to tackle the Affordable Care Act, they'll likely do so through reconciliation, which requires 51 votes.)
Wall Street has already begun to price in what it anticipates will be an eased regulatory environment and lower taxes under Trump. The president has developed an affinity for bragging about the stock market's gain under his administration, on Thursday tweeting a Fox Business story about the S&P 500's gains.
But using ever-unpredictable equities markets as a measure of success is risky business.
"The Dow goes up, the Dow goes down, no one knows exactly why," Gallagher said. "I've learned as a policymaker you regulate not to the times."