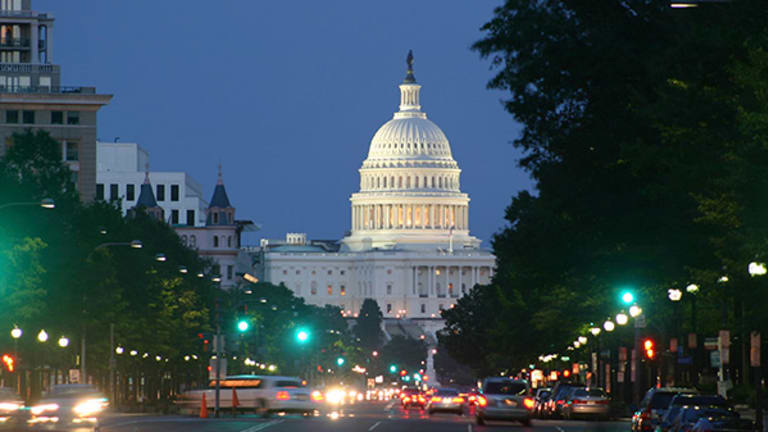 Obamacare Repeal Takes Another Step but GOP Showdown Looms
The House Budget panel met Thursday to combine the two parts of GOP legislation to repeal Obamacare. The proceeding is closely watched as a gauge for brewing GOP opposition.
The House Budget Committee Thursday afternoon by a 19-17 margin agreed to send the Republican legislation to repeal and replace Obamacare to a vote of the full House of Representatives.
The vote on the House floor will be the first major test of the legislation's viability. The most conservative members of the GOP oppose the legislation and have the numbers to defeat it if Democrats uniformly opposed the bill too. Three conservative GOP members of the Budget panel voted against the package in Thursday's committee vote- Reps. Mark Sanford of South Carolina., Dave Brat of Virginia and Gary Palmer of Alabama.
The budget committee meeting came as Trump released his proposed budget for 2018, and the healthcare and biotech sector seemed to be sorting out ramifications. Analysts opined that Universal Health Services (UHS) - Get Universal Health Services, Inc. Class B Report and Acadia Healthcare (ACHC) - Get Acadia Healthcare Company, Inc. Report could see a modest bump from the budget while others. Meanwhile, the GOP legislation to repeal and replace Obamacare is seen as having more of an impact on health insurers including Anthem ANTM, UnitedHealth (UNH) - Get UnitedHealth Group Incorporated Report , Cigna (CI) - Get Cigna Corporation Report , Humana (HUM) - Get Humana Inc. Report and Aetna (AET) , among others.
The next stop for the legislation is the Rules Committee, where Republicans hope to make sufficient changes to the bill to gin up conservative support but there are not apparent changes that would accomplish that goal short of rewriting it entirely.
Some conservatives have suggested halting Medicaid expansion in 2018, as opposed to 2020 as the current GOP bill would do but such a move would turn many moderate Republicans against the bill and likely doom its chances in the Senate.
Thursday vote began with Democrats reprising the symbolic attacks they made in previous votes on the legislative package in the House Ways and Means and House Energy and Commerce Committees last week. The Ways and Means bill repeals many of the taxes and mandates imposed to help pay for Obamacare and would establish tax credits and expanded healthcare savings accounts as the mechanism for replacing ACA subsidies that have made it more affordable for individual consumers to purchase coverage on state health insurance exchanges. The Energy and Commerce component largely deals with changes to Medicaid, the insurance program for the poor, and repeal of ACA subsidies.
Unlike a typical committee vote, the Budget Committee cannot amend the legislative packages in front of it but can only approve motions calling for suggested changes that can be added by House leaders later.
While Democratic sponsored motions were voted down, the panel approved four  offered by Republicans. One recommended allowing states to switch to federal block grant funding for the Medicaid program and another called for immediately freezing enrollment in the health law's Medicaid expansion. The other two would impose work requirements on able-bodied adults without children in Medicaid and restructure the tax credits to provide more funding to lower-income individuals. The tax credit measure was sponsored by Rep. Tom McClintock (R-Calif.).
McClintock said the motion is aimed at assuring that low-income working families "are not subjected to cost prohibitive increases in healthcare costs as a result of this legislation and that the tax credits are structured to assure that at least a basic health plan is within the financial reach of every family." The motion drew support not just from Republicans, but also some Democrats such as John Yarmuth of Kentucky, who backed the motion while opposing the bill, which he called a disaster for the American people.
The first motion addressed by the panel on Thursday from Rep. Brendan Boyle, D-Pa, and followed committee chairwoman Diane Black's, R-Tenn., opening remarks. Doyle's motion would have barred implementation of the repeal bill until Secretary of Health and Human Services Secretary Tom Price certifies that its provisions do not result in an increase in the number of individuals not covered by health insurance, don't raise healthcare costs for individuals or cause a decrease in benefits.
Boyle noted that President Trump campaigned on a promise that Obamacare repeal would not leave Americans worse off in those three areas and the GOP should be held to that pledge. "We are hard-pressed to see how any of this bill's provisions fulfill any of the president's promises," he said.
His motion, the defeat of which was a fait accompli, was largely symbolic and meant to emphasize the findings of the Congressional Budget Office this week that the number of people without health coverage would increase to 24 million by 2026 if the GOP repeal and replace plan is enacted.
The motion was endorsed by Rep. Hakeem Jefferies., D-N.Y., who said of the Republican legislation, "It's a fraud; it's a sham; it's a charade; it's a Hollywood-style production that will destroy healthcare in America."
Republicans didn't let the attacks on their bill go unaddressed before voting it down. Rep. Faso derided the motion as stunt that ignores dramatically rising premiums under Obamacare and insurers' increasing reluctance to participate in ACA exchanges. The Democratic motion is a "press release" filled with "typical Washington speak" that "doesn't fix anything."
Additional Democratic motions were dealt with in a similar fashion.
The real importance of the committee's vote will be if GOP opponents indicate a strategy for stopping the legislation. The most conservative Republicans oppose the plan because they view the tax credits that would be created to help individuals buy insurance as a watered-down version of Obamacare. More moderate Republicans say the bill rolls back Medicaid too much.
Brat, a member of the conservative Freedom Caucus, told Capitol Hill publication CQ Wednesday that he wants the legislation to include a provision allowing health insurance to be sold across state lines and another that would repeal insurance regulations in federal health care law. Both of those provisions pose procedural difficulties in the Senate because they would make the bill vulnerable to filibuster by Democrats. 
Armie Margaret Lee contributed to this story.