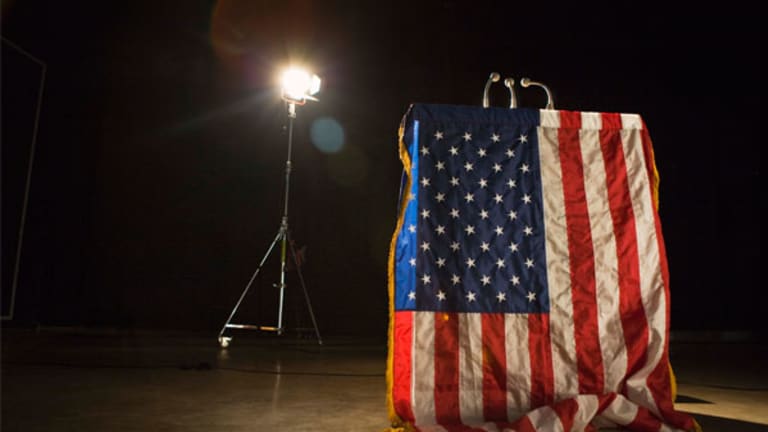 GOP Goes With 'Old-Man Scotch'
Republicans stock a mini bar with "cheap" booze at the Tampa Convention Center.
TAMPA, Fla. (
) - If you're expecting to grab some top-shelf liquor at the convention center here at the Republican National Convention, you may be disappointed.
Stocked in a mobile bar on the first floor at the end of the convention building (not to be confused with the Tampa Bay Times Forum where Mitt Romney speaks Thursday) are bottles of Cutty Sark, Smirnoff, Cruzan,
Jim Beam
(BEAM)
, and Jose Cuervo.
But the bartender, who works for the Tampa Convention Center's foodservice supplier
Aramark
, says that the Republican National Committee didn't splurge for the best drinks.
"I call it old man scotch," says Rene Tschudy, the only bartender in the convention center, as he holds up a bottle of Cutty Sark. "It's cheap."
Tschudy, 51, says what he's selling is mid-level quality compared to what Aramark has stored at the convention center.
Tschudy says the RNC was able to choose from a package of various alcohols, which ranged from inexpensive -- Sky Vodka would have been available instead of Smirnoff -- to premium -- Grey Goose vodka instead of Smirnoff.
Though it's a mobile bar -- which is to say that options are fewer than what patrons may find at an actual drinking establishment -- Tschudy also has beer options like Budweiser, Bud Light, Miller Light and Heineken.
The RNC's choice to skimp on the bill may have been a wise choice as Tschudy says that he's had very few customers.
On Sunday, the bartender's first day on the job, he sold beverages to just two people, and on Monday he banked only about $100.
The problem, Tschudy says, is that they had him posted on the third floor of the convention building in a remote corner that obstructs a passerby's view of his bar.
As he says this, a woman approaches and asks for a Coca-Cola (over the course of 20 minutes he sells only water and soda, very few people are thirsty for booze at 11 a.m. EDT). Tschudy asks for $3, and tells her: "I swear, it's not as bad as you think when you get to the forum and pay $4.50 for a drink. You're going to get serious sticker shock."
The forum actually offers cheaper soda, as it sells for $2.50 a drink.
Tschudy says Aramark was going to host small private parties in which groups would essentially pay a flat fee for the bar for a minimum of three hours. The RNC scrapped the plan.
Maybe Republicans went cheap on the liquid fun, but Tschudy admits that the price tag could be dependent on the distributor's deals. A few years ago, the bartender says the cheapest scotch Aramark would offer was Dewars, but Cutty Sark started to offer more product at a lower cost.
In the time that he talks a handful of people purchase water and soda, but no one orders a stiff drink. Either way, Tschudy seems content.
Tschudy says this job and his work in catering allow him to stay in Tampa, which he says he wouldn't trade for any other city in the United States. His blue eyes peer into the blue sky outside as he reveals a gapped grin.
-- Written by Joe Deaux in Tampa, Fla.
>Contact by
.