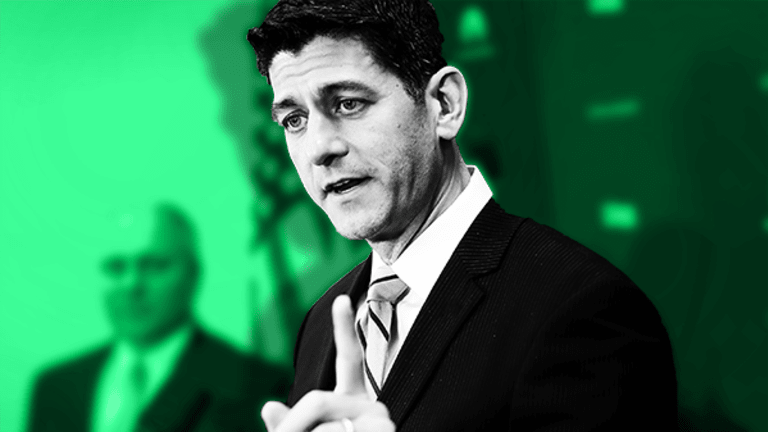 GOP Enlists Corporate America to Rally Support for Tax Plan
Where things stand.
A week after President Donald Trump's shrugging response to racism had CEOs fleeing his orbit, Republican lawmakers are trying to woo back corporate America with the promise of tax reform.
GOP policymakers this week are enlisting the help of a handful of major corporations to rally support for the next item on their legislative agenda: taxes. Congressional leaders are pitching their yet-to-be-detailed tax bill to big business, local chambers of commerce and the American people in an effort to avoid a repeat of their healthcare failure earlier this year.
House Ways and Means Committee Chairman Kevin Brady (R-TX) on Tuesday visited United Parcel Service (UPS) - Get United Parcel Service, Inc. Class B Report in Louisville, Kentucky, to meet with employees and local businesses. On Wednesday, he will stop by the AT&T (T) - Get AT&T Inc. Report headquarters in Dallas, Texas, and speak to the city's local chamber of commerce.
"The tax code we have today, it's costly, it's complex, it's unfair," Brady said at UPS, quipping it's "10 times the size of the Bible with none of the good news." He outlined in broad strokes his "built-for-growth" proposal.
"We believe that tax reform will stimulate the economy, we know that it will create jobs, and it will also give companies such as UPS a competitive global tax rate, which right now a foreign competitor could have up to a 10 percentage point advantage over us," said UPS CEO David Abney, who recently penned an op-ed with FedEx (FDX) - Get FedEx Corporation Report CEO Frederick Smith calling for bold reforms out of Washington, before introducing Brady. "So that's why we push so hard for tax reform."
UPS spokeswoman Kara Ross said the company invites members of Congress to its facilities almost weekly and called its Louisville hub its "crown jewel."
"This is a great place for [Brady] to come and see UPS in action and talk about one of his priorities as well as one of our priorities," she said.
Ken Doctor: Looking Behind Tronc's Surprising Clean Sweep at the L.A. Times
An AT&T spokesman said the company looks forward to hosting Brady for "this important discussion of pro-growth tax reform," noting the size of the company's workforce and investments in the U.S. economy. "As such, the event will be educational for our employees to better understand this effort's impact on job creation, economic growth and U.S. competitiveness," he said.
Speaker of the House Paul Ryan (R-WI) this week has stops planned at Intel (INTC) - Get Intel Corporation Report in Hillsboro, Oregon, and Boeing (BA) - Get Boeing Company Report in Everett, Washington, on Wednesday and Thursday.
Ryan on Monday evening also took his tax pitch to a town hall in Racine, Wisconsin, hosted by CNN's Jake Tapper. "If we keep taxing our job creators, our businesses, and much, much higher tax rates than our foreign competitors tax theirs, we're going to lose. We're going to lose in global competition," he said during the televised event. As fact-checking website Politifact notes, the United States is actually far from the highest-taxed nation in the world. 
Both Brady and Ryan repeated similar talking points of reduced corporate rates, individual tax filings on postcards and a pledge to get legislation on the president's desk this year.
"It is high time we fixed this mess of a tax code and get ourselves in a position where American businesses, it makes sense to stay American, and we tax our businesses in a competitive way so that we're not pushing them overseas," Ryan said on Monday.
Brady reiterated the promise that tax legislation will be permanent, meaning the GOP will have to fine revenue-raisers to keep the bill from expanding the deficit and expiring after 10 years. House Republicans' main plan for raising revenue, the border adjustment tax, has been shelved. Ryan on Monday twice corrected himself on referring to tax cuts instead of tax reform.
Treasury Secretary Steven Mnuchin and Senate Majority Leader Mitch McConnell (R-KY) in a joint appearance at a local business leaders event in Louisville, Kentucky, on Monday discussed tax reform, the debt ceiling and other matters. Mnuchin claimed that "over 80% of business taxes is born by the worker" as part of his pitch to lower corporate rates and acknowledged that while permanent reform is preferable, it isn't a deal-breaker. "Permanent is a lot better than temporary and temporary is a lot better than nothing," he said.
He also hinted that Trump might keep the carried interest tax break for some while eliminating it for hedge fund managers.
Congress will head back to work after Labor Day with a full plate, including raising the debt ceiling, funding the government and a number of other tasks. Lawmakers' packed calendar, combined with the GOP's troubles on repealing and replacing Obamacare and the president's lack of policy focus, have cast doubt on the likelihood of tax legislation in the near future.
Last week's executive exodus in the wake of President Trump's equivocal response to racist violence in Charlottesville, Virginia, made the scenario even more precarious.
"Having that group kind of walk away suggests that perhaps tax reform isn't as close as we may have thought," BMO Private Bank chief investment officer Jack Ablin said in an interview with TheStreet last week.
The CEOs of both of the companies Ryan will visit this week were previously part of the CEO councils that disbanded: Intel's Brian Krzanich and Boeing's Dennis Muilenberg.
More of What's Trending on TheStreet:
-Updated with statement from AT&T spokesman.