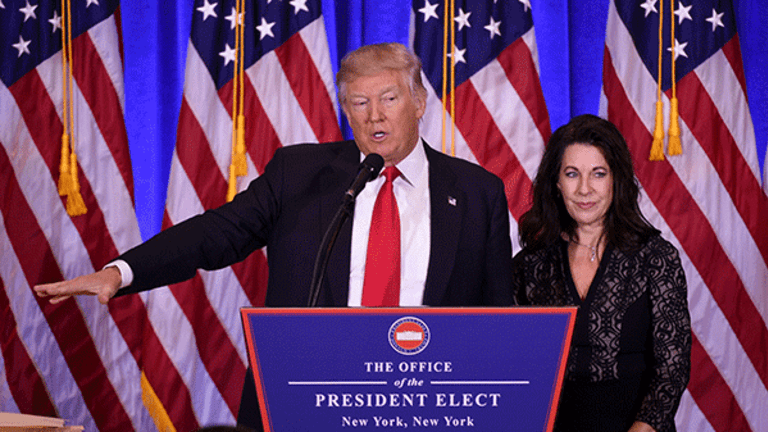 Good Enough? Trump Outlines Plans to Separate From Business but Will Not Divest Holdings
Of course Donald Trump isn't divesting from his business operations.
Of course Donald Trump isn't divesting from his business operations.
The president-elect confirmed at a press conference at Trump Tower on Wednesday that he will distance himself from his Trump Organization, but he has no plans to sell his company off. He and his lawyer outlined a number of measures he will take to separate himself from his private interests once his is inaugurated on January 20, but they emphasized the maneuvers are voluntary and that in the case of the president conflict of interest rules do not apply.
"I could actually run my business and run government at the same time. I don't like the way that looks, but I would be able to do that if I wanted to," Trump said. "I have no conflict of interest provision as president."
Trump plans to turn control of his companies over to his two eldest sons, Donald Jr. and Eric, on Wednesday pointing to piles of papers on the stage next to him he said are among the "many documents" he has signed in completing the process.
Sheri Dillon, the lead attorney hired by Trump to help advise him on his financial conflicts of interests, discussed the steps to be taken.
The Trump Organization, she said, will be conveyed to a trust prior to the inauguration to be overseen by the Trump sons and longtime Trump executive, Alan Weisselberg. Trump's daughter, Ivanka, will leave the business and move to Washington, D.C. with her husband, Jared Kushner, who it was announced will join the Trump administration earlier this week.
No new foreign deals will be made during Trump's presidency, and the firm will bring onboard an ethics adviser who will consult and approve on any new domestic agreements. Dillon said the Trump Organization has already terminated more than 30 pending deals since his election, resulting in "an immediate financial loss of millions of dollars" for Trump and his children. The firm will also enlist a Chief Compliance Officer to ensure ethical operations.
"He will only know of a deal if he reads it in the paper or sees it on TV," Dillon said.
Trump will limit his information rights and receive reports only to reflect profit and loss on the company as a whole.
Ethics experts have insisted to fully eliminate conflict of interest risks, Trump would have to entirely divest his businesses and place his fortune into a blind trust -- something he and his team dispute.
"You cannot have a totally blind trust with operating businesses. President Trump can't unknow he owns Trump Tower. And the press will make sure that any new developments at the Trump Organization are well publicized," Dillon said.
She also brushed aside concerns Trump will violate the Emoluments Clause of the Constitution, which bars the president from accepting gifts, emoluments, offices or titles from foreign states, arguing it does not apply to "routine business transactions."
Trump has decided to voluntarily donate all profits from foreign government payments made to his hotels to the United States Treasury.
The Campaign Legal Center in a statement said Trump's plans are "not enough" to avoid conflicts of interest.
"Having Trump's adult children lead the operational control of his business, while he still retains full ownership, is not an acceptable solution," said Trevor Potter, president of the Washington, D.C. watchdog.
Trump's business operations were supposed to be the main focus of Wednesday's press conference, which had initially been scheduled for December 15, but they largely took a backseat to a more timely matter: Trump's ties to Russia.
The conference came in the wake of reports released late Tuesday suggesting that U.S. intelligence officers briefed Trump and President Obama last week on documents containing allegations Russian operatives have compromising personal and financial information on the president-elect. CNN first reported the briefing. BuzzFeed released a dossier of unsubstantiated and unverified information.
"It's all fake news," Trump said. "It's phony stuff."
He acknowledged that Russia has been behind U.S. cybersecurity breaches but insisted other countries hack America as well. He ignored a question on potential ties between his presidential campaign and Russia and again offered praise for President Vladimir Putin.
"If Putin likes Donald Trump, I consider that an asset, not a liability," he said.
Interestingly, some of the same subjects -- Trump's ties to Russia, his business relations and hacking -- were the focus of his last press conference held nearly six months ago. That summer presser was the infamous setting where Trump urged Russia to hack rival Hillary Clinton's emails.
"I will tell you this, Russia: If you're listening, I hope you're able to find the 30,000 emails that are missing," he said at the time. "I think you will probably be rewarded mightily by our press."
Beyond his own business ties and relationships, Trump also addressed the broader business environment on Wednesday.
He gave mention to the pharmaceutical industry, saying "we're going to start bidding and we're going to save billions of dollars over a period of time." The iShares Nasdaq BiotechnologyETF (IBB) - Get iShares Biotechnology ETF Reportslumped more than 3%, while the SPDRS&P BiotechETF (XBI) - Get SPDR S&P BIOTECH ETF Report slid 4% in reaction.
Trump name-checked the automakers he's been strong-arming into staying, including Ford (F) - Get Ford Motor Company Report , Chrysler (FCAU) - Get Stellantis N.V. Report and General Motors (GM) - Get General Motors Company Report and brought up the pricing of the F-35 and F-18 programs, sending Lockheed Martin (LMT) - Get Lockheed Martin Corporation Reporttumbling.
He put his sons on warning regarding their handling of his businesses, too.
"I hope at the end of eight years, I'll come back and say, oh, you did a good job. Otherwise, if they do a bad job, I'll say, 'You're fired,'" Trump said, invoking his famous line from "The Apprentice."