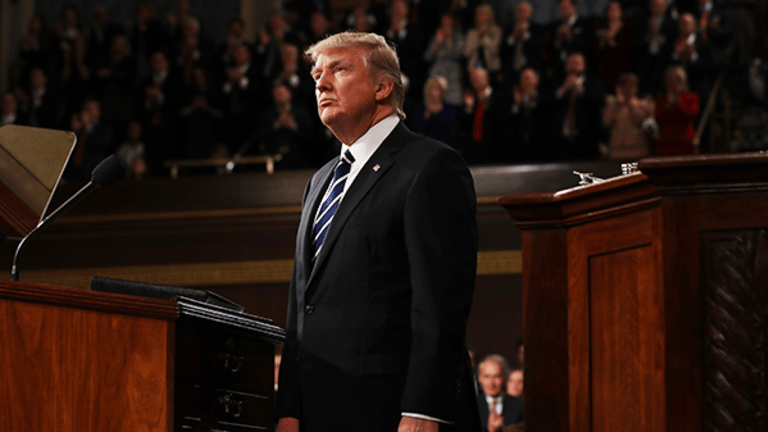 Goldman: Investors Are Starting to Accept 'Political Reality' About Trump
Investors are starting to get real about Trump, according to Goldman Sachs.
Investors are starting to get real about Trump, according to Goldman Sachs.
Investors are starting to get real about Trump, according to Goldman Sachs (GS) - Get Report .
Analysts at the investment banking giant in a quarter-ending note on Friday observed that recent wavering in markets is a sign that Wall Street is beginning to accept the realities of what Republicans in control of the House, Senate and White House can and cannot accomplish.
"From an equity market perspective, recent performance reflects an ongoing transition from post-election hope to an acceptance of political reality," according to the note, written by David Kostin, Ben Snider, Brett Sanchez, Arjun Menon, Ryan Hammond and Cole Hunter.
The S&P 500 climbed by 6% in the first quarter of 2017, posting its best risk-adjusted return since 2013. But the benchmark index retreated from record highs at the start of March as GOP lawmakers failed to turn their years-long promise of Obamacare repeal into reality.
Below-the-surface indicators signal waning optimism as well. Small caps, which rallied 16% in the month following the election, have begun to fizzle, though they rebounded about 2% last week. Companies that would benefit from Trump's pledged trillion-dollar infrastructure plan have retreated, though they remain above pre-election levels.
Of course, it is earnings-boosting tax reform that has captured most of Wall Street's attention, and investors are split on what the health care fail signifies on that front.
"Client conversations make clear that investors fall into two camps: The first group worries that the failure to 'repeal and replace' the Affordable Care Act is a sign that other items on the policy agenda are less likely to be enacted than they had hoped," the Goldman analysts wrote. "Others are encouraged about the shift in focus to tax reform as the new top priority for the administration."
The firm continues to hold that corporate tax cuts will come this year -- but not major reform. Politico reported on Monday that the White House is currently in the process of hammering out a tax plan, with the president huddling with Treasury Secretary Steve Mnuchin, National Economic Council Director Gary Cohn, senior strategist Steve Bannon and son-in-law Jared Kushner to work out details.
The administration has said they expect to have something together by August -- a perhaps overly-ambitious goal.
Investors appear to be slightly more confident about the prospect of tax cuts than they were in the immediate aftermath of the Obamacare drama.
A basket of companies tracked by Goldman that pay the highest effective tax rates (and therefore would benefit most from tax cuts) rebounded slightly last week. Names include Goodyear Tire & Rubber (GT) - Get Report , Marathon Oil (MRO) - Get Report , ConocoPhillips (COP) - Get Report , CME Group (CME) - Get Report , Centene Corp. (CNC) - Get Report , Robert Half International (RHI) - Get Report , Visa (V) - Get Report and Yahoo! (YHOO) , which have effective tax rates well above the 30% range -- in Marathon's case as high as 54%.
Trump campaigned on plan to reduce the corporate tax rate to 15%, while the blueprint put out by House Republicans lists 20%. Most agree that such a dramatic reduction from the current 35% rate is unlikely.
"I don't see the rate being slashed from 35% to 15% or even 20%," said Julian Fortuna, an Atlanta-based Tax attorney at law firm Taylor English Duma. "I think it's still reasonable to expect a compromise cut in the mid-to-high 20s."
Former Obama administration Council of Economic Advisers Chairman Jason Furman in a Wall Street Journal op-ed on Monday outlined principles for tax reform he believes could garner bipartisan support in Congress.
"The only hope for seriously revamping America's inefficient business-tax system to unlock stronger economic growth is a bipartisan approach, but it will require a course correction by President Trump," he wrote. He outlined a number of proposals for tax reform, including a 28% corporate tax rate that "might be possible."
Wall Street hopes it is.