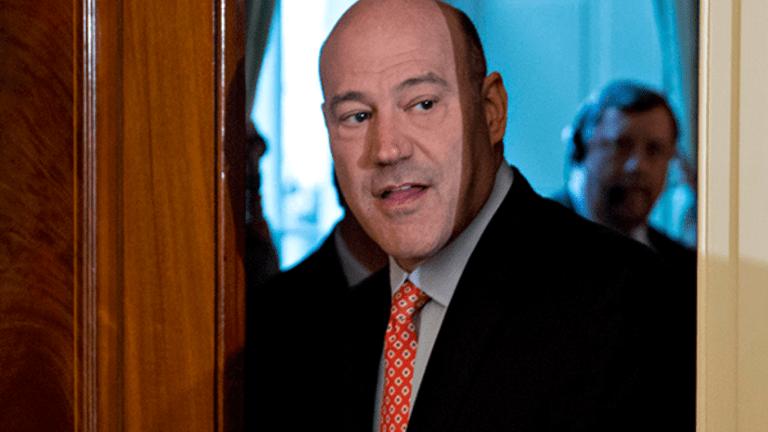 Gary Cohn Talks Taxes as Questions About White House Spot Loom
President Donald Trump's top economic adviser Gary Cohn is shifting the conversation to tax reform even as questions about his permanence in the administration loom.
President Donald Trump's top economic adviser Gary Cohn is shifting the conversation to tax reform even as questions loom about how long he will stay in the president's administration.
The former Goldman Sachs (GS) - Get Goldman Sachs Group, Inc. Report COO in a candid interview with the Financial Times published on Friday said the Trump administration is "completely engaged in tax reform" and outlined in broad strokes lawmakers' vision for personal and corporate tax overhauls. He also addressed rumors that he might resign over the president's equivocal response to racist violence in Charlottesville, Virginia, and initial refusal to denounce neo-Nazis, white nationalists and the Ku Klux Klan.
"I believe this administration can and must do better in consistently and unequivocally condemning these groups and do everything we can to heal the deep divisions that exist in our communities," he said. "As a Jewish American, I will not allow neo-Nazis ranting 'Jews will not replace us' to cause this Jew to leave his job."
The New York Times reported on Friday that Cohn met privately with the president last week at his golf club in New Jersey and came very close to resigning. He reportedly even went so far as to draft a letter of resignation.
Cohn acknowledged to the Financial Times that he has come under "enormous pressure" to both resign and stay on.
"As a patriotic American, I am reluctant to leave my post as director of the National Economic Council because I feel a duty to fulfil my commitment to work on behalf of the American people. But I also feel compelled to voice my distress over the events of the last two weeks," he said. "Citizens standing up for equality and freedom can never be equated with white supremacists, neo-Nazis, and the KKK."
It is unclear how his comments will play in the White House.
Cohn is one of the "Big Six" leading efforts to overhaul the United States tax code. He said the group has been meeting to come up with a "skeleton" of priorities but indicated the White House will largely refer to Capitol Hill legislators -- namely, House Ways and Means chairman Kevin Brady's committee -- to flesh out a bill over the next three to four weeks.
He reiterated the stance that legislation will make it to the president's desk by the end of the year, despite a broad consensus in Wall Street and Washington that such a timeline is too tight.
"The White House is clearly shifting the pressure for action to Capitol Hill and President Trump appears poised to continue distancing himself from lawmakers in case the legislative agenda fails," wrote Compass Point analyst Isaac Boltansky in a note on Cohn's comments. He added that the timeline is "still too optimistic."
On the personal side, Cohn said lawmakers will protect charitable, mortgage and retirement savings deductions while scrapping others. Lawmakers will also seek to get rid of the estate tax. For businesses, the GOP hopes to get rid of deductions companies use to lower taxable income while at the same time lowering the rate. "This is a big base-broadening exercise," Cohn said in the FT interview.
Republicans are also aiming to shift to a territorial system for taxation in an effort to dissuade U.S. companies from keeping profits overseas. Trump campaigned on a proposal to also enact a 10% repatriation holiday for the estimated $2 trillion in cash currently stashed abroad, but his administration has hedged on specifying a number since the election
"We do envision imposing a one-time low tax rate on all overseas profits which will bring lots of money back home to the U.S.," Cohn said. "We haven't discussed the specific rate. That will likely be something the committees decide."
Cohn said "everything is on the table" for corporate deductions and acknowledged the complexities of passing tax legislation through budget reconciliation, which requires only a simple majority but also calls for deficit neutrality. With the border adjustment tax scrapped, it is unclear what revenue-raisers lawmakers might now seek to include. "It will be a combination of dynamic scoring and base-broadeners and shutting down loopholes," he said.
Cohn also said the "Big Six" wants to keep a preferred rate for capital gains taxes to encourage investment.
Markets declined last week on speculation that Cohn might exit the Trump administration over the president's response to Charlottesville. Not only is Cohn a major player in tax reform, but he is also one of the top candidates to become the next chairman of the Federal Reserve.
More of What's Trending on TheStreet:
The 30 Nastiest Storms in Recent U.S. History Have Caused Mind-Blowing Damage