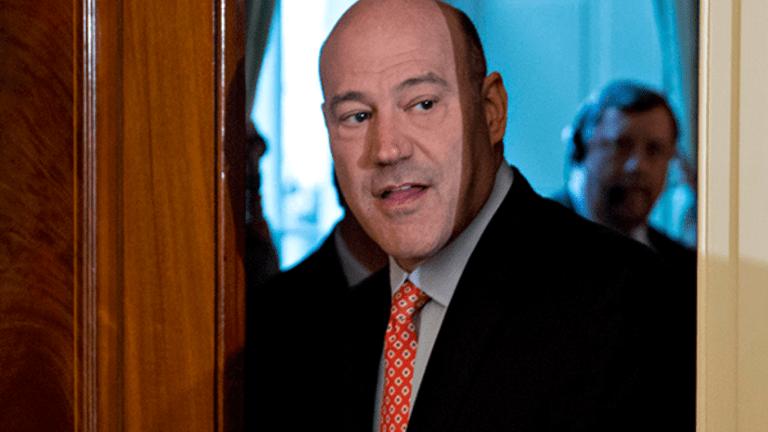 Gary Cohn's Exit From Team Trump Would Be a Major Blow to Wall Street
President Donald Trump no longer has much of an effect on markets. But Gary Cohn could, if he quits.
President Donald Trump no longer has much of an effect on markets. But Gary Cohn could, if he quits.
Speculation that Trump's top economic adviser may exit the administration in the wake of the president's equivocal reaction to racist violence in Charlottesville, Virginia, has markets on edge. The former Goldman Sachs (GS) - Get Goldman Sachs Group, Inc. (GS) Report president and COO is widely perceived as a leading figure in both shaping both tax and monetary policy under Trump, and his departure could deal Wall Street a major blow.
The New York Times reported that Cohn, who is Jewish, was "disgusted" and "deeply upset" by the president's remarks at Trump Tower on Tuesday. Top Trump adviser Steve Bannon also took a swipe at Cohn in a surprising interview with The American Prospect, referring to him as beholden to "Goldman Sachs lobbying."
Cohn is viewed as a major ally to the business community in the Trump administration and a steadying voice of reason. He is one of the "Big Six" leading the way on tax reform efforts and is also helming the search for the next chairman of the Federal Reserve. Cohn himself is among the top contenders for the spot, alongside current chair Janet Yellen.
In other words, Cohn dropping Trump would be a big deal.
"If Cohn departs, Wall Street's already dwindling optimism about tax reform could disappear and there would be monetary policy uncertainty given his front-runner status for the [Federal Reserve] chairmanship," Compass Point analyst Isaac Boltansky told Politico's Morning Money.
Stocks dipped in early trading Thursday on whispers Cohn might resign. Cohn intends to remain in his position as Director of the National Economic Council, a White House official speaking on background told TheStreet.
Cohn as a potential chairman as the Federal Reserve has been perceived as a major positive by investors. TheStreet's Jim Cramer in July estimated his appointment could add 5% to the S&P 500. On Thursday, he reiterated his bullish stance on Cohn.
"I think the central issue now facing the Federal Reserve is how to navigate the raising of rates and the selling of the Fed's humongous bond hoard," Cramer said. "Who could do that better than Gary Cohn. Plus he understands the odd lack of inflation with robust job growth conundrum and can bring a whole new perspective to the Fed which would be most accommodative to equities."
Here's a Quick Recap Capturing Twitter Outrage by Celebs Over Trump Remarks
Cohn at the helm of the Fed would be seen as "unbelievably positive," said veteran Wall Street political forecaster and Capital Alpha president Chuck Gabriel, and his exit would be a major shock. "If you were to remove him from even being in a position to help advance tax reform or this deregulation cycle, which is the only real tangible thing that's emerging out of Washington, I don't know if it would be a 5% move [downward], but it would definitely get Wall Street's attention."
Yale School of Management professor Jeffrey Sonnenfeld was more apocalyptic in his take. "I think if he steps away, it would crash the markets," he said in an interview with CNBC on Thursday.
To be sure, Cohn has yet to step away from the Trump administration, and many doubt he will. After Trump's press conference on Tuesday, he was out talking to reporters about tax reform.
"I think Cohn [leaving] would be a real 'gotcha moment' for the markets. And it's one of the reasons why I don't think he'll go," Gabriel said. "He knows what his departure would do and is enough of a stakeholder in the broader policy market narrative that I don't think he would do that lightly."
Is Gary Cohn a Good Choice for Federal Reserve Chair? Barney Frank doesn't think so.
Don't miss these top stories on TheStreet:
Ford's New CEO Says While the Future Is Now, He Won't Forget Classic Cars
Bitcoin Is Coiled to Unleash a Rip Your Face Off Rally to $5000