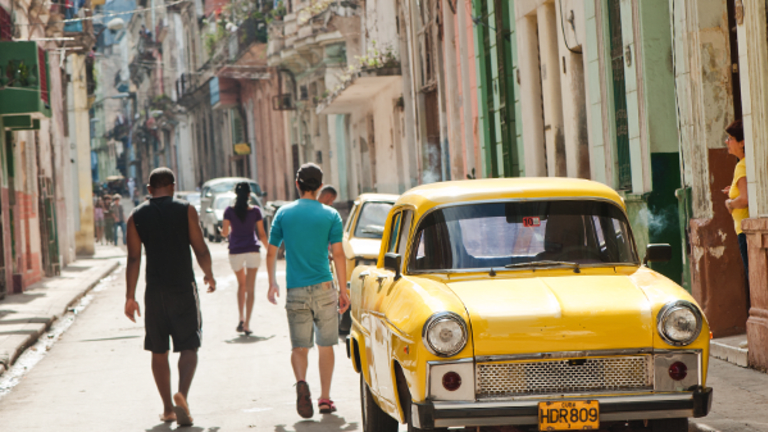 Fund Keeps Betting on Cuba in Spite of Trump Pullback
One investment manager who has been betting on Cuba for decades remained undeterred by President Trump's Cuba pullback.
One investment manager who has been betting on Cuba for decades remained undeterred by President Trump's Cuba pullback.
President Donald Trump's decision to reverse course on the Obama administration's opening to Cuba may prove a setback to a number of American businesses venturing into the island, but one investment manager who has been betting on Cuba for decades remained undeterred.
"We've structured the portfolio in a way I believe could accommodate either a roll forward in relations with Cuba or a backwards step," said Thomas Herzfeld, founder of Thomas J. Herzfeld Advisors, Inc.
Herzfeld is the chairman of The Herzfeld Caribbean Basin Fund, Inc. (CUBA) - Get Report , a closed-end investment management company launched in 1993 that bets on development in the Caribbean Basin, including Cuba.
The fund invests at least 80% of its total assets in companies do business in more than a dozen countries in the region, including the Dominican Republic, the Bahamas, Mexico, Belize and Colombia. Its largest portfolio positions as of its 2016 annual report are MasTec Inc. (MTZ) - Get Report , Royal Caribbean Cruises Ltd. (RCL) - Get Report and Copa Holdings S.A. (CPA) - Get Report .
"It's been very successful," Herzfeld said. "The fund started at $8 million...and it's grown to $50 million now through the investments we've made mostly in public companies which are Cuba players but we felt would do well on their own."
Herzfeld has been been preparing for a second phase of investment that can only be unleashed if the United States lifts its embargo on Cuba -- direct investment on the island itself.
"We almost put our foot on the gas in Obama's administration but sort of paused, we're coasting now," he said. "Once it is legally permissible for us to engage in direct investments in Cuba, we have 230 very interesting projects that we're looking at in all industries."
On Friday, the United States is taking a step back in lifting the embargo on Cuba. Trump in Miami announced plans to reverse parts of President Obama's move to begin normalizing relations with the island in 2014.
The U.S. will clamp down on American travel to Cuba and bar U.S. business dealings with the Cuban military and intelligence security service. The Treasury and Commerce Departments will begin writing new regulations on Cuba as well.
Trump will not close embassies, break diplomatic relations or cut off commercial flights between the U.S. and Cuba, nor will he bring back the "wet foot, dry foot" policy toward Cuban immigrants eliminated by Obama in January.
"Being a businessman and the negotiator that he is, my view is that he probably wants to pull back a step or two in the changes that occurred under President Obama and then start renegotiating the business side of it," Herzfeld said. "If I had to make a prediction, it'll be one step backwards followed by two or three steps forward over the next six months."
Shares of the Herzfeld Caribbean Basin Fund traded down 1.2% midday Friday to $7.10.
Among the numerous hurdles to normalizing relations between the U.S. and Cuba is the $8 billion in property claims by Americans whose property was confiscated when the Castro regime nationalized utilities and industries decades ago. Senators Bill Nelson (D-FL) and Marco Rubio (R-FL) this month wrote a letter to the Trump administration urging it to work with Congress to develop a plan to resolve the more than 5,900 claims. Rubio appeared with Trump in Miami on Friday.
While a number of obstacles to open relations with Cuba continue and Trump's new policy is by most accounts a pullback, Herzfeld, who has been waiting for decades for the embargo to be lifted, remains optimistic.
"Our portfolio has done so well even without direct investment in Cuba that I don't think there's any reason why that should not continue. And if six months or a year from now, the Cuban government makes the human rights changes that the U.S. government is seeking and takes steps to address the prior claims issue...then I think the embargo will be lifted," he said. "We're going to be the first one running on the ground in Cuba, we're prepared for it."