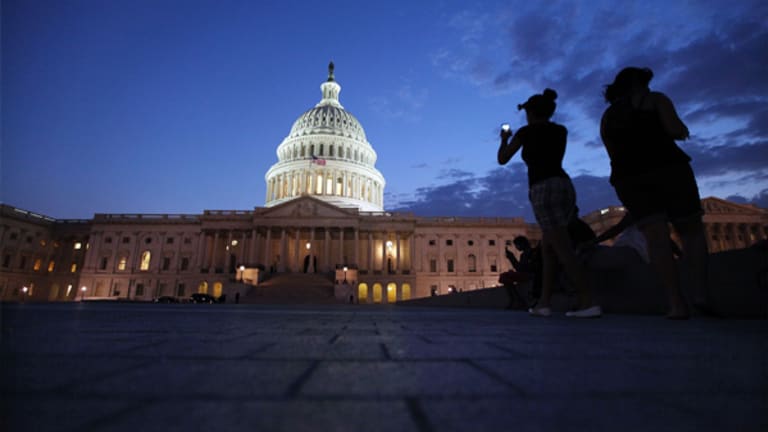 Forget the Election, Markets Fear Fiscal Cliff
Mitt Romney suggests in a now-infamous video that his victory would boost the economy, but markets are worried more about the fiscal cliff.
NEW YORK (
) -- Among many controversial remarks Mitt Romney made at a May 17 fundraiser that is at the center of a now-infamous leaked video, the GOP presidential nominee said if he was elected the country would see capital come back without doing anything.
Market analysts, though, aren't as bullish about Romney's stock when it comes to a market boost post-election; nor are they gushing over Barack Obama.
It's the fiscal cliff that has seized the market's attention when it comes to American politics.
"It appears to me that the fiscal cliff is probably a bigger, tangible focus for the market than the actual outcome of the election," said Alan Gayle, senior strategist at RidgeWorth Investments. "Right now the market is focusing on that event more, given that it could precipitate into actual recession in this country."
Romney said in the video that if he won, the U.S. would see capital come back and it would get a boost in the economy, and that he could not predict what would happen if Obama prevailed.
The fate of the fiscal cliff, though, may rest on the shoulders of yet-to-be-elected senators and representatives -- not the president.
The so-called fiscal cliff is a basket of issues -- expiring Bush tax cuts, the payroll tax cut, the Alternative Minimum Tax and critical spending cuts -- that Congress must resolve in a budget before the end of 2012 to avoid possible recession.
The worry among investors has been that a lame-duck Congress between the elections and year-end wouldn't produce a budget because deeply divisive politics have ruled Washington the past two years.
Market and political analysts have suggested that a lame-duck Congress may succeed in temporarily pushing back the decision by a few months so that the new Congress could pass a viable budget plan.
Republicans and Democrats in the House and Senate who have failed to agree on a budget must make concessions to rein in rampant spending. Concessions have been thin the last two years (see: debt-ceiling crisis 2011).
So if or when Congress decides on a budget, a President Romney or President Obama would be wise to sign it into law so as to avoid a U.S. recession in the next term, and to avoid personal political destruction.
"Obviously when the election comes about it's going to be on the headlines, but I don't know how much from a buying and selling standpoint how that's going to affect the markets as much as, perhaps, the outlook on the actual fiscal cliff stuff," said Joe Bell, senior equity analyst at Schaeffer's Investment Research.
Romney has said the economy would get a boost on news of his election, while he wasn't so sure what would happen on an Obama victory. Market data suggests that Romney isn't necessarily the preferred candidate.
The median return for the
Dow Jones Industrial Average
from election to election in the past 28 presidential races has been 21%, according to data by Rocky White of Schaeffer's.
In the nine elections in which there has been an incumbent president and the Dow has risen at least 21% in the interim period, only George H.W. Bush lost reelection, according to White.
The Dow is up about 45% since the November 2008 election.
Ultimately, markets may not favor Obama or Romney as they can point to serious downside risk to both candidates.
"You could definitely pro and con both sides," said Jonathan Upton, investment strategist at LPL Financial. "If Romney gets elected that brings in the uncertainty of how his foreign policy is going to impact what has been going on in the G20 meetings that Obama has been attending over the past four years, and if Obama stays elected there have been a lot of analysts and heads of corporations that are not happy with
policies that continue to make companies sit on cash and not make capital expenditures as a result of not wanting to put money to work in that type of environment."
-- Written by Joe Deaux in New York.
>Contact by
.