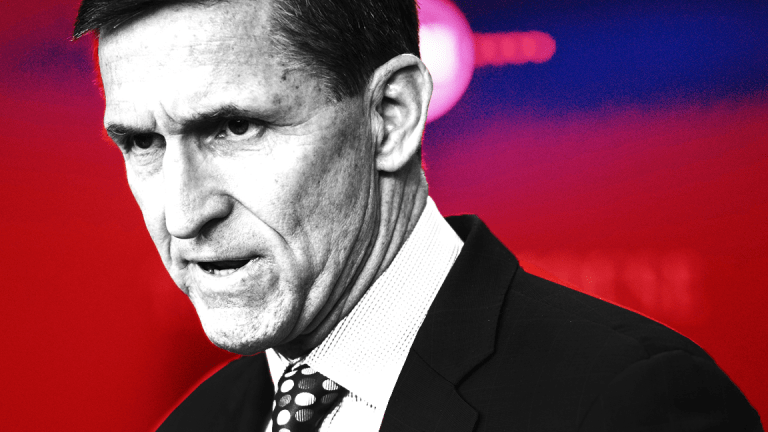 Flynn Pleads Guilty to Lying to FBI, Will Testify About Trump and Family
Flynn to plead guilty to lying to the FBI about his contacts with Russia, indicating he's cooperating with the special counsel's probe into Russian interference in the 2016 election.
Michael T. Flynn, the former national security adviser to President Donald Trump, pleaded guilty on Friday to lying to the F.B.I. about a conversation with Russian ambassador Sergey Kislyak last December, and will testify about contacts between the Trump campaign and Russia, ABC News reported.
U.S. stock markets, which set records yesterday on signs that the Republican tax legislation would pass, tumbled on news that special counsel Robert S. Mueller's probe into Russian interference into the 2016 election was reaching closer to Trump himself. The concern is that the President may have been complicit in efforts by a foreign power to subvert American democracy.
ABC News tweeted that Flynn promised "full cooperation to the Mueller team" and is prepared to testify that as a candidate, Donald Trump "directed him to make contact with the Russians."
Mr. Flynn made his plea in federal court in Washington at 10:30 on Friday morning. Lying to the F.B.I. can be punished by up to five years in prison and a $250,000 fine.
The development comes as Republicans are trying to maintain a coalition to push through a large tax cut plan. The president has said that his has been an unusually effective administration even though it's produced no major legislation.
The Trump administration has repeatedly denied that any campaign staffers, or transition staffers, engaged in talks with Russia or those otherwise connected to the Russian government.
Trump has written the investigation off as a "witch hunt" and continues to assert that it's a malicious attack against him.
"The false statements involved mirror the false statements to White House officials which resulted in his resignation in February of this year," Trump lawyer Ty Cobb said in a statement. "Nothing about the guilty plea or the charge implicates anyone other than Mr. Flynn. The conclusion of this phase of the Special Counsel's work demonstrates again that the Special Counsel is moving with all deliberate speed and clears the way for a prompt and reasonable conclusion."
The Flynn guilty plea follows that of George Papadopoulos, a campaign aide who also made a deal with Mueller that included a charge of lying to the FBI. Papadopoulos has also been cooperating with the Mueller probe.
Flynn said in a statement, "it has been extraordinarily painful to endure these many months of false accusations of 'treason' and other outrageous acts. Such false accusations are contrary to everything I have ever done and stood for. But I recognize that the actions I acknowledged in court today were wrong, and, through my faith in God, I am working to set things right.
"My guilty plea and agreement to cooperate with the Special Counsel's Office reflect a decision I made in the best interests of my family and of our country. I accept full responsibility for my actions."
Flynn is said to have told federal agents that he didn't ask Kislyak to avoid escalating tensions over sanctions imposed by former President Barack Obama, and also that he had not asked Kislyak to delay or defeat a pending resolution at the UN Security Council, both of which proved to be false, according to court documents, as reported by Politico.
The F.B.I. interviewed Mr. Flynn at the White House four days after the president was sworn into office, the New York Times reported. American intelligence agencies had grown so concerned about Mr. Flynn's communications with Mr. Kislyak and false accounts that he provided to Vice President Mike Pence that the acting attorney general at the time, Sally Q. Yates, warned the White House that its national security adviser might be compromised by the Russians.
Mr. Flynn served just 24 days, resigning on Feb. 13 after it was revealed that he had misled Mr. Pence and other top White House officials about his conversations with Mr. Kislyak.
ABC News reported that a Flynn confidant said that Flynn felt abandoned by Trump in recent weeks, and told friends about the decision to make the plea deal within the last 24 hours as he grew increasingly concerned about crippling legal costs he would face if he continued to contest the charges.
ABC reported that Flynn's legal bills exceed $1 million and that he has put his house up for sale. 
More of What's Trending on TheStreet: