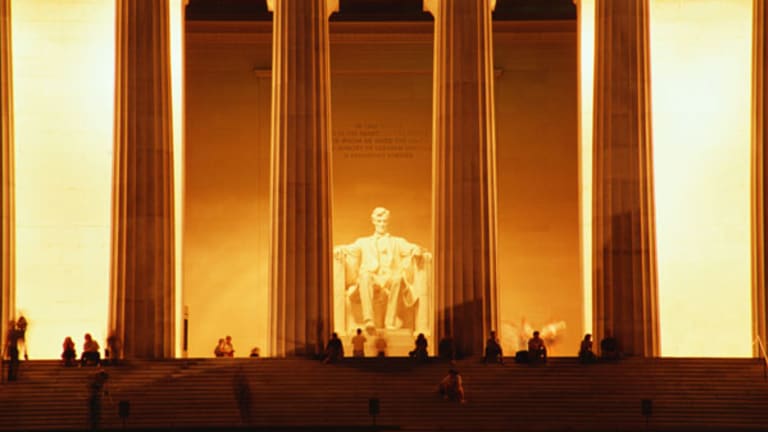 Florida Primary: Follow These Five Story Lines
Here are five story lines that matter for Tuesday's Florida primary.
NEW YORK (
) -- Florida voters head to the polls Tuesday to decide which Republican candidate will receive the state's 50 delegates as the winner of the crucial contest could begin to settle what has been a raucous primary race.
Mitt Romney leads Newt Gingrich by about 12.5 percentage points in an
aggregate of all Florida polls, but the former House speaker continues to pound Romney as he hopes to replicate his shocking South Carolina victory.
Tuesday's primary decision could produce an overwhelming quantity of news, so to help you cut through the chaff, here are five story lines that matter.
Romney Had Superior Organization in Florida
Unlike Iowa, New Hampshire and South Carolina, Florida is not won on retail campaigning. Usually the most influential tool is the ads candidates release on television and radio. Romney spent some $2.8 million on television ads in the final week of the Florida race, according to
The Associated Press
, while the Super PAC Restore Our Future, which supports the former Massachusetts governor, spent about $4 million on ads. Gingrich lagged significantly as his campaign spent about $700,000 and PAC Winning Our Future, which supports the former House speaker, shelled out about $1.5 million.
"I'd say Romney had a superior organization that's been hitting the mailboxes for over about a month now, and also his air campaign with the television ads -- that's pretty overwhelming," said Richard DeNapoli, Broward County GOP chair.
A glance at
Romney's organization on the ground in Florida reveals the massive advantage he has had against his opponents, while
Gingrich's organization tells the tale of what Romney might consider a shoe-string budget. Romney has the support of three U.S. congressmen, while Gingrich has none. Romney can claim endorsements from more than 30 state legislators, while Gingrich snagged less than 10.
Will Romney Win by a Low Double-Digit or High Single-Digit Percentage?
This seems to have become the question among pollsters and other individuals who have followed the race in Florida.
"It looks like the main suspense in the state is whether he'll
Romney win by single digits or double digits. Right now he's pretty close to that line,"
said Dean Debnam, Public Policy Polling president, in a statement.
"My Sunday prediction for Tuesday -- Romney by 10," one Republican consultant said in a Jan. 29 email.
Romney has held a steady lead in the state since late last week thanks to a successful advertising blitz and two exceptional Florida debate performances.
Romney and Gingrich Have Four Days to Campaign West
It's true. Romney and Gingrich can waste no time as they must fly west for the Feb. 4 GOP contests in Romney-friendly territory.
Romney won the Nevada caucuses in 2008 with 51% of the vote, while his next closest competitor, Ron Paul, finished with only 14%. Eventual nominee John McCain finished third. Romney also won Colorado's caucuses in 2008 with 60% of the vote.
Those number don't bode well for Gingrich, who could be the one candidate scrambling as Romney has rock-solid organization out west and as Paul and Rick Santorum skipped Florida this weekend to campaign hard in the next set of races.
Is Gingrich's Campaign Effectively Finished if He Loses Florida?
Gingrich said that if he won South Carolina he could win the nomination, and he reiterated a similar sentiment about Florida. With a tight budget and the possibility of a surging (and newly victorious) Romney, pundits will begin to ask how much longer Gingrich can afford to go on.
This isn't to say that the former House speaker will quit or that he doesn't have the heart to continue. Gingrich's campaign has survived lean times before and it's likely he'll make a final push at Super Tuesday. If Gingrich packs lightly and carries a big stick, he could manage to peak on March 6. At this point, Romney and the lot know better than to underestimate Gingrich.
Can the Victor Swing Florida Away From Obama in the General Election?
Florida is the first closed primary, which means that only Republicans can vote on Tuesday. These voters are aware of Florida's coveted swing status, and most of them seem to be leaning toward a candidate who they believe is best fit to beat Barack Obama in the general election.
Obama won the Sunshine State by 236,450 votes in 2008 and the president's campaign manager, Jim Messina, has already said that Florida is "the easiest way to 270 electoral votes."
Romney would have to appeal in late 2012 to independents in South Florida, such as Miami-Dade County and Broward County. Conservative Republicans may detest the thought of it, but if Romney grabs the nomination and rekindles his moderate roots, he could convince enough voters in the unemployment-ridden, housing-crisis-tormented state to swing away from Obama.
-- Written by Joe Deaux in New York.
>Contact by
.
>Follow Joe Deaux on
. Subscribe on
.