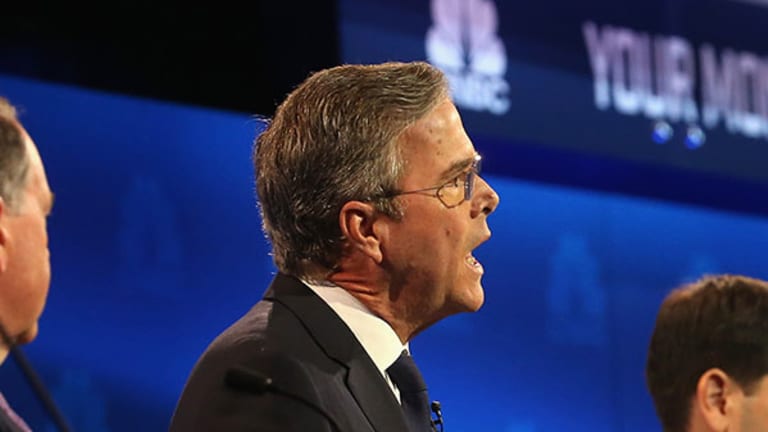 Florida Politicos Bush, Rubio Ditch the Gloves for #GOPDebate Brawl
Jeb Bush went on the offensive with former protege U.S. Sen. Marco Rubio at the #GOPDebate, with Bush telling Rubio to quit the Senate if he hates his job.
Florida Governor Jeb Bush took a swipe at fellow Floridian Marco Rubio for missing votes in the U.S. Senate during tonight's Republican debate.
Rubio's attendance record in the Senate has come under fire as he's skipped votes in Washington in  favor of the campaign trail.  That's not unusual - other former Senators who ran for office, including President Barack Obama,  missed votes. 
But some eyebrows were raised when Rubio essentially said he was fed up with Washington. 'I don't know that hate is the right word,' Rubio said in a recent interview, adding that he was 'frustrated.'  
During the debate, Rubio was asked flat out if he hates his job. He didn't answer directly, but did comment on an editorial in Wednesday's Sun-Sentinel, a Fort Lauderdale, Fla., publication, which called for his resignation due to absenteeism. 'It's actually evidence of the bias that exists in the American media today,' stated Rubio, who pointed out that other presidential candidates missed Senate votes while campaigning.
All of this did not sit well with Governor Bush.
"I'm a constituent of the senator and I helped him and I expected that he would do constituent service, which means that he shows up to work," said Bush, a two-term governor who left office in 2006.  
Bush then turned to Rubio and said, "Marco, when you signed up for this, this was a six-year term and you should be showing up to work. Literally, the Senate, what is it, a French work week? You get like three days where you have to show up? You can campaign, or just resign and let someone else take the job."
Rubio was unfazed, arguing that the only reason for Bush's criticism is that "we're running for the same position and someone has convinced you that attacking me is going to help you." s
Rubio then tried to wnd the exchange on a high note. "I have tremendous admiration and respect for Governor Bush," said the candidate, who has set his sights on the White House, and isn't running for re-election in the Senate.