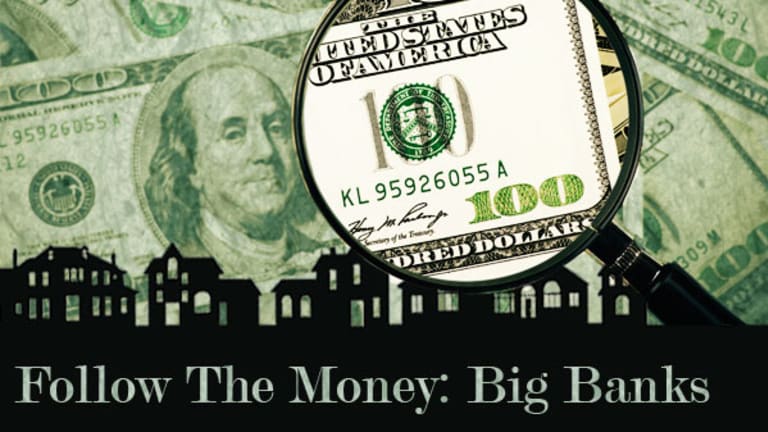 Florida, Nevada Can't Win for Losing on Mortgage Crisis
Aggressive enforcement by Democratic attorneys general led to big payouts for five states in recent multibillion dollar settlements with JPMorgan and Citigroup.

This is the second in a series examining some $65 billion of penalties paid by banks to U.S. regulators over mortgage-related abuses.
NEW YORK (TheStreet) -- Florida and Nevada have seen the largest home price declines since the housing market peaked in 2006, but when Citigroup (C) - Get Citigroup Inc. ReportC paid $7 billion in fines in July and JPMorgan Chase (JPM) - Get JPMorgan Chase & Co. ReportJPM paid $13 billion in fines in November to settle mortgage-related lending abuses, neither was among the five states that got individual cash payouts.
Also left out were Arizona and Michigan, two other states particularly hard hit by the housing crisis, according to data on foreclosures and home price declines from CoreLogic and RealtyTrac.
Instead, sizeable cash payments went to five states: New York, Massachusetts, Illinois, California and Delaware. Those states have attorneys general who have been particularly aggressive in going after the banking industry for the mortgage abuses that ultimately led to the worst financial crisis since the Great Depression.
In the latest such case, Morgan Stanley (MS) - Get Morgan Stanley ReportMS disclosed in its quarterly filing Tuesday that the California attorney general's office may seek damages against the company alleging "knowing and material misrepresentations" regarding residential mortgage backed securities it sold to the California Public Employees Retirement System. The California attorney general's office declined requests for comment.
Both the JPMorgan and Citigroup settlements were obtained by the Residential Mortgage Backed Securities (RMBS) Working Group, established by President Obama in 2012 as a collaboration between numerous state and federal authorities. Led by the U.S. Justice Department, the group is working on at least a dozen other cases including a potential $17 billion deal with Bank of America, and it offers a unique window into the peculiar way justice is being meted out some six years after the crisis began. 
TheStreet's Susannah Lee has details on what could be the largest bank settlement ever:

WATCH: More market update videos on TheStreet TV
The RMBS Working Group was created "to investigate those responsible for misconduct contributing to the financial crisis through the pooling and sale of residential mortgage-backed securities" -- bonds backed by pools of individual mortgages. 
President Obama created the group in January 2012 just as state and federal authorities were wrapping up the so-called "National Mortgage Settlement" -- a $25 billion settlement with the five largest collectors of mortgage debt at that time -- Bank of America (BAC) - Get Bank of America Corp ReportBAC, Citigroup, JPMorgan, Wells Fargo (WFC) - Get Wells Fargo & Company ReportWFC and Ally Financial (ALLY) - Get Ally Financial Inc ReportALLY (formerly GMAC) -- regarding abuses tied to foreclosures and mortgage debt collecting practices. Several attorneys general who eventually signed onto that settlement, including New York Attorney General Eric Schneiderman, Massachusetts Attorney General Martha Coakley, California's Kamala Harris, Delaware's Beau Biden and Lisa Madigan of Illinois, successfully argued at the time that the National Mortgage Settlement should not protect the banks from inquiries tied to the packaging and sale of mortgages.
Indeed, it's unlikely the settlement could have been reached without the creation of the working group, which held out the possibility of additional mortgage-related punishment for banks.
Still, when Obama created the group, there was considerable skepticism it would amount to anything. More than two months after the president first mentioned the group in his State of the Union speech, Schneiderman, a co-chair who was in charge of leading the state-level inquiries, "had no office, no phones, no staff and no executive director," according to a pair of housing-rights activists writing in the New York Daily News who cited conversations they'd had with Schneiderman. The two writers added that "none of the 55 staff members promised by [U.S. Attorney General Eric] Holder had materialized."
Zero to Hero
Despite that inauspicious start, the group now looks like a powerhouse. Justice Department press releases now assert that the group includes "more than 200 attorneys, investigators, analysts and staff." It is also said to include "more than 10 state Attorneys General offices around the country." U.S. Justice spokeswoman Ellen Canale would only disclose six states, however, which she said had "made their participation public."
Those are New York, Massachusetts, Illinois, California, Delaware and Maryland. Connecticut and Kentucky confirmed their involvement to TheStreet. The other group members are West Virginia, New Jersey and Missouri, according to a person who works in an office involved in the group, citing a document related to its work.
Beth Ryan, spokeswoman for West Virginia Attorney General Patrick Morrisey, Jeff Lamm, spokesman for acting New Jersey Attorney General John Hoffman and Nanci Gonder, spokeswoman for Missouri Attorney General Chris Koster, all declined to comment. 
It's not necessarily a requirement that a state attorney general be an official group member to receive a cash payout from one of the group's settlements, but so far, at least, the only states that have received such payouts are indeed group members.
The winners and losers among the states are separated by the savvy of their attorneys general. Some state attorneys general were better prepared and more determined than others when it came to seeking damages from banks over their conduct during the subprime housing boom. Paradoxically, many of the hardest hit states were among the worst equipped and least willing to punish the banks for their misconduct.
The five states that did get payouts from JPMorgan and Citigroup obtained them and are likely to receive even more because they pursued their own investigations into banks' potential RMBS fraud. Occasionally, these cases are announced publicly and filed in court, though in many instances they aren't. Nonetheless, pursuing a case against a bank allows a state attorney general to gain a privileged seat at the RMBS working group negotiating table alongside the Justice Department, potentially leading to a cash payout.
The remaining 45 states are eligible to benefit from the two settlements, but they won't get cash. Instead, as in the 2012 National Mortgage Settlement, banks pay off a big portion of their fines by earning credits for modifying mortgages. TheStreet explains the credit system in more detail in part one of this series.  
The Justice Department press releases announcing both the Citigroup and JPMorgan deals state that the penalties are "for misleading investors about securities containing toxic mortgages." They make little if any mention about harm done to consumers or home owners, even though both settlements include billions in consumer relief such as mortgage modifications.
Indeed, when asked by TheStreet why they weren't getting cash settlements, the initial reaction of Florida, Michigan and Nevada was that they had no losses in their pension funds tied to RMBS. But neither did New York, which has received $705 million in cash between the two settlements, more than any other state. Where other states focused on the impact to their investments, New York successfully interpreted the potential for a settlement more broadly.
"Investors have brought their own private actions on the mortgage-backed securities cases," Matt Mittenthal, spokesman for New York Attorney General Schneiderman, wrote in an e-mail message. "We filed our complaint against JP Morgan on behalf of the people of the State of New York. (Of course, those people include homeowners)."
Other states, such as Illinois, showed losses in their pension funds, but saw some cash go to consumer relief.
"Every negotiation is different, and I would refer you to DOJ for more specifics," wrote Maura Possley, spokeswoman for Illinois Attorney General Lisa Madigan.
U.S. Justice Department spokeswoman Ellen Canale was similarly opaque.
"Settlement allotments are unique to each case and the department works with State Attorneys Generals and federal partners to negotiate and come to a fair and proportionate resolution. States involved in the negotiations determine the value of their investigation, accounting for the quality and quantity of the evidence, and the losses suffered within their respective states," she wrote via email.
Ernest Figueroa, Nevada's chief deputy attorney general, said state AGs finding pension-fund RMBS exposure were able to get a seat at the RMBS Working Group negotiating table, which then allowed them to recoup pension fund losses, and in some cases get relief for consumers. Figueroa said AGs in other states, particularly New York with its powerful Martin Act, had tools that weren't available to Nevada.
"We looked at our statutes; we looked at our jurisdiction, but our pension fund had minimal exposure to residential mortgage backed securities. That kept us from participating in these settlements. To the extent that our policymakers wish to broaden our ability to go after potential wrongdoers in this arena, the office would have additional tools to evaluate similar cases," Figueroa said.
New York clearly has a better toolkit for bringing cases than other states, even putting aside the fact that Attorney General Eric Schneiderman is the only state government official among the five co-chairs of the RMBS working group. New York's Martin Act, originally passed in 1921, gives its attorney general broad latitude in bringing securities fraud cases. Schneiderman used it to bring fraud charges against JPMorgan in October 2012. 
Schneiderman spokesman Matt Mittenthal cited that case as an important reason New York got a whopping $613 million payout from the $13 billion JPMorgan settlement in November, more than double what any other state received. The money is stuck in political limbo, however, as New York Governor Cuomo and the New York State Legislature have taken control of the bulk of the funds and need to agree on how to spend them.
"There are no specifics for us to point you towards at this early stage in the process," wrote Morris Peters, a spokesman in the New York State Budget Office.

New York is also one of a small number of states, including Delaware, Maryland, South Carolina and to a certain degree New Jersey, where the attorney general is the enforcer of securities laws. In most other states, that authority resides with the secretary of state.
Having both powers in the same office was beneficial to Delaware, according to Delaware Investor Protection Director Owen Lefkon, who reports to state Attorney General Beau Biden. Delaware received $19.7 million in cash from JPMorgan and $7.35 million from the Citigroup deal.
Whitney Ray, a spokesperson for Florida Attorney General Pam Bondi, claims that office's limited authority is the reason it did not pursue an RMBS case against JPMorgan.
"With respect to the JP Morgan Chase settlement, the office did not pursue the matter because, unlike the New York Attorney General Office, which has expansive jurisdiction under the state's securities laws and which gives the Office the principal responsibility of enforcing the state's securities laws, in Florida, the Office of Financial Regulation is the principal enforcer of the securities laws," Ray wrote via email.
Jamie Mongiovi, spokeswoman in Florida's Office of Financial Regulation, wrote via email that "each case is unique and the issues are different. Involvement of state agencies is ultimately driven by the individual facts and circumstances of the case itself." She added that "the Office of Financial Regulation could potentially be involved in future cases."
Bondi is a Republican. Nevada Attorney General Catherine Cortez Masto is a Democrat. Both were elected by the public. All five states that have received payouts have publicly elected Democratic attorneys general. Four other states that are members of the Working Group but haven't received cash payouts similarly have publicly elected Democrats in the office of attorney general: Connecticut, Kentucky, Maryland and Missouri. The other two working group members, Patrick Morrisey of West Virginia and John Hoffman of New Jersey, are Republicans. Morrisey was elected, while Hoffman was appointed by state Governor Chris Christie.
While Connecticut didn't receive a cash payout in the JPMorgan or Citigroup settlements, it sounds like the state expects to ring the register on at least one case in the future.
"We are involved in investigations of other RMBS cases, and serve in a leadership capacity in one case," wrote Jaclyn Falkowski spokeswoman for Attorney General George Jepsen, via email.
Kentucky and Maryland may also be in line for future payouts from the group's settlements.
Daniel Kemp, spokesman for Kentucky Attorney General Jack Conway, stated in an email: "Although we were not a part of that particular settlement involving JPMorgan, Kentucky has legal remedies through other pending class actions against JPMorgan Chase. Our state continues to participate in the RMBS working group, and we have ongoing investigations and litigation related to the working group, which we are unable to comment on."
An email from Alan Brody, spokesman for Maryland Attorney General Doug Gansler, read: "Our office is actively working on RMBS-related issues, but because these are pending matters, it is office policy to not discuss them. We also do not discuss the reasons for participating or declining to take part in specific cases."
Extra Muscle
In addition to having the political will and the legislative authority to bring mortgage cases, in-house expertise and financial resources are also critical, according to officials in states involved in the JPMorgan and Citigroup cases.
Delaware chose to allocate a portion of the funds it received as part of the 2012 National Mortgage Settlement to a financial fraud and mortgage enforcement fund. The fund, according to Delaware Investor Protection Director Owen Lefkon, "has made it possible for us to pursue those [RMBS] cases." Without it, he said, "we would not have been able to do our day-to-day meat and potato cases protecting Delawareans and also be able to do these larger impact cases that hold the banks accountable."
Lefkon pointed to Delaware AG Beau Biden's early focus on the holding banks accountable for mortgage abuses and his decision to initiate investigations as part of the RMBS Working Group as reasons why his state is one of the five to receive cash payments in both the $13 billion JPMorgan settlement in November and the $7 billion Citigroup deal last month.
Having in-house expertise with deep knowledge of securities laws has also been a boon to the Commonwealth of Massachusetts, where state AG Martha Coakley has been a pioneer in bringing cases over mortgage-related abuses by banks, according to Coakley spokesman Brad Puffer.
"Our office has been actively investigating the securitization of unfair mortgage loans since 2007, part of an ongoing effort to hold Wall Street accountable for its role in the financial crisis," Puffer wrote via email. "These investigations have resulted in seven settlements to date, returning almost $350 million to Massachusetts consumers, investors and taxpayers. We are proud to see our groundbreaking work in this area become the blueprint for action by other states and the federal government."
Massachusetts officials emphasized that they have been quick to share expertise with other states, and indeed, Delaware's Lefkon, who has led that state's mortgage inquiries, previously worked on similar issues under Coakley in Massachusetts.
Despite the explanations offered by various states for their successes and failures in getting a prized piece of the Justice Department's RMBS settlements, it's clear the situation remains fluid and each settlement is likely to be a bit different from the previous one.
After getting left out in the cold on the Citigroup and JPMorgan settlements, it seems plausible several states are now trying to get involved.
One official who has been successful so far in getting cash for his state acknowledged this point, but added that states that have waited until now to bring RMBS cases may find it difficult to do so at this time because of statutes of limitations. 
"Law enforcement decisions about what consumer fraud cases the office may or may not become involved in are confidential," wrote Krystal Gonzalez, spokesperson for Arizona's Republican Attorney General Tom Horne in an email.
"Michigan's investment portfolio is structured differently than the other states involved in these settlements," wrote Sydney Allen, spokesperson for Michigan's Republican Attorney General Bill Schuette. "Which mean[s] we did not experience the same losses regarding these investments."
These explanations may be of small comfort to homeowners in those states who may have benefited had their attoneys general been more aggressive. Home prices in Michigan are still more than 21% below their peak in Nov. 2005, according to CoreLogic. In Arizona they are more than 29% below their peak in June 2006. In New York state, meanwhile, prices have fully recovered.
Disclosure: TheStreet's editorial policy prohibits staff editors, reporters and analysts from holding positions in any individual stocks.