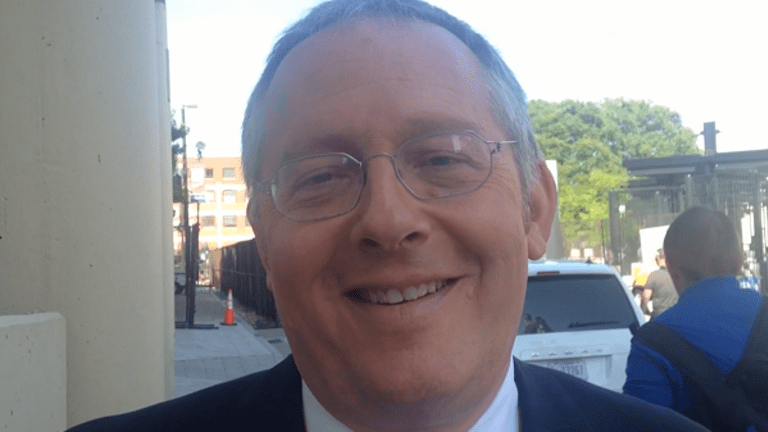 Firing Lewandowski 'The Best Decision Donald Trump Ever Made,' Says Former Senior Campaign Staffer
Michael Caputo still really, really hates Corey Lewandowski but still loves his former boss, Donald Trump.
Editors' pick: Originally published July 20.
CLEVELAND (TheStreet) -- Michael Caputo still really, really hates Corey Lewandowski.
The former top adviser and head of communications to Donald Trump who was forced to resign in June over a mocking tweet celebrating Lewandowski's firing is still a fervent supporter of the Republican presidential nominee. As for Trump's former campaign manager, not so much.
Exiting the Republican National Convention arena here in Cleveland Wednesday, he called Trump's firing of Lewandowski "the best decision he's ever made."
"It was a great move that day, and I was celebrating a little bit too much on Twitter and offered my resignation," Caputo said.
In addition to continuing to support Trump, Caputo is no fan of Hillary Clinton's, offering choice words on her and her policies (more on that below). But to give you an idea of just how much he hates Clinton, when asked if he would rather be stranded on a deserted island with her or Lewandowski, he gave his answer without hesitating. 
"I'd rather be stranded on a desert island with Hillary, absolutely, because I'd at least be able to have an intelligent conversation," he said.
While Caputo is no longer officially associated with the Trump campaign, he is still supportive of the candidate. This week, he is doing media appearances touting Trump and said he is helping him and the RNC in any way he can. 
Caputo laid out why he believes Trump would be good for business and the economy.
"You don't have to look any further than the creation of jobs. Honestly, if Hillary Clinton is brought in as president of the United States, our jobs problem is going to get much, much worse," he said. "Look at Obamacare, it is absolutely a job killer, and this fall, right before the election, all the health care companies are going to raise their rates again."
He said anyone who runs a business should consider it as point No. 1 in the Trump column.
"If they want to create jobs in their business, they can't have Hillary Clinton as president. Obamacare is Hillarycare, she inspired it when she was first lady. She's going to make it much worse," he said.