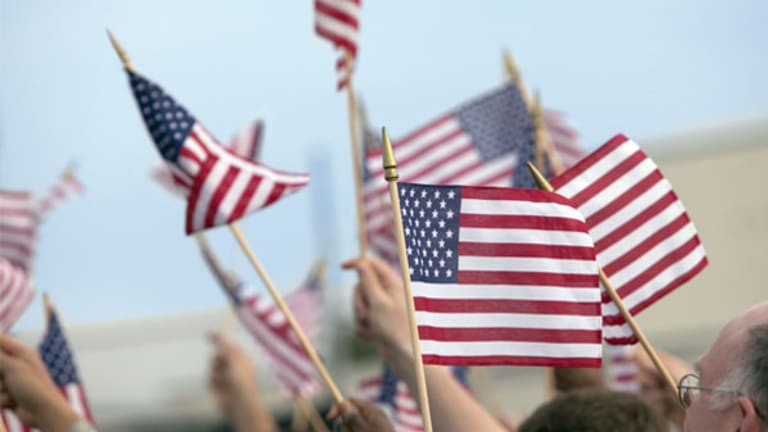 Ghost of Tax Cuts Past Haunts Election
Republican party of the rich vs tax & spend Democrats -- election rhetoric is back to normal.
WASHINGTON (TheStreet) -- Is it just me, or does it seem like we're hearing more about former President George W. Bush in this election cycle than we do about the Congressional candidates themselves?
What a tribute to W, all these references to "the Bush tax cuts." Not surprisingly, the Republican candidates are seeking to perpetuate W's legacy and make it their own. Those are some pretty long coattails to stretch to Washington from Crawford, Texas.
It's good election-year politics to oppose tax increases. Nobody likes taxes. Democrats know that, too. That's why President Barack Obama wants to co-opt the "Bush tax cuts" and redefine them as part of the "Obama tax plan."
The difference is that Obama is only supporting the tax cuts for the so-called middle class and below, and he wants to allow taxes on the so-called wealthy to go up. The claim is that only 2% of the population would have to pay more taxes.
Republicans are taking a politically charged stand on behalf of equal treatment for all, making the case that many of the so-called upper 2% are actually small-business owners who need to be helped not harmed.
Regardless which side you are on, it is refreshing to see taxation politics return to normal. Once again we get to hear the age-old rhetoric from Democrats trying to brand the GOP as the party of the rich and counterattacks from Republicans about tax-and-spend Democrats.
It's been a while since the tax debate was this clear cut.
Let's not forget that Bush, despite being unquestionably Republican, was himself a spender. I'm not just referring to all the special allocations for the wars in Iraq and Afghanistan. Bush also added plenty of non-defense spending.
Looking back to former President Bill Clinton, he typically gets credit for balancing the budget - a fiscally conservative claim for a Democrat - but he also ushered in one of the biggest tax increases in U.S. history.
While it's hard to condense the collective policies of both of these two-term presidents into a single paragraph for each, the point is that Bush and Clinton introduced some confusion into the politics of taxation. So it's a relief to see the political lines so clearly drawn this year.
Finally, the political world order seems back to normal, with Democratic party candidates supporting both spending programs and raising taxes, while Republican party candidates are vowing to fight higher taxes and complaining about spending by Democrats.
Elections are a lot easier when the two camps can be neatly stereotyped on a controversial issue like taxes.
Ultimately, this election may boil down to naming rights for the next tax legacy. Will the "Bush tax cuts" survive or will the "Obama tax plan" become the new political bogey?
--Written by Glenn Hall in New York.
>To contact the writer of this article, click here:
Glenn Hall
.
>To follow the writer on Twitter, go to
.
>To submit a news tip, send an email to:
.
Disclosure: TheStreet's editorial policy prohibits staff editors and reporters from holding positions in any individual stocks.