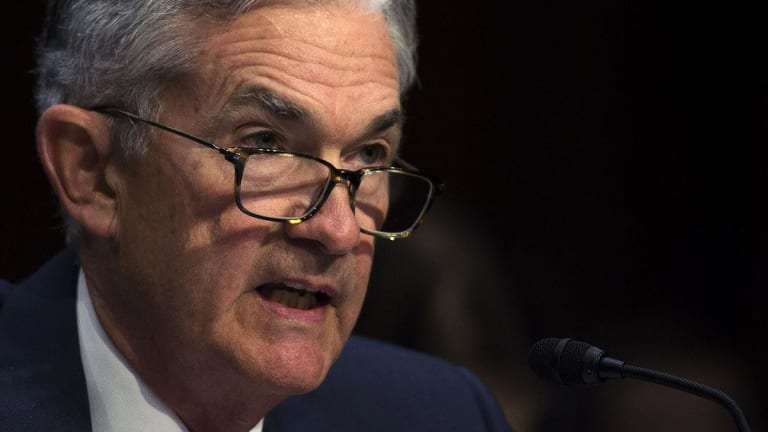 'In Principle, Open Trading is Good,' Says Powell
Jerome Powell, the chair of the Federal Reserve, is testifying in front of the Senate.
The hearing is over
The hearing closes and the markets are still slightly up.
Long term effect of commodity prices on agriculture
Senator Joe Donnelly of Indiana asks, "As Fed Chairman, what would you say to the nervous and concerned farmers about their futures?" 
"I think, if the current process of negotiation results in lower tariffs, that'll be a good thing for the economy...I don't need to tell you what happens" if the tariffs remain in place, says Powell.
Donnelly then asks, what do you see as the impact of the opioid epidemic on the workplace and the economy?
"Some high percentage of prime-age" people not in the workplace are addicted to painkillers. 
Is the Fed responsible for Wage Growth?
Is it the Fed's responsibility to handle wage growth? Senator Catherine Cortez Masto of Nevada poses the question.
"I think what you've assigned us is maximum employment and steady" rates, says Powell.
Senator Cortez Masto follows up by asking about wage growth and productivity.
"Over a long period of time, wages cannot go up substantially without productivity," Powell says.
Employment versus wage growth.
"The tool that we have is monetary policy," says Powell. "We are doing" everything to ensure that everyone is employed, says Powell. He then points a finger at Senator Cortez Masto, "you have the tools" to change wage growth," he says.
Income inequality
Senator Schatz asked, what ought to be done about income inequality? 
"These are issues that the Fed doesn't have the tools to fix," says Powell. "There's a stagnation of median incomes for a long time."
Powell puts income inequality on the legislative side, saying that it's a long-term issue that needs to be fixed through legislation, not monetary policy.
Banks, banks, banks
"What's the motivation for weakening Dodd-Frank rules, like the Volcker rule?" asks Brian Schatz of Hawaii.
"Nobody benefits when the regulation is inefficient," answers Powell. 
 "I don't think that the smaller community banks are feeling quite as healthy as you're saying," Powell responds to Senator Schatz when asked about the profitability of banks.
The Fed weakened the stress tests under Powell
Morgan Stanley and Goldman Sachs, among others, weren't failed when they otherwise should have, says Senator Elizabeth Warren of Massachusetts.
"When we do the conditional non-objection we" do not require the banks to resubmit to a stress test, says Powell.
"It looks like, to me, the Fed is headed in the wrong direction," says Warren, ending her time.
Markets are in the green
Dow, Nasdaq and S&P 500 are up slightly.
Senator Chris Van Hollen says that companies have been spending the money saved from the tax bill on stock buybacks. 
Senator Heidi Heitkamp of North Dakota went through the trade policy, to which Powell responded, "no comment."
Will the trade wars harm wage growth?
Senator Pat Toomey quotes the FOMC's observation that the uncertainty in trade policy is affecting the markets. Is it a threat to wage growth? He asks.
"It may well be. We don't see it in the numbers, yet," Powell answers.
Toomey asks, does the changing shape of the yield curve affect the trajectory of monetary policy? 
"What really matters is" the neutral rate, says Powell.
Tariffs and trade
Senator Jon Tester of Montana asks about and whether or not the tariffs are harming the economy overall.
"In principle, open trading is good. We don't want countries to have a barrier to trade," says Powell. 
"Tariffs have come down steadily over the years. Until recently they were at their all time lowest level," he adds.
Wage growth and productivity go hand-in-hand, sometimes
"Inflation is going to be really important," says Powell. "I wouldn't declare victory on that just yet," Powell says about maximum employment.
Senator Bob Corker of Tennessee asks about the lack of wage gains in the past 30 years.
"Real incomes go up over a long period of time because of productivity," says Powell. Senator Corker says that productivity has gone up without wage growth. Powell says that the two don't necessarily match all the time.
Working families aren't benefiting from the economy, says Senator Menendez
When will the benefits of the booming economy reach working families? Asks Senator Menendez of New Jersey.
"While the aggregate numbers are good" not everyone is experiencing the positive economy. "We have to take maximum employment seriously."
"Gradually raising rates" will help working families. "Nothing hurts working families more than a recession," says Powell.
Has the tax bill had a positive effect on GDP?
Growth averaged around 2% for about 8 years," says Powell. "Going forward, we expect that the tax bill and the spending bill will provide meaningful support for the next two to three years."
Another trade question. "Are businesses looking for stability?" asks Senator Mike Sounds of South Dakota.
"They'd clearly be looking for stability," Powell chuckles a little.
Nasdaq is up slightly now. Dow is still down.
Do you think that the European Union is a foe of the United States?
"No, I do not," says Powell. President Trump has named the EU as a "foe" this week in interviews.
Repercussions of the tax bill?
It's too early to understand the changes of the tax bill, says Powell. 
The inevitable trade question
"Countries that have remained open" in trade tend to do better. Countries with protectionist policies tend to do worse, Powell says.
We're in the third largest economic expansion since 1854
Small businesses are feeling optimistic for the first time in 45 years, according to Senator Tim Scott of South Carolina.
Senator Scott asks about prime-age labor.
"The number of long-term unemployed has come down dramatically since 2010," says Powell. Says that the amount of long-term unemployed has gone down to around one million people.
"For the first time, we have twelve months of core inflation being at 2%," says Powell. "We want inflation to remain around 2%."
"Our monetary policy is designed to help us achieve that," says Powell.
Is the typical worker better off than they were a year ago?
"Overall, workers are better off," says Powell. Senator Brown, who's asked the question, says that the answer is contradictory.
Brown moves on to another question about stress test. 
"We think it's [the stress test" is a very important tool, says Powell. "The program has to continue to evolve. We want to strengthen it" and make it more transparent.
Brown says that reporting from the WSJ, New York Times Business, Financial Times shows that the stress test are getting weaker. 
Nasdaq and Dow are down, but the S&P 500 is up slightly.
First question is focusing on stress tests
"We use fourth quarter capital levels," Powell says. He's explaining how the Fed conducts bank stress tests.
Powell will continue to gradually increase interest rates
The increases will be "gradual" says Powell.
The Fed's trying to be more open, according to Powell
"We owe you and the public in general" a clear idea of what the Fed is doing, Powell says.
"The latest data suggests that economic growth in the second quarter" is looking stronger than the first quarter.
Looking ahead, Powell says, the Fed believes that the unemployment rate will hold steady. 
Powell brings up inflation. Says he wants to keep it at a 2% level. "The 2% objective is symmetric because the FOMC would be concerned if it stayed above or below 2%," says Powell.
The testimony has begun
Senator Sherrod Brown, a Democratic senator from Ohio, started the testimony by discussing Trump's meeting with Putin on Monday, July 16.
Brown says that the banks are offshoring banks because the Fed is being too "lax" on stress tests. 
If the market ain't happy, ain't nobody happy
The market is down ahead of Powell's testimony. Dow is down by 0.2%, Nasdaq is down by nearly 0.3% and the S&P 500 is down nearly 0.2%.
Powell will begin his testimony shortly.
Jerome Powell to testify on monetary policy and the economy
The Federal Reserve Chair, Jerome Powell, will be testifying in front of the Senate Banking, Housing and Urban Affairs Committee on the economy and monetary policy. 
The testimony will begin at 10 AM Eastern. 
TheStreet's Joseph Woelfel reported that the U.S. stock futures traded lower on Tuesday, July 17, ahead of Federal Reserve Chairman Jerome Powell's first testimony before Congress.
Powell is likely to tell the U.S. Senate Banking Committee, and the House of Representatives Financial Services Committee on Wednesday, July 18, that the central bank remains committed to gradual monetary policy tightening. The Fed raised rates in March and June, and has indicated two more rate hikes will be coming in 2018.
Powell also could speak about the narrowing yield curve, which has anticipated recessions when 2-year yields rise past 10-year note yields.