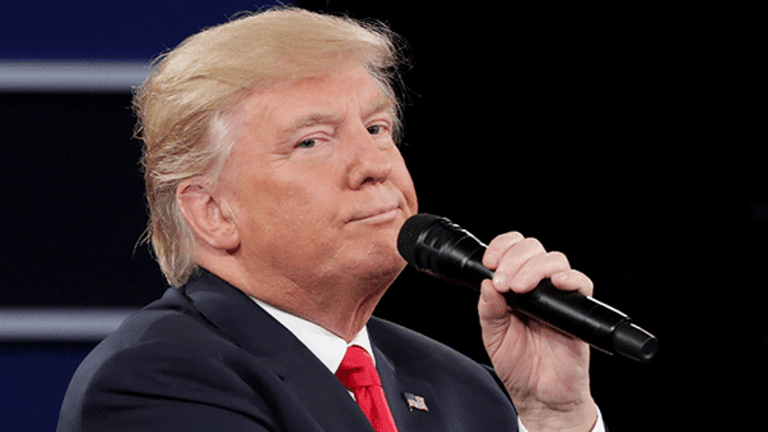 Publish date:
GSA Says the Jury's Still Out on Trump's D.C. Hotel, Despite Democrats' Claims Otherwise
The General Services Administration hasn't decided if Trump will be in violation of the lease for his Washington hotel when he is inaugurated, as a group of Democratic lawmakers asserted.
The General Services Administration hasn't decided if Trump will be in violation of the lease for his Washington hotel when he is inaugurated, as a group of Democratic lawmakers asserted.
The General Services Administration said it has not yet decided whether President-elect Donald Trump has to divest from his newly-opened Washington, D.C. hotel when he is inaugurated, despite a group of Democrats claiming otherwise.
In a letter sent to GSA Administrator Denise Turner Roth on Wednesday, Representatives Elijah Cummings, Peter DeFazio, Gerald Connolly and Andre Carson said the GSA deputy commissioner informed their staff that President-elect Donald Trump will be in breach of his lease agreement the moment he takes office unless he fully divests himself of all financial interests in the luxury hotel.
The GSA disputed the claim in a statement on Wednesday afternoon, saying it does not have a position on whether the lease requires the president-elect to divest. "We can make no definitive statement at this time about what would constitute a breach of the agreement, and to do so now would be premature,"it said.
The provision of the lease in question is 37.19, which bars elected officials from sharing part of or benefiting from the lease.
The agency said that a determination regarding the Old Post Office, where Trump's D.C. hotel is housed, cannot be completed "until the full-circumstances surrounding the President-elect's business arrangements have been finalized and he has assumed office." 
The Democratic lawmakers claim to have been told otherwise.
"The Deputy Commissioner confirmed repeatedly during the briefing that GSA reads this provision as we do, which is a categorical ban on the President of the United States or any elected official having any financial interest in this lease, or taking any financial benefit from it," they said in their letter to the GSA.
They said that if Trump does not divest, the GSA's general practice is to send a letter giving him 30 days to review and respond. If the breach is not resolved, the matter would be brought before the U.S. Civilian Board of Contract Appeals.
According to the group, the GSA has received no communications to date from Trump's business organization regarding the issue. "This raises serious questions about how Mr. Trump plans to proceed," they said.
Norman Eisen, a former special assistant and counsel to President Barack Obama for ethics and government, said bipartisan experts have been warning of legal problems relating to the hotel lease, and those concerns have been confirmed by GSA.
"Their conclusion, that Trump must divest both control and ownership of the property, is necessitated not only by the plain language of the lease, but also by the Constitution," Eisen said. "GSA's call to exit control and ownership should be heeded by Trump more broadly, to apply to all his businesses, as another government agency, the Office of Government Ethics, told Congress yesterday."
He added that all indications are that Trump is headed in another direction, yielding control but not ownership. "That puts him on a collision course with his own government, with the law--and with common sense and common decency," he said.
GSA representatives did not immediately return a request for comment on the matter.
Trump spokesman Jason Miller declined to comment on the issue in a call with the press on Wednesday morning.
"This will be something that comes up at the press conference the president-elect will now be holding in January," he said, referring to the news conference the president-elect has said he plans to hold to discuss what will happen to his business operations.
Trump had initially announced the conference would be held on December 15 but earlier this week postponed the event. Aides now say the press conference will now take place in January, though they have not provided a specific date.
The delay of the announcement has largely allowed the president-elect and his spokespeople to deflect questions on potential conflicts of interest involving his business endeavors.
Trump's D.C. hotel has become a flashpoint for critics and ethics experts concerned about potential conflicts once the real estate magnate is in office.
Trump secured a 60-year lease for the Old Post Office Building from the GSA in 2013 and has filed to receive major tax credits for developing the building. For the project, he took out a $170 million loan from Deutsche Bank (DB) - Get Report , which faces the threat of a $14 billion penalty over mortgage-bond investigations from the Department of Justice.
The president-elect has met apprehension about his business ties with a rather flippant attitude at times.
"When I ran, everybody knew that I was a very big owner of real estate all over the world," he told Fox News' Chris Wallace in an interview aired Sunday when asked about a New York Times report he plans to keep his stake in his real estate business.
Trump plans to hand over the reins of his company to his two eldest sons, Donald Jr. and Eric Trump. His daughter, Ivanka, and her husband, Jared Kushner, plan to move to Washington, D.C. All are members of Trump's presidential transition team.
Miller said on Wednesday that the transition team has been "very transparent" about the fact of his children's involvement. He added that proof of Trump's stock sales -- which his team said last week occurred in June -- could come in January as well. The president-elect has yet to offer any evidence of the sales.
"I would imagine as this process goes forward...additional financial information will be put forward," he said, punting the issue to January yet again.
Ron Orol contributed to this story.