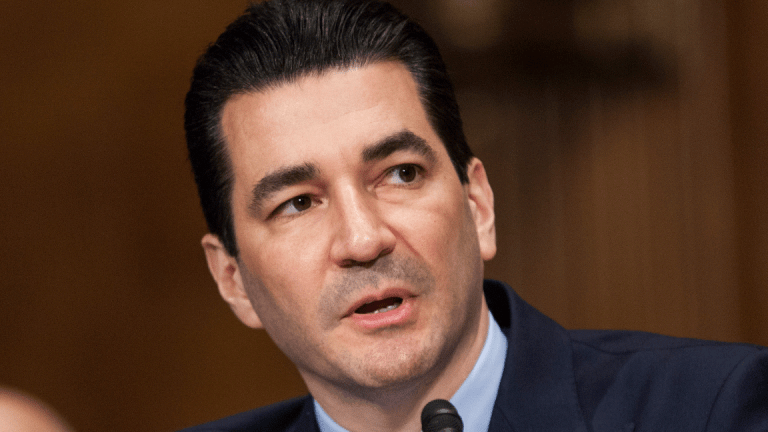 FDA Publicly Shames Drug Companies to Encourage Generic Competition
Following up on President Trump's drug pricing speech last week, the FDA posted a list of 39 name-brand drug firms that are allegedly making life tough on generic drug companies.
Shame is the name of the game at the FDA.
A total of 39 companies learned that lesson May 17 as the Food and Drug Administration made good on a promise from last week that it intends to call out pharmaceutical companies they see as gaming the system to keep generic drugs from cutting into their market shares.
The regulator published a list including Gilead Life Sciences (GILD) , Pfizer Inc. (PFE) and Novartis Pharmaceutical (NVS) as failing to provide samples of their drugs to companies seeking to make generic copies. The list was compiled after the FDA was contacted by the generic manufacturers to document the problem. In 21 cases, generic companies asked the regulator to intercede on their behalf.
The regulator says it plans to update the list on a semi-annual basis.
Generic drug makers typically need 1,000 to 5,000 doses of a drug to create a generic copy and to provide proof to the FDA that the generic drug is safe and effective. The generic companies ask brand name drug companies to sell them the drug for that purpose.
But brand name drug companies sometimes refuse to sell their drugs to the generic companies based on limited distribution program or Risk Evaluation and Mitigation Strategy or REMS, a recognized platform used in balancing off the benefits and risks of drugs.
The FDA generic action comes on the heels of a speech one week ago by President Trump focused on lowering prescription drug prices. While some of the concepts put forth by Trump will require longer term actions or even congressional approval, some have already been rolled out.
On May 15, the Centers for Medicare and Medicaid Services made changes to its drug dashboard, an online tool that gives the public access to drug data. The dashboard now includes pricing information on name brand drugs that the CMS says is designed to improve transparency about pricing.
The FDA also pointed to transparency in posting the generics list. "We're taking these steps today because we believe greater transparency will help reduce unnecessary hurdles to generic drug development and approval," FDA Commissioner Scott Gottlieb said in a statement.
Gottlieb said that generic drug companies should always have a path to receiving samples of brand name drugs, even when distribution of those drugs is supposed to be limited.
The reasoning behind the FDA action is that as more generics are introduced into the market, brand name drug companies will likely have to lower prices in order to compete for patients.
Gottlieb also encouraged the generic companies to take their issues to the Federal Trade Commission, which polices anticompetitive behavior.
For its part, PhRMA, the advocacy group that represents the pharmaceutical industry, criticized the FDA action as lacking context and not providing enough information about what actions drug companies took regarding requests for drug samples by generic companies.