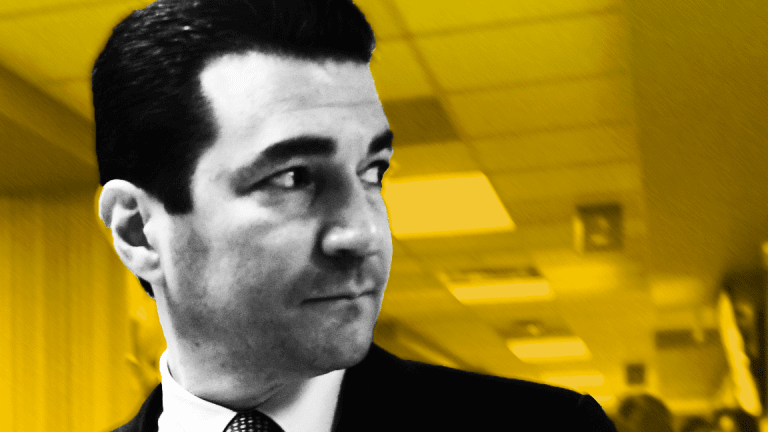 FDA Online Opioid Summit Panelists Praise Open Communication; What's Next?
In 2016, 42,000 Americans died from opioid overdoses. The FDA wants illegal online sales of the drugs halted, and is looking towards tech companies to do some of the lifting.
When it comes to online opioid sales, there's a new sheriff in town.
That's the message that Food and Drug Commissioner Scott Gottlieb delivered at his agency's Online Opioid Summit. The one-day gathering included academics, government officials, and high-tech companies as well as anti-drug advocates.
The invited technology companies included Facebook (FB) - Get Meta Platforms Inc. Report , Google (GOOGL) - Get Alphabet Inc. Report and Yahoo (YHOO) .
The gathering was more than a month in the making and was dedicated to exploring how the distribution of illegal opioids via the internet could be arrested. The focus was to "discuss ways to collaboratively take stronger action."
In remarks delivered in a post-lunch address, Gottlieb left no doubt on his sincere desire to shut down the flow of online drug trafficking. The commissioner pointed to a trio of strategies the regulator was employing to battle the opioid crisis. The first is to decrease the exposure of the public to prescription opioids as a way to reduce new addiction to the painkillers. The agency is also moving to develop guidance to allow for more innovative ways to control pain.
But it's the third leg of the FDA opioid policy stool where Gottlieb delivered the bulk of his message. "The third area of focus is what I want to expand on today -- and that's our efforts to increase our enforcement activities to crack down on illegal sales of opioids. We share jurisdiction for this work with many other agencies. For FDA, the area of our most concerted focus is when it comes to illicit drugs sold online and typically shipped through the mail. This is where we have a significant role to play. And this is where we're stepping up our work."
Gottlieb said the regulator's enforcement arm, the Office of Criminal Investigations, is looking not only at distribution of drugs via both domestic and international mail, but also counterfeiting and illicit manufacturing of drugs and how the drugs are trafficked on both the Internet and the dark web. He said that his agency had doubled the number of special agents it's using and intends to double that number again thanks to new funding from congress.
The FDA has already begun raising its enforcement profile. On June 5, the regulator sent out warning letters to networks AnonShop, Eassybuyonline, Instabill ECS-RX, Medstore.biz, One Stop Pharma, RemedyMart, RxCash.Biz, TramadolHub and XLPharmacy that they were in violation of FDA regulations regarding opioids, misbranded drugs and unapproved new drugs. The nine networks were tied to 53 websites, some of which are no longer up.
Libby Baney, a senior adviser to the Alliance for Safe Online Pharmacies and a panelist at the event, said the overall tone was positive, that the players all acknowledged that there was a problem and that they all had roles to play. "There was some 'well you do this, but you do that.' And the role of government versus private sector. But there was also a broader recognition in the room that more needs to be done."
Baney also emphasized that while the issue of how best to attack the opioid crisis is quite complicated, there are simple ideas that can make an impact. "It is illegal to sell controlled substances online. This is not the kind of thing where you have to factor in free speech or other legal concerns. Tech companies can do some basic things without legal worries."
Just how technology companies will work with the FDA is still very much an open question. Facebook has made a move already by referring searches for opioid sales to a government drug help line. Google has started to de-index sites that are offering opioids, so that they do not appear in search results.
"I think that there is a better understanding of what technology companies are already doing on this," said Marjorie Clifton, exec director of the Center for Safe Internet Pharmacies. Clifton spoke on a roundtable focused on approaches to addressing opioids marketed online. "I think that it was positive overall, the communication was pretty open."
The CSIP is a non-profit that counts PayPal (PYPL) - Get PayPal Holdings Inc. Report , Mastercard (MA) - Get Mastercard Incorporated Report and American Express (AXP) - Get American Express Company Report among its members.
The roundtable that featured tech companies, titled "Gaps and New Solutions by Internet Stakeholders" was not webcast to the public. As a matter of fact, only the speeches by FDA officials were made public. The FDA said it chose to make little of the public meeting public to encourage an open and collaborative discussion. "As always, we strive to be as transparent as possible while balancing the need to protect the sensitive commercial or business information that will be shared. Today's Online Opioid Summit will be no different. While certain parts will not be webcast, we will provide a recap of the meeting tomorrow and will communicate key information about this important collaboration."
When invitations to the Summit were sent out last month, there was a "Pledge to Reduce the Availability of Illicit Opioids Online" included, with the idea of participants signing the pledge to demonstrate everyone was dedicated and pulling in the same direction. But the pledge was scrapped by the FDA after feedback from tech invitees.
A source familiar with the Summit said that there was a lack of clarity between what the FDA wanted out of the event and its expectations of how the tech companies would participate. An agreement was reached to have the conversations at the Summit be off the record, he said.