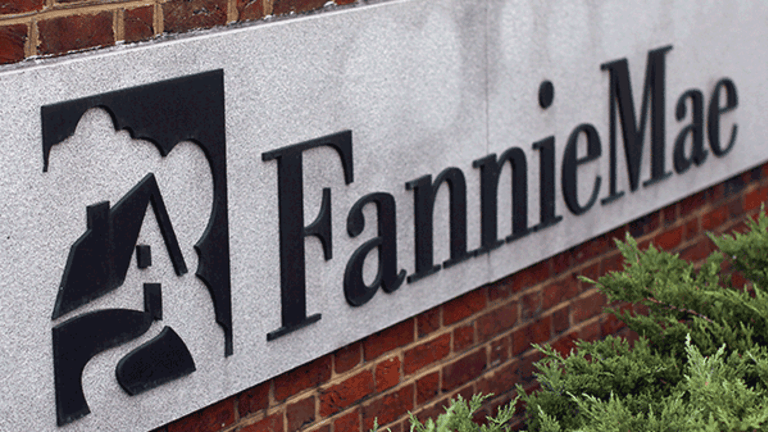 Fannie Mae and Freddie Mac Would Be Privatized Under Proposed House Budget
House Republicans want to privatize Fannie Mae and Freddie Mac as part of their 2018 budget proposal.
House Republicans want to privatize Fannie Mae and Freddie Mac as part of their 2018 budget proposal.
GOP members of the House of Representatives on Tuesday unveiled their 2018 budget. Dubbed "Building a Better America" and authored by Budget Chairman Diane Black (R-TN), the plan calls for more than $200 billion in cuts to mandatory spending programs and sets the path for tax reform. It also calls for the privatization of mortgage giants Fannie Mae and Freddie Mac and assumes provisions of the House bill that would repeal Dodd-Frank.
The budget calls for the Federal National Mortgage Association (FNMA) and Federal Home Loan Mortgage Corp. (FMCC) , better known as Fannie Mae and Freddie Mac, to be privatized. The federal government placed them in conservatorship to prevent them from going bankrupt in 2008.
"The Treasury has already provided $187 billion in bailouts to Fannie and Freddie, and taxpayers remain exposed to $5 trillion in Fannie Mae and Freddie Mac's outstanding commitments, as long as the entities remain in conservatorship," the plan reads. "Our budget recommends putting an end to corporate subsidies and taxpayer bailouts in housing finance."
Investors apparently shrugged at the proposal, as shares of both firms traded mildly lower on Tuesday morning.
To be sure, privatizing Frannie and Freddie is not a novel idea.
Steven Mnuchin said in in an interview with Fox Business in November soon after he was tapped as Treasury Secretary that thinks the two government-backed mortgage-finance companies should be privatized, sending both stocks soaring. During his Senate confirmation hearing in January, he appeared to soften his stance. In May testimony before the Senate Finance Committee, he said "we need to fix Fannie and Freddie."
"Big picture, Republicans would undoubtedly like to shrink the government's footprint in the residential mortgage market, but that's simply not a political reality," said Compass Point LLC analyst Isaac Boltansky. "Housing is a fifth of our economy, and there is simply no political will or procedural capacity to dramatically reshaping the mortgage market."
The House budget released on Tuesday also assumes provisions of a bill to repeal crisis-era Dodd-Frank will be enacted, but it stops short of presuming the entire bill will pass.
The Financial CHOICE Act, a 600-page bill championed by Representative Jeb Hensarling (R-TX), passed the House in June. The broad consensus is that it was essentially sent to the Senate to die, although parts of it are expected to survive.
The House budget highlights seven "key principles" of the CHOICE Act, including stopping taxpayer bailouts of financial institutions, revitalizing economic growth through capital markets and managing systemic risk. It does not provide details on specific measures.
The budget seeks to achieve $14 billion in savings through the Financial Services Committee, which Boltanksy said it can do by eliminating the Orderly Liquidation Authority to unwind troubled financial institutions. "They can get to their $14 billion target easily with the Orderly Liquidation change, which would net about $15 billion," he said.
Overall, the House GOP's budget calls for $621 billion in defense spending and $511 in non-defense spending. It also calls for House committees to come up with $203 billion in savings and takes aims at social programs such as Medicare and food stamps.
The proposal assumes $204 billion in deficit reduction over the course of a decade from the passage of the House bill to repeal and replace Obamacare, even though healthcare legislation appeared to die in the Senate on Monday evening.
To be sure, Tuesday's House budget is essentially a wish list of Republican proposals and one step in what is likely to be a long process of negotiations.
"These are the talking points we've seen time and time again," Boltansky said. "The goal here was to get a document done to begin the process. Specificity wasn't the goal."