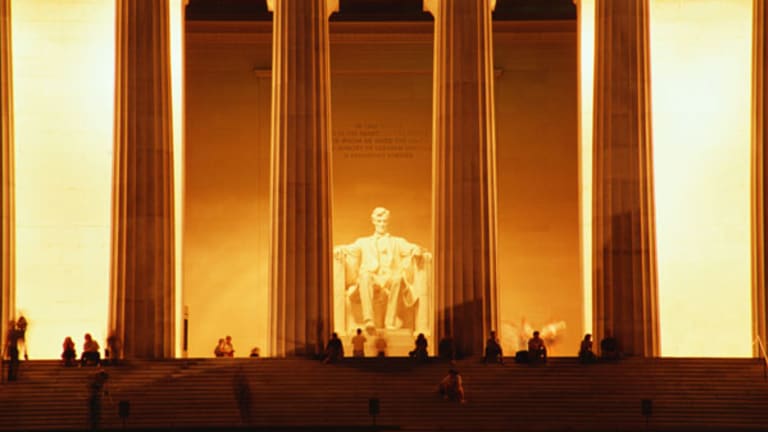 'Fannie, Freddie'? Tough Sell. 'Bailout'? Now You're Talking.
As Congress begins tackling housing-finance reform, lawmakers will have to hash out nitty-gritty details that few voters care about, while crafting a way to package the result.
WASHINGTON (
) -- As Congress begins tackling housing-finance reform this month, lawmakers will have to hash out nitty-gritty details that few voters care about but will mean major changes for borrowers and lenders.
That's a problem for politicians who had planned to use the debate over
Fannie Mae
(FNMA.OB)
and
Freddie Mac
(FMCC.OB)
as a launchpad into the 2012 elections.
Despite the fact that America's housing-finance system has cost taxpayers more money than any bank bailout and many consider its flawed structure to be the single biggest contributor to the financial crisis, it seems most people don't know how it works or care how the housing-finance problem is resolved.
2011 Key to Fate of Fannie, Freddie >>
"I don't think average Americans understand the impact that Fannie and Freddie have on their lives," says David E. Johnson, CEO of Strategic Vision, who has consulted with top Republican leaders. "I really don't. I think what resonates more than anything is just the word 'bailout.'"
Indeed, while major polling groups have conducted tons of research on how Americans feel about "bailouts," "Wall Street" and "banks," they've conducted far fewer surveys on how Americans feel about Fannie, Freddie or housing-finance policy.
Zogby spokeswoman Corry Schiermeyer doesn't recall any polls on those topics since the two firms entered their current conservatorship limbo in September 2008.
"Fannie and Freddie may have hired someone to do polling for them, but I don't have anything that they did for themselves, and we didn't really ask the question on our own," said Schiermeyer. "Most of the stuff we release under our name is going to be fairly generic. It may be 'what do you think of Wall Street bailouts?' but not 'What do you think of Fannie and Freddie?' I don't recall any clients hiring us to do that and, if they did, I couldn't give you that information anyway."
Gallup has several surveys about housing-market sentiment -- as well as a poll showing that "banking reform sells better when 'Wall Street' is mentioned" -- but none that get into housing-finance policy.
A Rasmussen poll in September last year came close, but the results seem inconclusive. A majority of Americans surveyed said they want the government to "stay out of the housing market." Yet many respondents also felt that a home was "the ideal investment for a family"-- a notion that's in line with current policies to foster widespread homeownership.
The federal government now stands behind the vast majority of mortgages in the United States, and upwards of 90% of those originated since the financial crisis took hold. The
Federal Reserve
still holds over $1 trillion worth of residential mortgage-backed securities (RMBS) on its balance sheet, having purchased them to increase liquidity and spur additional lending.
U.S. housing-finance policy extends beyond guarantees and outright purchases to tax incentives and loans to community banks for the express purpose of mortgage lending as well. Affordable housing programs provide additional funds for low-income, minority and veteran borrowers. There are also programs targeting existing borrowers who are grappling with foreclosure, joblessness or mortgages that are worth more than the home.
Essentially, the U.S. government has been doing just about everything to support and extend homeownership, apart from direct lending to consumers.
Yet the very system that has kept the U.S. housing market on life support has also drained federal coffers. Fannie and Freddie have so far cost the U.S Treasury Department $150 billion, a number that may rise to $363 billion, according to the FHFA.
Add to that the tens of billions in projected losses from foreclosure-prevention-programs, as well as the mortgage-interest tax deduction that 35 million Americans take advantage of each year and homeownership becomes appears even more costly. The Obama administration, which has suggested dropping that tax provision, projects it will keep $92 billion of sorely needed revenue out of the federal budget this year, and another $131 billion in 2012.
As voters experience housing-related losses in one way or another, executives at Fannie and Freddie are still earning multi-million-dollar pay packages. And while stocks of those government-sponsored enterprises (GSEs) have been nearly depleted in terms of valuation, they still exist.
In fact, traders have been profiting from volatility in Fannie and Freddie's penny stocks for years now, with longs betting the government will execute an exit strategy that keeps the stocks alive -- a la AIG and
Citigroup
(C) - Get Citigroup Inc. Report
-- and shorts trying to ride the securities down to zero.
As a result of this "heads investors win, tails taxpayers lose" dynamic, Tea Partiers, conservatives and free-market enthusiasts have tried to hold up the GSEs as an icon of pseudo-socialist policy gone awry.
Republican lawmakers seized on that narrative last year ahead of elections. A group led by John McCain (R., Ariz.) offered a proposal to dismantle Fannie and Freddie; when it was ignored by the Democratic majority, Republicans refused to vote for the financial reform package at all unless housing-finance was addressed.
Since their sweep of the House, though, most high-level Republicans have softened their message. Conservatives who took pride in opposing bailout and stimulus bills -- like Rep. Spencer Bachus (R., Ala.), who has taken over as chairman of the House Financial Services Committee, and Rep. Scott Garrett (R., N.J.), who has taken over a subcommittee that oversees Fannie and Freddie -- have started acknowledging that reform can't be swift or dramatic, if they mention housing-finance at all.
That's partly because the anti-Fannie-Freddie message is often met with a blank stare.
"As far as the public goes, it's an imperfect understanding of Fannie and Freddie," says Doug Smith, a partner who consults with financial firms on regulatory issues out of Alston & Bird's Washington, D.C., office. "It's sort of a pocketbook issue in the sense that it matters how you get a mortgage, but it doesn't have the same political impact as, say, tax reform."
Herbert Kaufman, professor emeritus at Arizona State University's W.P. Carey School of Business, spent a long time in Washington as an economist for Fannie Mae and a consultant for the Treasury Department and Congressional Budget Office. He explains that, since the inception of Fannie and Freddie in 1968 and 1970, the public has always associated the two firms more with the government than with Wall Street - even though, much like big banks, they were publicly traded, doled out bonuses and were deeply intertwined in the financial markets.
"The Fannie and Freddie conservatorship was more of a continuum," says Kaufman. "It went from implicit guarantee to explicit guarantee, whereas with
AIG
(AIG) - Get American International Group, Inc. Report
and the bank bailouts, it was a structural change."
In that sense, the terms "Fannie Mae" and "Freddie Mac" are just as likely to signify a helping hand toward homeownership for one segment of voters as they are to inspire bailout rage among another. In the middle lies a whole bunch of the voting populace that doesn't much care or understand how it all works. They just want to buy a home.
"I grew up in an era when it was always the American dream to own a home -- so much of what we all strived for was eventually to own a home," says Edward Kramer, a former banker and regulator who is now a consultant at Wolters Kluwer. "Many of us were able, and our parents were able, to grow up and own that little, five-room Cape Cod."
But, he notes: "They accrued significant equity, sold it, and moved into a nine-room split - and who knows what else, from there."
Because that unbridled home price inflation was followed by equally sharp devaluation, millions of homes - from bungalows to McMansions - have now been foreclosed upon, with millions more in the pipeline. And though federal policy blew air into the housing bubble that's still bursting, last year's financial reform bill barely glanced upon it.
Instead, the Dodd-Frank reform bill required the Treasury Department to issue a comprehensive proposal to Congress by Jan. 31, at which point a debate can begin in earnest. Besides the broad question of, "What is the appropriate role of the government in the housing market?" lawmakers will need to address the arcane particulars that have a meaningful impact on the housing market.
Among those topics: Conforming loan limits, appropriate mortgage duration, pricing of government guarantees on mortgage bonds, loss-sharing arrangements with investors in case borrowers default en masse, whether Federal Home Loan Banks (FHLBs) should be able to award dividends, whether Fannie and Freddie should be able to retain mortgages on their balance sheets, and how to ensure continuity between the current system and the one that replaces it.
"Let's say, in 2011 or 2012, there's a new entity guaranteeing mortgages: How do you deal with the issue of the existing loans?" asks Anand Bhattacharya, a finance professor at ASU who specializes in securities and derivatives trading. "Remember, they're 30-year loans. They're not going to go away. If I'm an investor -- a PIMCO, a
Blackrock
(BX) - Get Blackstone Inc. Report
, a People's Bank of China -- I need to be sure that the securities that I buy aren't orphans."
Of course, prioritizing private profit on the backs of homeowners is an anathema to any kind of public debate. But Bhattacharya notes that structuring the right risk-rewards dynamic between private capital and public guarantees will be crucial for the housing market to become healthy again.
"That's where the rubber will hit the road," he says.
Currently, investors receive "implicit" guarantees via Fannie Mae and Freddie Mac, which are GSEs, or "explicit" guarantees offered through Ginnie Mae, which is a government agency. The distinction was rendered futile once the GSEs were granted unlimited capital from the federal government to cover related losses. However, Congress will still have to determine the way forward.
Perhaps unsurprisingly, Democrats tend to favor a route that provides extensive financial support while Republicans tend to favor the opposite. Industry veterans are split.
Tim Rood, a former Fannie Mae official, compares the idea of relinquishing federal support to going cold turkey off of a powerful drug.
"You see some folks trying to draw the analogy between markets like Canada which have never had any government support or backing for the mortgage market and which seems to have achieved - on a much smaller scale - the nirvana of housing in homeownership rates, perfect matching of interest rate risks and all that," says Rood, who's now a managing director at D.C. consulting firm The Collingwood Group. "But it's like trying to compare an Amish baker to Keith Richards. There's no policy equivalent to methadone. We've been on it forever - you can't just say 'Look how easy it is to live without government involvement or backing of the mortgage market.' It's just not an easy thing to undo."
But Kaufman, who has long advocated an overhaul of the housing-finance system, would like to see Congress privatize the market completely. For the first time, he thinks substantial change may be accomplished.
"It clearly was zero probability of an overhaul when people like me - and many others - were advocating this kind of thing in the 80s," Kaufman says. "The political landmines were so extraordinary that we were whistling in the wind. But now, with the crisis, there's at least some chance. As slowly as Congress learns, it learns something."
The housing-finance debate promises to be ugly and may not be resolved by year-end. In that case, Fannie and Freddie will become yet another campaign issue for the big 2012 election.
Much like the financial-reform bill -- which led more than a few lawmakers to stake their re-election campaigns on issues as obtuse as trust-preferred securities and derivatives -- the electorate may end up learning more than it ever wanted to know about how the mortgage sausage gets made. Yet the dialogue represents more than just politicking; it has the potential to re-stitch the fabric of American culture.
Kramer suspects Americans may need to get accustomed to a new reality: "Affordable housing doesn't have to mean that everyone has to own a home. It's still a great dream and everyone should still aspire, if they choose to, to own a home. But when it comes to the government fostering 'affordable housing,' that might be rental housing."
-- Written by Lauren Tara LaCapra in New York
.
>To contact the writer of this article, click here:
Lauren Tara LaCapra
.
>To follow the writer on Twitter, go to
http://twitter.com/laurenlacapra
.
>To submit a news tip, send an email to:
.
RELATED ARTICLES:
Wells Fargo Cuts Another Mortgage Deal
Disclosure: TheStreet's editorial policy prohibits staff editors, reporters and analysts from holding positions in any individual stocks.