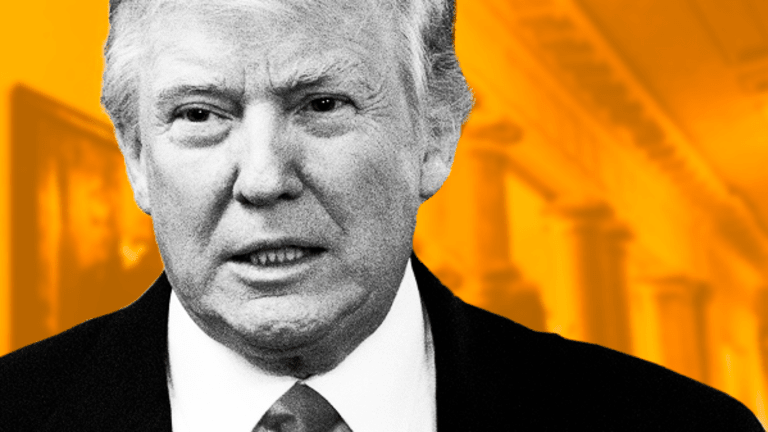 Failed Walgreens-Rite Aid Deal Telegraphs Potential Antitrust Policy Under Trump
Walgreens' abandoned bid for Rite Aid could be an ominous sign for dealmakers hoping for smoother regulatory sailing under Trump, but it may be too soon to tell.
Walgreens' abandoned bid for Rite Aid could be an ominous sign for dealmakers hoping for smoother regulatory sailing under Trump, but it may be too soon to tell.
Walgreen Boots Alliance Inc.'s (WBA) - Get Report abandoned bid for Rite Aid Corp. (RAD) - Get Report could be an ominous sign for dealmakers hoping for smoother regulatory sailing under President Donald Trump, although so many slots in the administration remained unfilled that it may be too soon to tell.
Under pressure from antitrust regulators, Deerfield, Illinois-based Walgreens moved Thursday to abandon its $9.4 billion merger with Rite Aid. The pharmacy company instead agreed to buy 2,186 Rite Aid stores for $5.2 billion, effectively killing a deal with Fred's Inc. that would have seen it acquire as many as 1,200 Rite Aid stores. The events could be a sign that antitrust regulators under Trump won't be as easy on deals as some had hoped.
A party switch at the White House can lead to a dramatic change in regulators' aggressiveness in challenging mergers. There has been some hope that Trump, who prides himself on his deal-making prowess and business acumen, might appoint figures who take a laxer attitude towards enforcement. But thus far, that hasn't exactly been the case.
Anthem Inc. (ANTM) - Get Report called off its $54 billion bid for Cigna Corp. (CI) - Get Report in May after it lost an appeal of a case brought by the U.S. Department of Justice to block the merger.
While still pursuing the deal, Anthem indicated it was hoping a shake-up at the DOJ under Trump would clear the way for the deal's approval, saying in a legal filing it was committed to completing the merger "either through a successful appeal or through settlement with the new leadership at the Department of Justice."
At the time, the American Medical Association flagged Anthem's statements on concerns the Trump administration might seek to use "political influence" to sway approval of the deal.
The decision to terminate the Walgreens-Rite Aid deal was likely made under the expectation that the FTC would ultimately come out against it.
The merger had been under antitrust scrutiny since December 2015, and a number of signs indicated the commission would seek to stop the transaction.
Walgreens repeatedly upped the number of stores it was willing to divest to win FTC clearance, pledging to sell up to 1,200 stores to Fred's. But there were concerns the Memphis-based drugstore might not have been able to handle the additional locations, which would have tripled its footprint.
"When you have a huge acquisition of retail outlets, which this was, the commission will order spinoffs, so it becomes a difficult task for the acquirer to find purchasers of the spunoff outlets," said Tom Campbell, professor of economics and law at Chapman University in Orange, California, and former director of the FTC's Bureau of Competition. "You can't just spin it off to a bottom-feeder...who will let it die."
After the FTC allowed Albertson LLC to sell 146 stores to Haggen LLC, another small chain store, as part of its 2015 purchase of Safeway, Haggen was forced into bankruptcy. Private equity firm Sycamore Partners, which acquired 330 Family Dollar Stores as part of Dollar Tree's 2015 acquisition of Family Dollar Stores Inc., has moved to sell 323 of those stores to Dollar General.
Fred's CEO Michael K. Bloom in a statement following the cancelled Walgreens-Rite Aid merger said he had viewed the additional stores as an "opportunity for growth" and called the outcome "disappointing." Now that the merger has been terminated, Fred's will receive $25 million as reimbursement for expenses.
Tad Lipsky, acting director of the FTC's Bureau of Competition, said in a statement following the cancelled merger that the commission will "review any new transaction proposed by the parties." In other words, it will be looking at the store-purchase deal.
It might be too soon to read too much into antitrust enforcement under Trump given the nature of the transaction and the fact that so many administration positions, regulatory and otherwise, remain unfilled.
"It's hard to assume that the approach to the Walgreens-Rite Aid transaction will be indicative of how the Trump administration will approach things going forward," said Sonny Allison, corporate partner at law firm Perkins Coie LLP in Denver. "It could be that they take a hard look at things, but there's just too much in flux right now."
"I think it's business as usual [at the FTC]," said Norm Armstrong, partner at King & Spalding LLP and former deputy director of the FTC's Bureau of Competition. "I don't see any change in enforcement. The agencies continue to challenge transactions that they have reason to believe are anti-competitive."
He pointed to the FTC's move to block the FanDuel Inc.-DraftKings Inc. merger.
"It's a pretty straightforward logical outcome from what I strongly believe was a staff-driven analysis," Campbell said.
There are currently just two FTC commissioners instead of the normal five - Acting Chairman Maureen Ohlhausen, a Republican who was sworn in as a commissioner in 2012, and Commissioner Terrell McSweeney, a Democrat sworn in in 2014. Lipsky, a former partner at Latham & Watkins LLP, was named acting director of the FTC's competition bureau in February.
Ohlhausen has been speculated to be a candidate to head the FTC permanently, alongside Utah Attorney General Sean Reyes. However, the administration has not yet made any decisions on its commissioner appointments, and predictions are often unreliable. The FTC commissioners, once confirmed by the Senate, then pick bureau directors.
"The problem is they've got three vacancies," said Allison. "It's hard to tell exactly how merger enforcement is going to go under the Trump administration when we don't even have people in place."
"I think time will tell whether there will be a significant change in enforcement once the full complement of the commission is there," Armstrong said. "But for now, I don't really see any change."
And it's not just at the FTC - the DOJ is still filling out, too. Makan Delrahim, Trump's pick to head the department's antitrust division, has still not been confirmed by the U.S. Senate, though as The Deal recently noted, he is a traditional figure. Andrew Finch, former partner at Paul, Weiss, Rifkind, Wharton & Garrison LLP, is currently acting assistant attorney general in the post until Delrahim is confirmed.
More of What's Trending on TheStreet:
Apple's iPhone Turns 10; Here Are the Ways It Revolutionized Technology
Apple's iPhone Triggered Mind-Blowing Changes to How Investors Trade Stocks