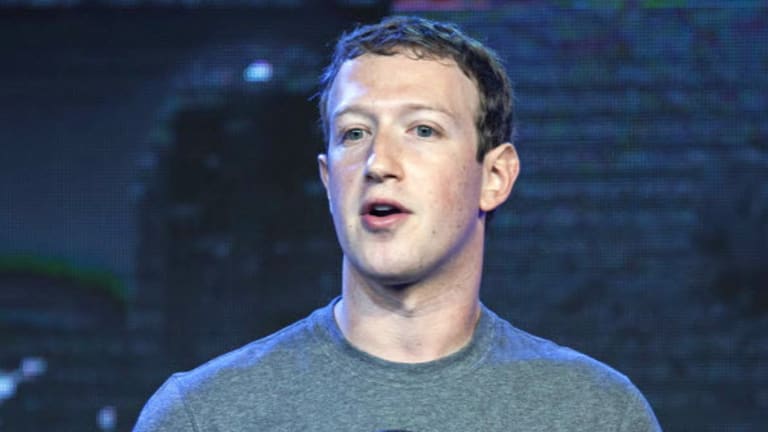 Facebook's Zuckerberg Set to Meet with Leading Conservatives Today
Facebook's Mark Zuckerberg is set to sit down with conservative leaders Wednesday in an effort to calm concerns over allegations that the social media platform muffles right-leaning voices and news.
Facebook's (FB) Mark Zuckerberg is set to sit down with conservative leaders Wednesday in an effort to calm concerns over allegations that the social media platform muffles right-leaning voices and news.
Media personality Glenn Beck, Fox News' Dana Perino, former Mitt Romney digital director Zac Moffatt and American Enterprirse Institute president Arthur Brooks are among those slated to meet with the executive in Facebook's Menlo Park, Calif. offices today, a Facebook spokesperson confirmed. Also in attendance will be Barry Bennett, former Ben Carson campaign manager and senior adviser to Donald Trump's presidential campaign.
The group will discuss suspicions sprung from a recent Gizmodoreport that Facebook workers suppressed conservative news stories in order to keep them from appearing in its "trending topics" news section.
Facebook shares dipped Tuesday, the day ahead of the encounter, falling 1.21% to $117.24.
Facebook is a holding in Jim Cramer's Action Alerts PLUS Charitable Trust Portfolio. See how Cramer rates the stock here. Want to be alerted before Cramer buys or sells FB? Learn more now.
Zuckerberg has already responded to the report, in a Facebook post last week pledging to conduct a full investigation into the issue and noting his team had not yet found indications of any wrongdoing. He said he would be "inviting leading conservatives and people from across the political spectrum" to meet and discuss the issue -- a meeting first confirmed by Beck in a Facebook post over the weekend.
Facebook has also released its 28-page guidelines provided to workers on the trending topics team.
While it is worth noting that Facebook, a private entity, is under no legal obligation to remain politically unbiased, the issue has caused a firestorm around the company that may not be great for business.
Concerns Facebook is squashing conservative content may keep ad dollars from coming in, Vincent Harris, a Texas-based digital strategist who has previously worked with Rand Paul, Rick Perry Newt Gingrich and Ted Cruz, pointed out in a Tuesday interview with French media outlet FRANCE 24 Debate.
"Facebook is a primary source of news and political information for a lot of people around the world, so whatever shows up in the trending topics box is going to have a huge impact on voters' perceptions of their governments, of voters' perceptions of individual candidates. So Facebook needs to be very transparent with us about how news is getting into that box, and as a conservative, I'm spending a lot of my client's money advertising on Facebook," he said.
And given that Facebook stands, according to one analyst's estimates, to make $350 million on political ad spend this election cycle alone, alienating a major party -- both its voters and its politicians -- could potentially impact its bottom line.
Perino, who served as White House press secretary under President George W. Bush, said on Fox News Tuesday she will go into the meeting with Zuckerberg with an "open mind," adding that she also hopes to discuss Silicon Valley's broader approach to conservative points of view.
"To me, companies like Facebook and others out there, they really prize gender and racial diversity, they don't so much seem to like diversity of thought," she said, adding that Facebook appears to be taking the issue seriously because "in their business model, it's not in their interests to not be inclusive."
Not all have met Zuckerberg's invitation so openly. Some conservatives have turned him down, CNN reported, including American Conservative Union chairman Matt Schlapp and The Resurgent editor Erick Erickson.
Stephen Bannon and Alexander Marlow of right-leaning outlet Breitbart News in an op-ed last week said Facebook representatives had reached out. "We have zero interest in a Facebook photo-op," they wrote, proposing their own set of conditions for a meeting, including an interview with Zuckerberg. "Free speech is not for sale, and neither are we," they added.