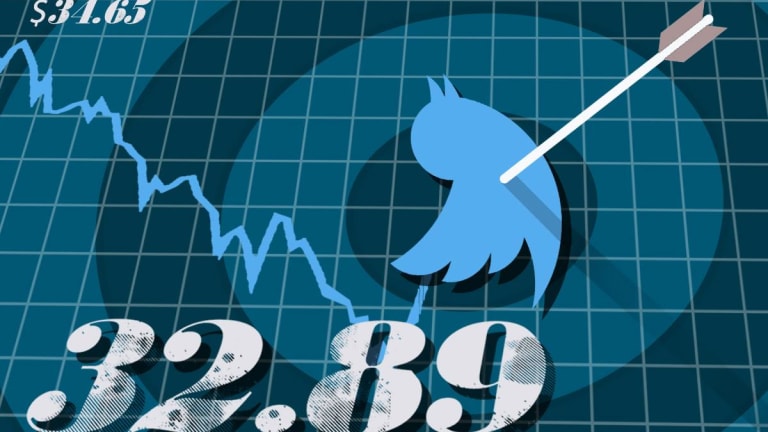 Twitter Shares Fall as CEO Testifies in Front of the House
Jack Dorsey, CEO of Twitter, is back at the Hill for his second testimony.
Jack Dorsey, CEO of Twitter, is back at the Hill for his second testimony.
Jack Dorsey, CEO of Twitter, is heading back to the hill for his second testimony. The hearing is scheduled to start at 1:30 P.M. E.T.
Twitter Tumbles
At the close, Twitter was down 6% to $32.73.
Rep. Leonard Lance Asks for Timeline
Lance wants to know when anyone can expect Twitter to roll out a more effective system to weed out harassment and abuse. Dorsey said that he didn't have an idea of a timeline just yet.
"Privacy is a Fundamental Human Right," Said Dorsey
Dorsey said that they challenge eight to 10 million accounts a week to test if they're real.
Dorsey also said that Twitter was working on ways to speed up the time between reporting tweets and Twitter removing them if they violate the terms and conditions of the site. 
Twitter is down 5%. 
Can Twitter Be More Friendly for Women?
Rep. Diana DeGette cited an Amnesty International report titled "Toxic Twitter" that revealed how dangerous Twitter can be for women.
Dorsey responded that Twitter is attempting to aggregate harassment and other reported data and to make it public.
He said that Twitter is also working on modernizing enforcement actions so that users don't have to report abuses.
Rep. Fred Upton Asked About Twitter's Policies
Dorsey said that Twitter is always looking to evolve its policies. 
"We need to make them a whole lot more approachable," said Dorsey about Twitter's terms of service.  
Content Moderation
"I do believe that we need to do more to protect private individuals more than public figures," Dorsey said. "We do believe that we need a lot more transparency around our actions."
Dorsey's Opening Statement
Once again, Dorsey is opening with a speech that he's also tweeting it out.
Jack's Back
Dorsey will be testifying in front of the House of Representatives. He's expected to discuss conservative bias on the social media platform. 
Twitter is down around 4.7%.
Twitter is on Track for Worst Day Since July
Twitter is still down around 5% and Facebook is down around 2%.
Sen. Tom Cotton Calls Out Google's Relationship with China
Cotton said that Sandberg and Dorsey should be proud about being blocked by China.
Cotton asks why Facebook and Twitter allow WikiLeaks and Julian Assange to operate on the platforms. Both Sandberg and Dorsey said that they would not defend their companies stances on WikiLeaks and Assange, but that neither platform had found violations. 
Sen. Joe Manchin Asks About Users Selling Drugs on Social Media Platforms
How much responsibility do social media companies have when it comes to drug dealing through the platforms?
There was a heavy pause before Sandberg offered an answer. 
"This is prohibited on our service," Dorsey answered. He said that Twitter plans to find better ways to shut down drug dealing before it happens.
Manchin asked whether or not there should be laws that hold companies responsible for the drug dealing. He wondered if it'll change the way the platforms will handle drugs being sold through the platforms. 
Why are you not doing business in China asked Manchin? Both Sandberg and Dorsey answered that they were blocked in China.
Sandberg says that doing business in China is not possible right now due to the fact that Facebook and China have different beliefs and Facebook is not interested in compromising those beliefs.
Sen. James Lankford
Is information from suspended accounts archived? Dorsey said that he'd have to get back to Lankford on the issue. Sandberg said that Facebook stores the information.
Facebook is down 2% and Twitter is down 5.4%. The Nasdaq is also suffering and is down around 1%.
Thoughts on Educating Users?
"We've worked on media literacy programs," noted Sandberg. 
"To be frank, we haven't done a good job at this in the past," Dorsey admitted. "We do benefit that we have this amazing constituency of journalists using" the platform everyday. He continued to say that the journalists call out issues on the platform. 
Sen. Kamala Harris Takes the Mic
Harris grilled Sandberg on a number of issues with Facebook. She started by asking about how much Facebook made on inauthentic ads. Sandberg noted that Facebook wouldn't be able to figure out how much that would be. 
Why Doesn't Twitter Notify Individuals When They've Been Targeted?
"It's unacceptable," agreed Dorsey. 
Alex Jones is Still Present
Jones reportedly approached Rubio during the Recess.
The Hearing is Taking a Recess
Twitter has rebounded slightly, it's down nearly 5% to $33.16. Facebook is down 1.3% to $168.89. Google is down around 2% to $1,187.69.
Heinrich Asks How Facebook Defines Hate Speech and Misinformation
"In the case of misinformation, we send it to third-party fact-checkers," Sandberg answered. She followed up by saying that Facebook doesn't believe that it should be in charge of saying what is or is not true. 
Sen. Martin Heinrich Questions What Facebook and Twitter Have Learned
"We've learned a lot about elections around the world," responded Dorsey. He again brings up the machine learning and Twitter's investment in artificial intelligence. 
Rubio Grilled Twitter and Facebook
Rubio wondered how the two companies handle other governments, especially those that are not democracies. 
In particular, Rubio grilled Twitter about the platform's silencing of journalists in Turkey, Dorsey walked around the question, he said that Twitter has a policy that allows users to be blocked in certain countries, but not worldwide. He noted that, in the case of the Turkish journalists, they were still able to post globally, but the tweets wouldn't be seen in Turkey.
Twitter, while still down nearly 6%, recovered slightly.
Sen. Marco Rubio Calls Out Google
"Maybe it's cause they're arrogant," said Sen. Marco Rubio on the absence on Alphabet Inc.'s Google  (GOOGL) - Get Report . 
Rubio's comments are the first time that Google's absence has been noted by the Committee during the question segment. 
Google is down around 2%.
How Does Facebook Handle Microtargeting?
"Discriminatory advertising has no place on Facebook," Sandberg said. She's being grilled on Facebook's transparency. 
Sandberg is asked to provide the Committee with a more in-depth explanation of how the platform handles microtargeting. She doesn't give a timeline, instead saying that Facebook will work to get that information to you as quickly as possible.
How Do Twitter and Facebook Handle Non-U.S. Citizens?
"We don't have an understanding of where an account is located--we have to infer," Dorsey said. He pointed out that law enforcement helps Twitter in that regard.
Sandberg said that Facebook doesn't allow non-U.S. citizens to post political ads. 
Dorsey, on the other hand, said that Twitter focuses on behavior. "We have been building our machine learning to recognize these patterns," said Dorsey.
Sen. James Risch is Up
"Are standards published?" Asks Risch.
Sandberg said that Facebook does publish community standards and lists a few of them. 
Dorsey said that he has a team that handles policy and standards and proceeds to list the hierarchy.
Sen. Mark Warner Speaks
"After a few false starts," Warner said to Dorsey about Twitter's changing policies. He noted that it looks like Twitter is actually putting new policies into place.
Twitter is now down nearly 5%.
Warner is now moving to Sandberg. He said that he believes that most users are in the dark about the amount of data being collected on them. "Does a Facebook user have a right to know what information is being collected?" He asked. Sandberg agrees.
Warner asked if it's possible to show a data valuation to show users what the data is worth. Sandberg said that Facebook is willing to work with the Senate on that.
Facebook is down 1%. 
Does Facebook have a moral or legal obligation to take down violent posts?
"I strongly believe that," answered Sandberg. "We are taking aggressive steps and can do more."
Social Media and Security
"Our security teams are in close contact," she said.
"This is not something we want to compete on," Dorsey responded.
What's Your Company's Ability to Collaborate?
"We do believe that we have an opportunity to create more transparency," Dorsey responded to Burr's question."We would like to be a company that is not only hosting an open conversation."
Sandberg's up. "We can continue to do better," she said. 
The Questions are Starting
Sen. Richard Burr kicks off the questions by asking both Dorsey and Sandberg to explain what they believe that social media is and what it does for the public. 
Sandberg noted that the birthday funds on Facebook have raised over $300 million and that the safety feature allow users to check in with loved ones when disaster strikes. 
Dorsey said that he compares Twitter to a public square. "We need to question a lot of the fundamentals we started with 12 years ago," he said. 
Twitter is down nearly 4%. Facebook is still down around 1%.
Jack Dorsey Speaks And Tweets at the Same Time
Dorsey says that he's not "proud" of the way that Twitter has been used to spread propaganda, filter bubbles and the way that "bad faith actors" were able to "game Twitter."
And, yes, Dorsey is both tweeting and speaking his opening remarks at the same time.
Sheryl Sandberg's Up First
As Sandberg finished her opening remarks, Facebook is down over 1%.
Sandberg reiterates that Facebook was too slow to react in 2016 when the platform was used for election interference by Russian accounts. 
Ahead of the Senate's questions, Facebook is down slightly. Twitter's Dorsey is expected to testify after Sandberg. Twitter is down around 2%.
Alex Jones Makes a Surprise Appearance 
Alex Jones appeared in front of the Senate Intelligence Committee hearing.
What You Need to Know
It's a busy day on the Hill.
Both Sheryl Sandberg, COO of Facebook Inc. (FB) - Get Report , and Jack Dorsey, CEO of Twitter Inc. (TWTR) - Get Report , are expected to appear in front of the Senate Intelligence Committee.
Sandberg's testimony will focus on election interference, which comes right at the U.S. gears up for the midterms. CEO Mark Zuckerberg has previously testified in front of the Senate on the issue of interference in the 2016 election. Sandberg is expected to follow up on Zuckerberg's testimony and further discuss the steps that Facebook is taking to prevent further interference.
"We're investing heavily in people and technology to keep our community safe and keep our service secure. This includes using artificial intelligence to help find bad content and locate bad actors," Sandberg wrote in a written tesimony. "We're shutting down fake accounts and reducing the spread of false news. We've put in place new ad transparency policies, ad content restrictions, and documentation requirements for political ad buyers. We're getting better at anticipating risks and taking a broader view of our responsibilities. And we/re working closely with law enforcement and our industry peers to share information and make progress together."
Dorsey's testimony will follow Sandberg's. The Twitter CEO is expected to testify on the platform's effort to cleanse bot accounts and cut down on harassment on the platform. 
"There are other guiding objectives we consider to be core to our company. We must ensure that all voices can be heard. We must continue to make improvements to our service so that everyone feels safe participating in the public conversation - whether they are speaking or simply listening. And we must ensure that people can trust in the credibility of the conversation and its participants," Dorsey wrote in his testimony. 
He continued, "My testimony today will provide important information about our service: (1) an explanation of our commitment to improve the health on Twitter; (2) the algorithms that shape the experience of individuals who use Twitter; (3) an update on Twitter's work on Russian interference in the 2016 elections; and (4) information on recent malicious activity Twitter saw on the platform."