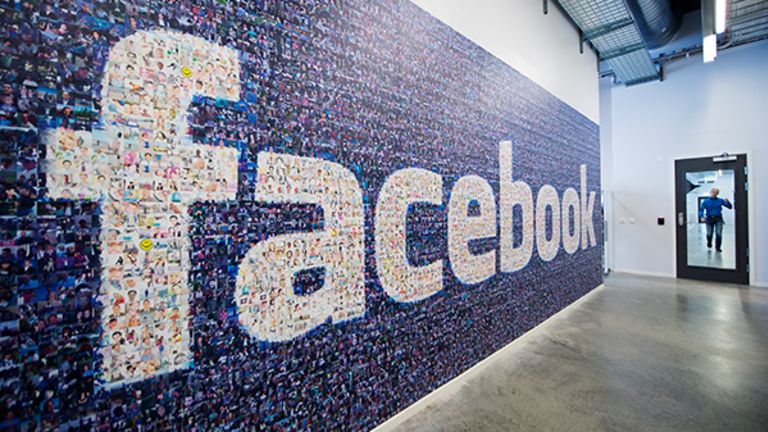 Facebook Pitches to CPAC Millennials as Bias Allegations Loom in Background
Is a picture of Nikki Haley holding her son and one of Mike Pence making a sandwich a way to pitch to Millennials? Facebook is giving it a go.
Updated with comments from Facebook. 
Is a picture of Nikki Haley holding her son and one of Mike Pence making a sandwich a way to pitch to millennials? Facebook (FB) - Get Facebook, Inc. Class A Report is giving it a go.
The social media giant is this week reaching out to the right via the Conservative Political Action Conference (CPAC), an annual gathering of conservatives here in Washington, D.C. Apart from an in-kind contribution to the event, Facebook is also making a direct pitch to conservative activists and up-and-comers, some of whom are skeptical about the platform and the potential for bias.
"I absolutely distrust Facebook," said Andy Barr, a 27-year-old data scientist from Seattle.
Facebook took a hit among conservatives in the spring of 2016 following a Gizmodo report that its news curators suppressed stories about conservative topics, including CPAC.
CEO Mark Zuckerberg was quick to launch an investigation into the matter, and Facebook eventually moved to automate its trending news section. (The latter maneuver contributed to the election's "fake news" phenomenon.)
Still, not all is forgotten.
"As far as Facebook goes and past issues with them, it's a vey real thing," said Barr.
Facebook is a holding in Jim Cramer's Action Alerts PLUS Charitable Trust Portfolio. Want to be alerted before Cramer buys or sells FB? Learn more now.
At CPAC, Facebook is making an effort to change that. The company is donating $62,500 in cash to the event, a spokesman for the company told Politico. It is also hosting a happy hour for up-and-coming conservatives, holding a training session on Facebook and politics and government and hosting a Facebook Live lounge for media partners. 
"Facebook participates in events hosted by organizations across the political spectrum," a Facebook spokesman said. "Our presence allows us to facilitate an open dialogue where people can share their views and create content to engage their audiences, just as we did during other political events such as the Republican and Democratic Party conventions. Our involvement is not an endorsement of any particular position or platform."
"Facebook is where the political conversation is happening," said Eva Guidarini, politics and government outreach associate at Facebook, in an activist training session on Wednesday.
About 355 million unique users worldwide had 12 billion interactions related to Election 2016, she said, and there are 205 million active people on Facebook in the U.S. One of every five minutes Americans spend on their mobile phones or desktops are on Facebook.
She explained the ins and outs of Facebook's products, paying special attention to its video feature, Facebook Live. She fielded questions for several minutes on a wide range of topics, from whether it's best to film videos horizontally or vertically to how to handle privacy settings on particularly politically sensitive posts.
A recent Berkeley graduate hoping in the audience who wasn't particularly interested in the presentation discussed what drew him to the Republican Party -- immigration. He said he thinks the U.S. should cut legal immigration numbers in half, including the H1-B visas Facebook and other tech companies prize.
On the screen flashed screenshots of House Speaker Paul Ryan's Facebook page and candid images of Haley, the new U.S. ambassador to the United Nations, and Pence, the vice president. The crowd dwindled, as many attendees filtered to the central ballroom where Fox News' Sean Hannity would soon be filming his show.
"Guys, if you can't get a date here, you're total losers," Hannity told the audience, largely comprised of college students and recent grads, before the taping.
Trump adviser Kellyanne Conway, in a sit-down with Hannity, spoke of President Trump's affinity for another social media outlet: Twitter (TWTR) - Get Twitter, Inc. Report . Her message to those who don't particularly appreciate his prolific tweeting: "Too bad."
Outside the ballroom, a group of five college-aged women gathered and discussed their social media preferences.
While they acknowledged Twitter's significance in the political realm, all said they use Facebook more. There was less of a consensus on Facebook compared to Snapchat, whose parent company, Snap Inc., is headed toward an IPO.
"A lot of the stuff that you do see that's posted on Facebook does have a liberal spin to it," said Elizabeth Berecin, a Texas State University senior who headed social media efforts at her campus' Students for Trump.
She cited videos from online outlets Vox, Vice, Raw Story and BuzzFeed that make what she sees as "emotional arguments." Her friends agreed.
The potential upside for Facebook -- at least in the face of competition -- is that the women said they think Snapchat has a political slant problem as well.
They pointed to the women's march the day after the inauguration, which got significant play on both platforms, compared to the pro-life march the week after, which did not.
"It's like, 'Hillary Clinton, the love of my life. Donald Trump broke up with me,'" Berecin said. "That's the kind of narrative it paints."