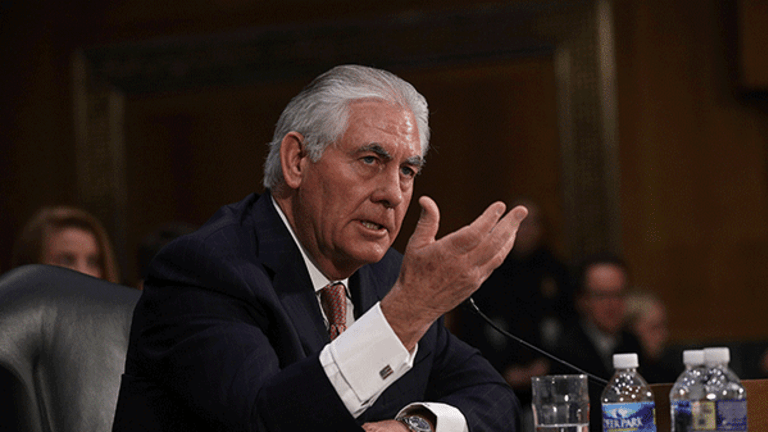 Publish date:
Exxon Weighing in on Paris Agreement is Mix of Business, PR
Why would Exxon, a company that hasn't exactly been a model citizen on climate change in the past, care?
Why would Exxon, a company that hasn't exactly been a model citizen on climate change in the past, care?
Exxon (XOM) - Get Report isn't the most obvious of climate proponents, and the oil and gas giant's plea with the Trump administration to stick to an international deal on the matter raises the questions of why this and why now.
The Irving, Texas-based company sent a letter to the Trump administration urging it to remain in the Paris climate accord, an international agreement struck under the Obama administration in 2015 to curb global warming. Dated last week and made public Tuesday, the letter argues that the accord is an "effective framework for addressing the risks of climate change," pulling at the president's free-market heartstrings by calling the U.S.'s involvement in the deal necessary to "ensure a level playing field" and ensure that "global energy markets remain as free and competitive as possible."
The reason why Exxon, a company that hasn't exactly been a model citizen on climate change in the past, would care about the issue is likely a combination of business interests and PR.
"It's not surprising to see large corporations making the case for the United States to stay in Paris, because a lot of large companies were part of the leadership pushing to have Paris happen in the first place," said Ali Zaidi, senior adviser on energy at law firm Morrison & Foerster who served in the Obama administration on energy and environmental policy for eight years. "Part of that is driven by the recognition that there's a huge market opportunity that Paris creates for, frankly, traditional energy companies to deliver fossil energy in a cleaner and safer way but also for new energy, which many of these companies are starting to invest in."
Exxon has a complicated history on climate change.
Rex Tillerson, the firm's long-time CEO and now U.S. Secretary of State, went on record in 2009 supporting a carbon tax. But the company has become the subject of fierce scrutiny in recent years in the wake of revelations that it knew that humans were causing climate change as early as the 1970s and intentionally misled the public on global warning. The controversy, often accompanied online with the hashtag #ExxonKnew, has resulted in legal action.
Given its past, there is little doubt Exxon's letter is, at least in part, a public relations ploy to get it back in the good graces of the American public.
"This move by Exxon is more likely about public relations, rather than real action against climate change," said Alison Grass, senior researcher at Food and Water Watch.
"I think there is an element of PR in it, absolutely," said Pavel Molchanov, analyst at Raymond James. "For Exxon, this is kind of a risk-free opportunity."
It is also proxy season, and publicly-traded companies are increasingly coming under pressure from shareholders to act responsibly in terms of the environment. Exxon, whose annual meeting is scheduled for May 31, might appease some restive investors with its letter. 
"Yes, you get brownie points for public relations purposes, especially since they've been criticized in the past on climate change," said CFRA Research analyst Stewart Glickman. But there are business drivers as well.
The Paris agreement provides a framework that makes long-term planning easier for all corporations, not just Exxon. Having some rules of the road helps companies avoid uncertainty.
Moreover, Exxon has invested heavily in liquefied natural gas (LNG), a fossil fuel that is cleaner than coal. For example, it has embarked on a joint venture in Papua New Guinea that produces approximately 7.9 million tons of LNG per year.
"If you have a climate change agreement and if you note that natural gas is generally cleaner-burning than coal, then any sort of secular shift away from coal and toward natural gas is a plus for demand for natural gas and thus maybe it helps boost prices down the road for natural gas," said Glickman. "This is self-interest on the natural gas side along with generic strategic planning needs along with public relations benefits."
Exxon representatives did not return request for comment on the matter.
The Future of the Paris Agreement
The Trump administration has sent mixed signals on its plan to address climate change and the Paris agreement, but the outlook isn't particularly good.
The publication of the Exxon letter came the same day that Trump signed a sweeping executive order seeking to roll back much of the Obama administration's efforts on climate change. The president has called climate change a "hoax" in the past.
After winning the election, Trump told the New York Times he has an "open mind" about the Paris accord. Tillerson at his Senate confirmation hearing said he believes the United States should stay in, emphasizing that it's important that the U.S. "maintain its seat at the table."
But skeptics of Trump's intentions on the accord note that it is not a legally-binding agreement. As a matter of international law, it requires countries report and monitor emissions, but if they don't meet the standards set out, there aren't any real consequences.
"The UN is not forcing anybody to cut carbon emissions by any particular amount. That would not be politically realistic," said Molchanov.
While Exxon's urging of the administration to stay in the Paris agreement is important, what is perhaps more important is it and companies like it working to ensure the U.S. keeps up its end of the bargain, emissions-wise.
"My hope is that we'll see corporations not only be leaders in pushing the U.S. to stay in Paris but also pushing for the sort of policies and innovation that's needed to meet U.S. targets," said Zaidi. "Keeping your seat at the table is not very useful if you've had your microphone turned off."