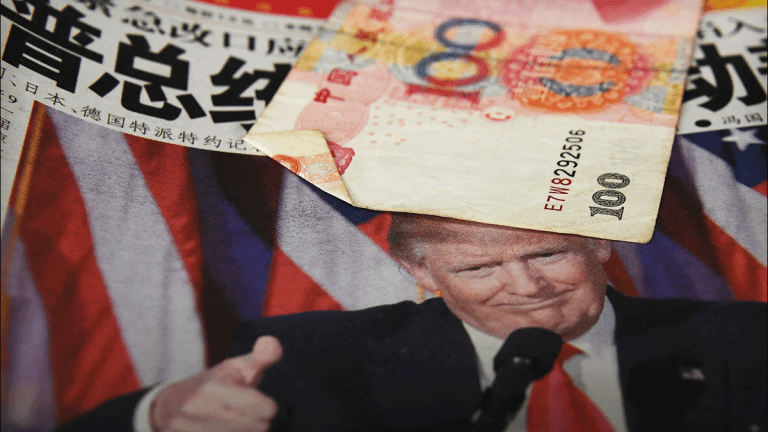 China's Economy Hurt by Trade War but Hardly Crumbling: Expert
Trump administration's claims that Chinese economy could collapse are "exaggerations at best," director of the Wilson Center's Kissinger Institute says.
Despite what you may hear coming out of the Trump administration, China's economy is not crumbling, an expert on the bilateral relations of the two countries says.
While the tariffs imposed by President Donald Trump are certainly having an impact, Robert Daly, director of the Wilson Center's Kissinger Institute on China and the U.S. in Washington said statements about the collapse of the Chinese economy "are exaggerations at best, and some of them are better qualified as misleading."
The ongoing trade war has caused stocks to fall and rise dramatically in the past few days and many investors have abandoned shares for the bond market.
Earlier this week, the U.S. Treasury Department labeled China a currency manipulator -- the first such distinction since 1994. In response, officials in Beijing on Wednesday pegged the yuan at 6.9996 to the dollar, the lowest midpoint setting in more than 11 years, and allowed the currency to drift below the 7 mark for the third consecutive session.
While trade talks between the two nations have stalled, White House economic adviser Larry Kudlow said a Chinese trade delegation will visit Washington for talks in September.
Analysts at Goldman Sachs, however, said Monday that the two countries wouldn't be able to resolve the trade war before next year's presidential election.
Kudlow said Tuesday on CNBC that China's economy is "crumbling" and that "China is being hurt by tariffs "much more significantly than we are." 
Trump has said China is "losing companies by the thousands to other countries, and their currency is under siege."
But Daly said China's economy is slowing "and the trade war is having an impact that the Chinese are concerned about, but it is not crumbling, it is not collapsed."
China is maintaining fundamental stability, he said, "adjusting at the margins in ways to protect themselves from the worst impacts of the trade wars."
Last week Trump decided to impose a 10% tariff on another $300 billion of Chinese goods beginning Sept. 1. Trump has already imposed a 25% duty on $250 billion of Chinese goods.
"There are real impacts to be sure," Daly said, "but when you hear Kudlow or anyone from the administration say thousands of companies are leaving, ask for a list. China is a big place. Companies leave and companies go every day."
The U.S. doesn't need a deal with China, Daly said. "We need a relationship that is comprehensive, but it is bound to be contentious."
"China cannot satisfy the Trump administration on everything its asking for," he said, "which doesn't mean that Trump and the U.S. have misidentified problems.
"A lot of what Trump is aiming for are very real issues with China, but there are things China can't deal away because they are central to the governance of the Chinese Communist Party and, from their point of view, central to the stability of the People's Republic of China."
Looking ahead, Daly said the two nations' trade dispute "will become a form of the new normal."
"Ever since what is now called the trade war began in 2018, [any] positive or negative sounding out of Beijing or Washington [has] resulted in either unjustifiable optimism or unjustifiable pessimism on the market in the immediate term and then we usually see a return to normal in the same trading day or the next day."
Daly said the market's extreme reaction to comments out of Washington or Beijing suggests that "Wall Street has no idea what this is really about."
"It's a historic, structural change due to a risen China, resulted in a rivalrous relationship with the U.S. across the board, including trade, including financial issues," Daly said.
"But it's also about strategic issues, technology and global leadership. So this can't be solved by Chinese purchases and Chinese promises to do better in the future. And maybe we'll look back at this week as the week that Wall Street started to understand this because we're seeing after a slight recovery, equity down again and the bond market is up."
However, Daly said, "it could also prove to be a three-day blip in keeping with the fairly uninformed, paranoid response we've seen from the market since mid-2018."