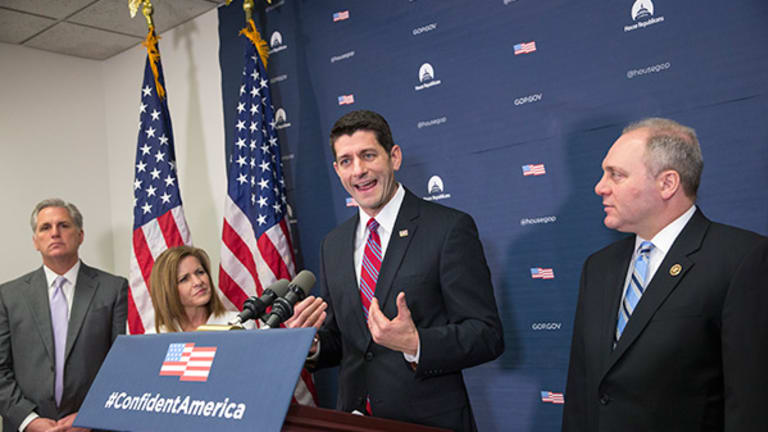 Execs from Boeing, Pfizer Send Letter Backing House GOP Tax Plan
Executives from 16 companies, including Boeing, Oracle and Pfizer, are weighing in to support the increasingly-contentious border adjustment tax
Executives from 16 companies, including Boeing (BA) - Get Boeing Company Report , Oracle (ORCL) - Get Oracle Corporation Report and Pfizer (PFE) - Get Pfizer Inc. Report , are asking Congress to support the increasingly-contentious border adjustment tax.
In a letter to congressional leaders on Tuesday, corporate heavyweights from major U.S. industries called on legislators to enact "comprehensive pro-growth tax reform," including the destination-based cash flow tax, more commonly referred to as the border adjustment tax, that is part of the House Republicans' proposal. The letter comes a week after retail CEOs descended on Washington, D.C. to push against the tax.
The group, who hail from the American Made Coalition, said that the "Better Way" proposal put forth by House Speaker Paul Ryan and Ways & Means Committee Chairman Kevin Brady would "free up much-needed capital for companies to invest here in the U.S., help stop corporate inversions and acquisition of U.S. companies, and protect American jobs from unfair foreign competition."
They argue the border adjustment tax, which essentially taxes imports and exempts exports, is a "critical element" of the House blueprint.
"This reform is consistent with the tax policies of nearly every other country in the world, and it would effectively end the 'Made in America' tax that creates an unfair advantage for foreign-based companies at the expense of U.S. jobs and economic growth," they said.
The letter was addressed to Speaker Ryan, House Minority Leader Nancy Pelosi, Senate Majority Leader Mitch McConnell and Senate Minority Leader Chuck Schumer.
While the border adjustment tax has sizable support among House Republicans, it faces an uphill battle in the Senate.
Senator Tom Cotton, a Republican from Arizona, said last week he has "serious concerns" about the border adjustment tax. South Carolina Republican Senator Lindsey Graham in an interview with CBS's "Face the Nation" on Sunday said the House tax plan "won't get 10 votes in the Senate."
Washington, D.C.-based investment research firm Height Securities in a note on Tuesday said they believe border adjustment has a 75% chance of passing the House but only 30% of passing the Senate.
President Trump has not yet taken a definitive stance on border adjustability, but it is worth noting that some of the signatories of Tuesday's letter might have his ear.
Oracle (ORCL) - Get Oracle Corporation Report CEO Safra Catz was part of Trump's transition team. Andrew Liveris, CEO of Dow Chemical (DOW) - Get Dow, Inc. Report , is the head of Trump's manufacturing council. United Technologies (UTX) - Get United Technologies Corporation Report chief executive Greg Hayes struck a deal with Trump last November to keep its Carrier plant in Indiana. Executives from Merck  (MRK) - Get Merck & Co., Inc. (MRK) Report and Eli Lilly  (LLY) - Get Eli Lilly and Company (LLY) Report were among the pharma executives to sit down with Trump in January.
The president has met with Boeing CEO Dennis Muilenburg on several occasions and visited the company's plant in North Charleston, South Carolina last week. Boeing's former CEO, Jim McNerny, sits on a strategic and policy forum that advises Trump. So does Jack Welch, former chairman and CEO of General Electric (GE) - Get General Electric Company (GE) Report . Current CEO Jeff Immelt signed the letter to Congress as well.
The American Made Coalition is a sort of counterweight to Americans for Affordable Products. Largely comprised of retailers, the coalition has organized to push against the border adjustment tax.
Retail representatives met with Trump, Brady and others in Washington last week. Some of its members plan to meet with members of Congress on recess in their home districts this week.